There are a few avocado benefits surprising for your health. if you would like to lose weight, improve your skin, and reduce the risk of many life-threatening diseases, know that you can achieve it all by eating a little more of this extremely healthy fruit. Its creamy texture and rich flavor make it a common ingredient in many dishes.
Due to its high fat content, avocado is also used as a meat substitute in sandwiches and salads. Avocados are a very unique type of fruit as most fruits are mostly carbohydrates, while avocados are rich in healthy fats. Here are the benefits of avocado, which have been discovered through scientific research.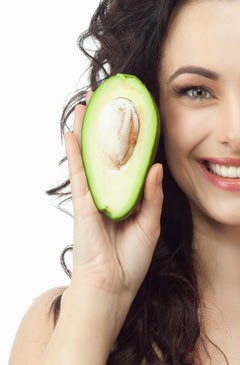 It has healthy fats - Most of it is monounsaturated fat, in the form of oleic acid. Monounsaturated fat is considered a "good fat", which lowers the levels of bad cholesterol in the blood and reduces the risk of stroke and heart disease.
Excellent source of potassium – Slaughter contains more potassium than bananas. In addition, avocados are rich in vitamin K, vitamin B, vitamin C, and vitamin E.
Protein – a medium avocado contains about 4 grams of protein, which is much more than most other fruits.
Sugar – Avocado's sugar content is low when compared to other fruits. Half an avocado contains approximately 0.2 g of sugar.
Vitamins and Minerals – Avocados are an excellent source of potassium. In addition, avocados are rich in vitamin K, vitamin B 9 , vitamin B 6 , vitamin B 5, vitamin C and vitamin E. 2
Dietary Fiber – One medium avocado contains 11 grams of fiber, which is about half of the minimum recommended daily intake.
Avocado Benefits:
In addition to being an excellent source of fiber and vitamins, research has revealed other benefits associated with the fruit, including that it helps lower cholesterol levels and lowers the risk of diabetes.
Avocados can help lower cholesterol
Research suggests that eating avocados may help people who have bad cholesterol. A recently published study found that an "avocado-enriched diet can improve the lipid profile in healthy individuals and especially in hypercholesterolemic patients (High Blood Cholesterol Levels).
After a week of avocado-enriched diet, patients experienced a 22% decrease in bad cholesterol and triglyceride levels and gained a 11% increase in good cholesterol.
Avocados may reduce the risk of diabetes, stroke and coronary artery disease
Metabolic syndrome is a name for a group of symptoms that increase the risk of diabetes, stroke, and coronary artery disease. A study, published a few months ago, evaluated the relationship between avocado consumption and metabolic syndrome.
The scientists concluded that "avocado consumption is associated with improved overall diet quality, nutrient intake and reduced risk of metabolic syndrome."
Avocados can promote healthy body weight and BMI
The same study (mentioned above), "Avocado consumption was said to be associated with better diet quality and nutrient intake and lower risk of metabolic syndrome in adults," also found that people who ate avocados were more likely to have a lower body weight, BMI (body mass index) and waist circumference.
Avocados may help prevent cancer
Avocados are rich in phytochemicals, which can help prevent the development of certain types of cancer. A team of scientists who examined the characteristics of avocados concluded that "combinations of phytochemicals from the individual avocado fruit may offer an advantageous dietary strategy in preventing cancer."
Avocado benefits for skin
The monounsaturated fats in avocados are also beneficial for improving your skin tone. They are vital for maintaining good moisture levels in the epidermal layer of the skin which gives a smoother and healthier appearance to the face. Omega, can help reduce skin redness and irritation in addition to helping to repair damaged skin cells.
Benefits also include protecting your skin from wrinkles and other visible signs of aging by containing vitamin E, which helps protect against aging caused by sun exposure. It also works with collagen and provides more firmness to your skin.
Arthritis
Osteoarthritis is a painful disease that affects millions of people worldwide. Many common foods such as wheat, corn, milk and sugar are known to exacerbate the symptoms of this disease.
Benefits of Avocado for the Eyes
This miracle fruit can protect the eyes against macular degeneration and cataracts because it contains a nutrient called the carotenoid lutein.
Avocado Benefits for the Heart
Vitamin E, monounsaturated fats and glutathione found in avocados are also great allies for your heart health.