We agree that children have energy to give and sell, so if you have the privilege of living in a house that has a backyard, you can dedicate a small space for your children to have fun by setting up a playground in the backyard, besides being fun. , it will only bring advantages and more advantages to them, be it, in motor and cognitive development, in addition to learning to socialize with other children, however, it is necessary to be cautious, always valuing the safety of the little ones.
Build a space that has sand, colorful swings that can be made with tires, seesaws made of wood, hopscotch made with painted and numbered stones, and even structures made with pallets, and who knows even a wooden house very cute anyway, make this space the children's refuge the little place they lived the most incredible adventures of this so good phase that is childhood. Check this article how to set up a children's playground safe and fun!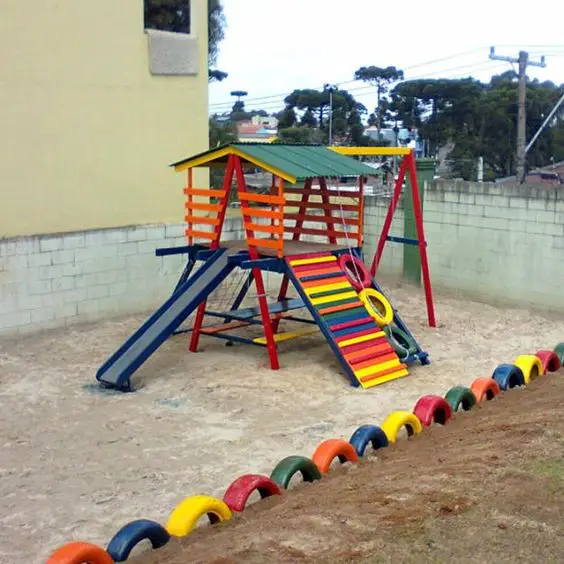 How to build a children's playground
Playgrounds also known as playgrounds are great in day care centers, condominiums and even in the backyard, being an excellent alternative for entertainment in addition to taking the children away from the television, cell phone and electronic devices that when used in excess is very bad. to the development of children. Here are some tips that will be very useful in this process:
See too: Educational toys for 2 year olds
You must take into account the age of the children who will use the playground, since each age will need some specific care, after all, the smallest children barely know how to walk, unlike the older ones who already run, jump and hang for everyone the sides. Some toys require greater maturity, however, even if younger children want to use the toy, ask parents or a monitor to keep an eye on them.
As a guarantee, invest in a surface that cushions possible falls, a great option is synthetic grass. With a cushioning layer, called "Shock-Pad", which brings all the comfort and safety that little ones need and the coolest thing is that to clean it, just water, soap and a broom.
Keep a distance of at least 60 cm from one toy to another.
The ground must be leveled, as this will prevent possible falls in addition to being even more visually beautiful.
For closed environments, the best option to use on the surface is EVA plates, they have a high level when it comes to non-stickiness, in addition to making the environment much more colorful and cheerful.
Children's playground: Inexpensive ideas made with recyclable materials