Cá entre nós essa vida de ficar pintando os cabelos quase toda semana para esconder os fios brancos é algo cansativo demais por isso, muitas mulheres decidiram assumir de vez os seus grisalhos, engana-se quem pensa que estar com os cabelos brancos é sinal de desleixo pelo contrário os fios brancos necessitam de alguns cuidados específicos para manter sempre a aparência de saudável e brilhante.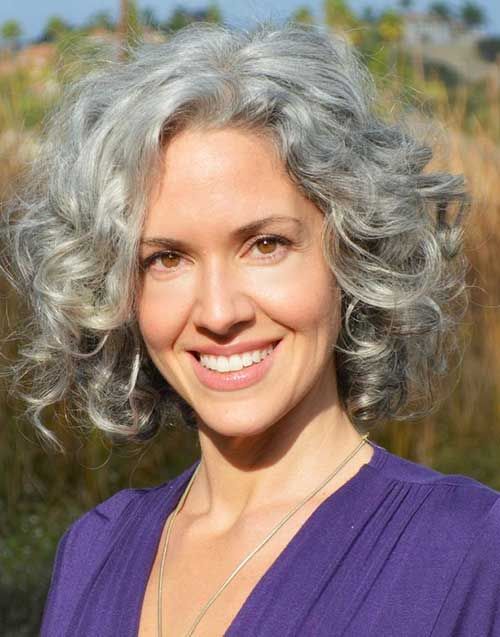 Por que o cabelo fica branco?
A medida que envelhecemos os cabelos vão produzindo cada vez menos melanina proteína está responsável pela pigmentação da pele, olhos e cabelo sendo, que a produção de melanina é um fator genético por este motivo algumas pessoas ficam grisalhas super novas e já outras demoram anos e anos para os primeiros fios branquinhos começarem a surgir.
Pessoas com uma cor de cabelo mais escura possuem mais chances de ter cabelo branco. Embora os cabelos brancos sejam característicos do envelhecimento, os fios de cabelo incolores podem aparecer em qualquer idade, eu mesma comecei a notar meus primeiros fios brancos aos 14 anos de idade sim, super cedo. Além, da idade existem outras causam para aparição dos fios brancos conheça algumas:
1- Stress
Todo mundo lida com o estresse todos os dias. As conseqüências do estresse crônico podem incluir:
Problemas de sono
Anxiety
Mudança de apetite
Pressão alta
O estresse também pode afetar seu cabelo. Então, se você notou um aumento em seu número de fios brancos, o estresse pode ser o culpado.
2- Doença autoimune
Uma doença auto-imune também pode causar cabelos brancos prematuros. Isto é, quando o sistema imunológico do corpo ataca suas próprias células. No caso da alopecia e do vitiligo , o sistema imunológico pode atacar o cabelo e causar perda de pigmento.
3- Deficiência de vitamina B-12
Os cabelos brancos em idade precoce também podem indicar uma deficiência de vitamina B-12. Vitamina está importantíssima no crescimento dos cabelos e na tonalidade.
4- Fumar
Há também uma ligação entre cabelos brancos prematuros e tabagismo. Um estudo de 107 sujeitos encontrou conexão entre o "início do cabelo cinza antes dos 30 anos e o consumo de cigarro".
How to care for and moisturize white and gray hair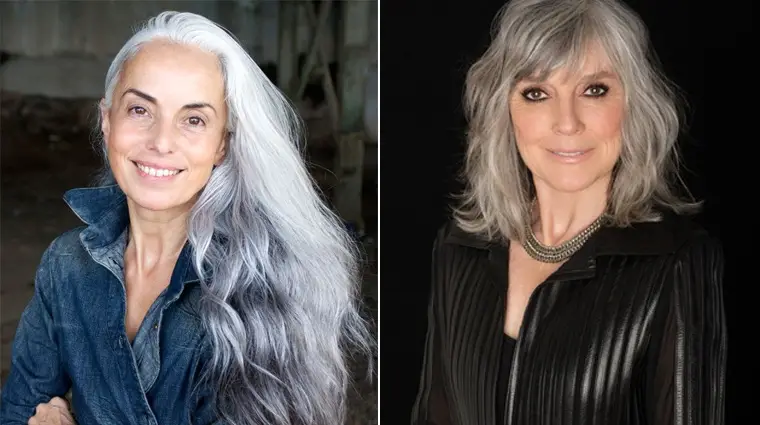 Proteja do sol
O sol é um poderoso agressor do cabelo e, como tal, a exposição a ele durante muito tempo nos meses mais quentes do ano, pode alterar a cor. "Se você for na praia ou a piscina, é melhor usar um protetor capilar e cobri-lo com um lenço ou um chapéu".
Corte moderno
Para usar cabelos grisalhos sem se parecer com a sua avó, é essencial fazer um corte com o movimento, algo casual. Os cortes mais curtinhos e com repicados nas pontas são a melhor opção modernos, lindos e super fáceis de cuidar e ficam bem estiloso!
Cuide da alimentação
Manter uma dieta saudável além, de melhorar sua saúde em geral fará grandes mudanças em seu rosto, unhas e cabelos. Alimentos ricos em vitamina B e omega 3 melhorará a aparência dos seus cabelos além, de torna-los mais fortes e bonitos.
hydration
Use produtos que mantenham o cabelo hidratado, shampoo ou tratamento com creme. As linhas dedicadas aos cabelos secos são ideais. Dê preferência a condicionadores livres de silicone insolúveis e petrolatos.
Produtos específicos para cabelos brancos
Por onde vamos nós deparamos com uma variedade enorme de tinturas e cremes para manter a cor por mais tempo, mas hoje em dia já podemos encontrar marcas que investiram nas mulheres cheias de atitude que assumiram suas cabeleiras grisalhas.
Limpeza
O cabelo frágil precisa ser suavemente limpo para manter seus óleos naturais intactos. Use um shampoo sem sulfato e sem silicone aplique nas raízes do cabelo úmido com a ponta dos dedos. Lave o cabelo três vezes por semana.
Como desamarelar cabelos grisalhos
Para saber como tirar o amarelo do cabelo da melhor forma é ideal saber os produtos certos para utilizar, nessa dica do canal da Pretinha, primeiro começa lavando os cabelos com shampoo anti resíduos, em seguida é aplicado uma máscara acidificante matizadora e por último aplica-se o condicionador, super fácil e pode ser feito em casa mesmo.