Want to bring classic, elegant and contemporary aspects to your home decor, invest in the coppery tone of the moment, the rosé gold that is nothing more than a mix of pink and gold that promises to make any room in your home much more glamorous. Easy to combine, it allows us to use it with several other colors, from more romantic environment designs, to more daring decorations, in short, there are a thousand and one possibilities to include this trend in your home decor.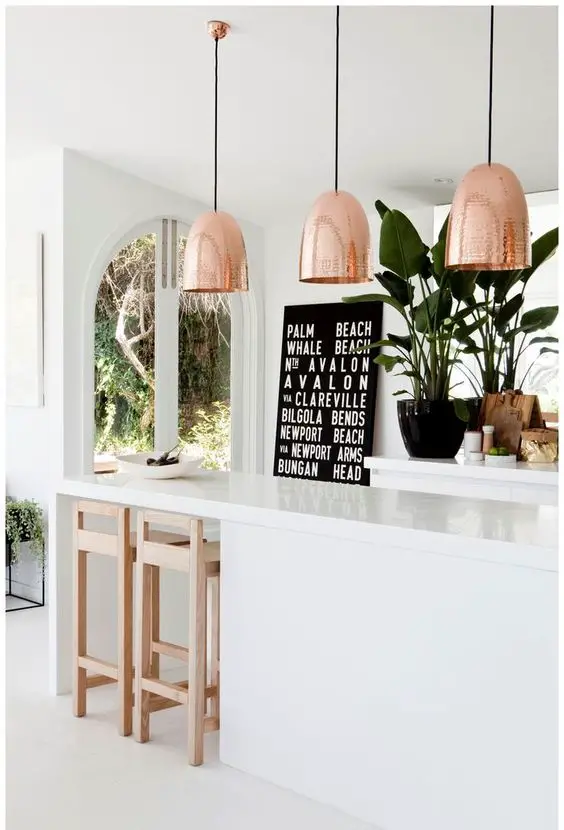 Below you can check out several ideas and tips for decoration with this beautiful color, in addition to several websites that sell accessories in this tone, so it's much easier for you to give your home decor a makeover!
Rose Gold Decor: Get inspired by photos and tips
It is not news that metallic tones are the darlings among the designs of environments, and the metallic tone and gold have today won copper as an ally. If you don't have the money to hire a professional in the area of decoration, don't worry, there are a multitude of ways you can include the rose gold tone, whether just in details such as lamps, vases, chairs, lampshades, coffee tables, cabinets or other decorative accessories. What will or will not make your decoration beautiful are the color combinations that should talk to each other bringing balance to the environment.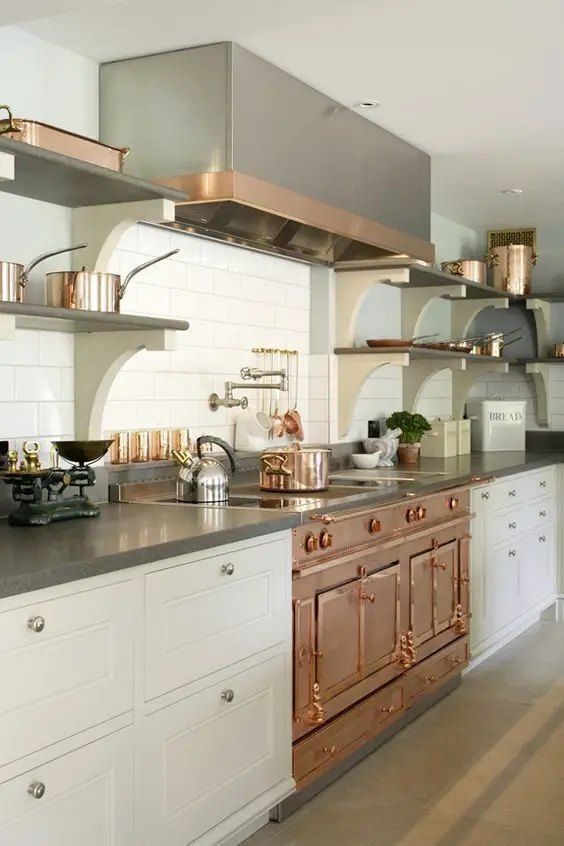 Colors that match copper decor
White, black and gray work perfectly with the color of the moment! If your furniture is made of wood, and you don't want to change it at all, know that copper and wood fit together perfectly, wood will make the environment cozy and rose gold will give a modernized space.
Kitchen decoration in copper color (Rose gold)
Are you the type of person who loves everything that is different? Then you will love the rose gold kitchens this being a way to get away from conventional and traditional tones. Modern, chic and delicate, this color will make your kitchen much more sophisticated, even in the small details.
Just imagine a kitchen with a white cabinet with rose gold handles, a pendant lamp, faucet and kitchen accessories in the same shade is simply modern and brings an air of sophistication without having to spend a fortune. If you want to give a vintage touch, bet without fear on old utensils, they can be hung or exposed over the sink or countertop giving an "Up" to the decor.
The chandelier or pendant lamp can transform your kitchen by bringing much more sophistication and color in the right measure. Even more if the space has a clean decoration, bringing a sophisticated color will only make the environment much more charming!
Rose Gold bedroom
Our room is like our refuge and where we spend most of our time, for this reason it must contain a little bit of our personality, choose decorative objects that match you and that suit your needs. If you are a delicate and romantic girl, the rose gold color will look amazing when combined with nude and white tones.
But if you are a cool and fashionable woman, combine rose gold with bolder colors such as black, purple and even red colors. You can buy various items on online sites or get your hands dirty by transforming frames, paintings, lamps, niches, wardrobe knobs using spray paint. Check out our selection of rooms decorated with rose gold and get inspired:
Where to buy?
After seeing so much beautiful decoration inspiration using this shade, make sure that you are even more in love with rose gold so you will surely love the idea that we brought you today, below you will find a list of websites and online stores that sell various accessories. decorative items in this color, they are items of super good taste for the whole house and with variable prices. See:
Bertoia chairs
Utensil holder
Decorative mirror
Cushions
See too:
100 Names for Beauty Salons: Creative Ideas
Small Planned Kitchen: Modern and Awesome