Estética, beleza e atividade física são fatores que caminham lado a lado, e hoje em dia não tem desculpa para não praticar atividade física afinal, existem vários tipos de exercícios que se encaixam em várias categorias permitindo que cada indivíduo encontre um que se enquadre melhor ao seu estilo, e o melhor de tudo você não precisar gastar dinheiro com academia basta adaptar algumas aulas e praticar em casa mesmo com isso, você só tem a ganhar muito mais saúde, bem estar além, de ficar com a silhueta que sempre sonhou!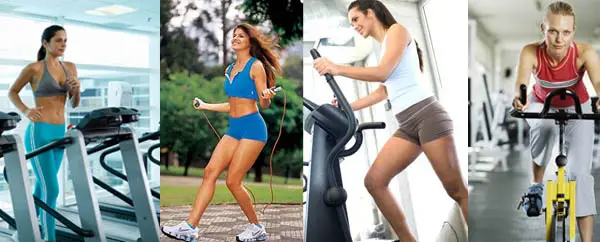 E uma das categorias que vem ganhando mais e mais pessoas adeptas é os exercícios aeróbicos, e é exatamente este o tema do artigo de hoje, iremos falar um pouco mais sobre os benefícios que está prática traz além, de mostrar um pouco mais sobre os tipos de exercícios que entram nesta categoria e o melhor de tudo algumas vídeos aulas com o passo a passo de como executa-las de maneira correta.
Quando você realiza exercícios aeróbicos, você não só aumenta a eficiência de seu sistema cardiovascular, mantém sua forma mas, também favorece a beleza de sua pele, devido à oxigenação produzida pelo exercício. Lembrando que para praticar ginástica aeróbica você precisará ter bastante fôlego, durante os exercícios respirar de maneira correta é essencial neste tipo de exercícios. Se você for correr, caminhar, andar de bicicleta, praticar natação ou outros exercícios aeróbicos tente encontrar uma respiração regular, respirando corretamente você não ficará ofegante e muito menos cansará rápido.
O Que é Ginástica Aeróbica?
A ginastica aeróbica envolve movimentos corporais e dança acompanhada de uma musica bem animada! Tento como principais objetivos a perda de peso, tonificação do corpo, alivio do stress, aumento da resistência e retarda a fadiga. Abaixo você terá uma breve demostração das principais atividades aeróbicas e quais são as características de cada uma. Afaste seu sofá da sala, vista uma roupa confortável, coloque uma musica animada, e comece hoje a se exercitar!
Aerobic Exercises to Lose Weight: Types and How to Do
Corrida: Está você pode praticar tanto em casa na esteira, na academia ou ao ar livre. O que você precisa é apenas, ter um tênis confortável e uma musica animada para incentiva-lo a manter a frequência. Correr é um excelente exercícios para lose weight já que em 1 hora você pode perder 700 calorias e também, diminui o apetite mas, para conseguir tais benefícios você precisa correr pelo menos 3 vezes por semana.
Andar de bicicleta ou pedalar: Que tal passear de bicicleta e emagrecer ao mesmo tempo? Ao praticar este exercício seja, ao ar livre ou dentro de casa com uma bicicleta ergométrica você só tem a ganhar muito mais força nas pernas, eliminar as gordurinhas indesejáveis, previnir algumas doenças respiratórias já que pedalar aumenta a oxigenação dos pulmões além, de tonificar a musculatura. Veja abaixo uma aula de spinning para emagrecer até 300 kcal.
Elevação de joelhos: levantar um joelho de cada vez, formando um ângulo de 90º com a perna.
Step-touch: Este é um exercício simples perfeito para você que está iniciando, para executa-lo você precisa dar um passo grande de um lado para o outro, quando você abrir as pernas deve também abrir os braços e ao fechar as pernas feche também os braços.
Polichinelo: Salte e abra as pernas e os braços ao mesmo tempo. Dê outro salto e feche as pernas e os braços, ao fazer 1.000 polichinelos você perde 200 calorias  Veja: