When you were a child, your mother certainly had an aloe plant in her backyard and you never cared about her until you started growing up and discovered the power of aloe hydration for your hair.
Its popular name is aloe, but there are also those who call it aloe vera (scientific name). She is easy to recognize and maybe you can even have her and not know it, her leaves are green, thick and with small thorns around and inside there is a gel that is where most of its vitamins and minerals are found, we can say that this plant is a jack of all trades, since in addition to hydrating it is also great for healing, it is antibacterial, treats constipation, pimples the skin and many other things.
One of the strong reasons why this plant is so sought after by women is the simple fact that it contains more than 75 nutrients that can benefit the health and beauty of the hair, providing softness and hydration, in addition to making the strands much stronger, preventing hair loss. of hair.
Moisturizing for Curly Hair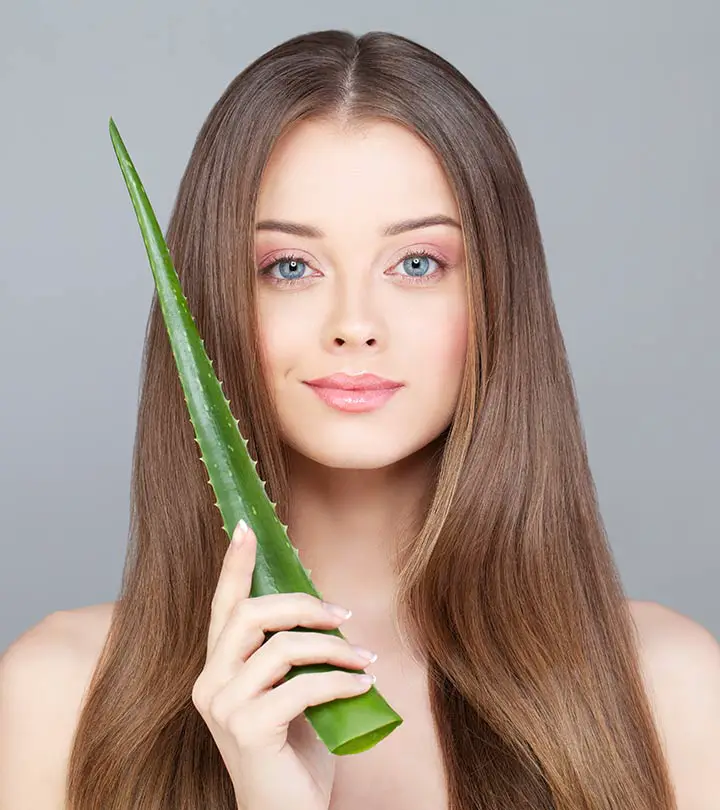 Basically what you have to do is remove one side of the skin of the leaf and with a spoon or any other utensil, remove all the gel inside and apply it to the hair without adding anything else, after that massage the hair and the scalp to have this wonderful hydration.
To make the hydration even more potent you can add other ingredients such as: hydration creams, coconut oil, argan oil, honey, egg white, in short, there are a multitude of combinations that can be made.
Hydration with milk cream, learn how to do it in easy steps
Aloe vera benefits for your hair
Are you even more curious to know the benefits that aloe provides for your hair? Stay tuned in this article and we will solve all your doubts, in addition to showing you how to make a powerful hydration with this amazing plant.
Experience an improvement in hair follicle health
Your hair will be much less oily as the aloe vera will remove the extra sebum
Its vitamins A, C and E will renew your hair, so it will be much healthier and shinier.
It increases blood circulation in this area promoting hair growth.
If you suffer from hair loss, moisturizing with aloe can solve your problem.
As it is antifungal and antiviral, it eliminates dandruff once and for all.
You know when you go to comb your hair and it breaks? Well, aloe leaves your hair stronger, preventing this breakage.
It is the best natural sunscreen to protect your scalp.
Hydration with Aloe Vera for Hair: Step by step
In addition to being able to use pure, these extra ingredients that we have selected in these recipes will make your hydration much more powerful.
Aloe Vera and Castor Oil
Ingredients:
1 cup fresh aloe vera gel
2 tablespoons of castor oil
shower cap
Towel
Step by step:
Mix all the ingredients until you get a homogeneous mixture. Then apply it on the scalp and hair, as soon as you manage to apply the mixture all over your hair, you can make a bun and wait for 30 minutes, or if you want to enhance it, just put a shower cap or even a bag on your head. . Wrap the towel around the cap to warm up and after 40 minutes wash your hair with cold water, apply shampoo and conditioner, rinse and finish!
Hydration with aloe and honey for hair growth
Ingredients:
1 aloe leaf gel
A sufficient amount of mask for your hair
2 tablespoons of honey
shower cap
Step by step
In a plastic pot, mix all the ingredients, then apply this paste on the scalp and hair, always making circular movements with your fingertips. Once all of your hair is covered in the mixture, put on the plastic cap and let it sit for 30 minutes, then wash it off with cold water using products you normally use.
Hydration with aloe and egg
Ingredients:
2 tablespoons aloe
2 spoons of treatment mask
1 spoon of castor oil
2 sieved egg yolks
shower cap
Step by step:
Mix everything in a bowl. Apply all over the hair from the roots to the ends, put on a cap or bag and let it act for 30 minutes. Wash with cold water, finishing with shampoo and conditioner of your choice.
Hydration with aloe and cornstarch
Ingredients:
1 aloe leaf gel
1 spoon of cornstarch
1 scoop of hydrating mask
Step by step:
Mix the cornstarch with 1 glass of water and bring to a boil until it thickens, then add the aloe vera gel, the mask and mix well, apply to the scalp and hair.
Leave it on for about an hour and then wash your hair with just water or shampoo and conditioner if desired.
Hydration with Aloe Vera and Coconut Milk
Ingredients:
1 aloe leaf gel
90 ml of coconut milk
1 tablespoon of coconut oil (optional)
Step by step:
In a bowl mix the 3 ingredients mentioned above then apply all over the hair leave it for at least 30 minutes the longer you leave it the better it will be. After the recommended time, wash your hair as usual.