Chocolate is a food very appreciated especially among women, made of cocoa rich in antioxidants, chocolate has become known for its delicious taste and also for its benefits to heart health, but the novelty today is that it can be used as base of several beauty products, and this is what we will talk about today in this article about how to make hydration with chocolate step by step. 
The candy contains flavonoids, which protect cells from damage caused by free radicals that can lead to heart disease. Another recent discovery is that, contrary to what many believe, eating dark chocolate can be great for the skin, as the flavonoids found in dark chocolate have UV light absorbing action, which protects and increases skin blood flow, improving hydration and the stimulation of skin cells reducing the production of pigmentation, of which is the main reason for the appearance of blemishes.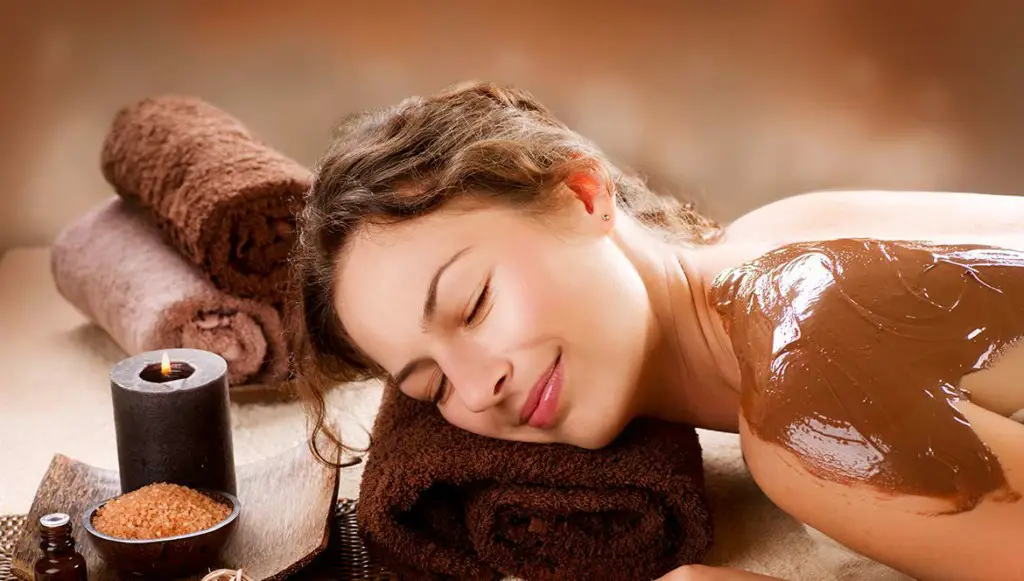 Today it is already possible to find several chocolate-based beauty products, whether hair creams, face and body creams that stimulate collagen production and deeply moisturize the skin.
There are many massage clinics that use chocolate-based oils and their clients are super satisfied with the results presented, in addition to leaving the skin looking more beautiful and firm, it also moisturizes, leaving it much softer and more relaxed.
To be able to enjoy this wonder you don't need to spend a lot of money hiring a professional and much less need to leave the house to have a SPA day, you can do the chocolate hydration at home anyway, take a day to take care of yourself I'm sure you You will love the idea, you will even want to repeat it again and again.
Body hydration with chocolate – Step by step
1- Wash the skin as usual afterwards, apply a little exfoliating cream and make a gentle exfoliation, always making circular movements. You can use a loofah that exfoliates and cleanses the skin.
2- Now apply some of your chocolate body moisturizer, sliding your fingers over the skin.
3- Wrap the body with PVC film and place a thermal blanket. Leave for 20 minutes for the product to act.
4- Remove the blanket and the PVC film afterwards, just wipe off the excess cream.
5- Apply a layer of chocolate firming body whipped cream in the place you want.
Note: This is a skin treatment suitable for people with dry skin or for use before and after tanning.