I'm that kind of person who is impressed to see a beautiful and well-organized table!
Let's say that if the table is well set, it's a sign that the person took some time out of their day and thought about every detail when decorating and organizing it.
It is gestures of affection like this that show that she was careful and thought about how the guests would feel when they arrived and found a beautiful table.
This makes the atmosphere much more welcoming and makes the moment memorable for everyone!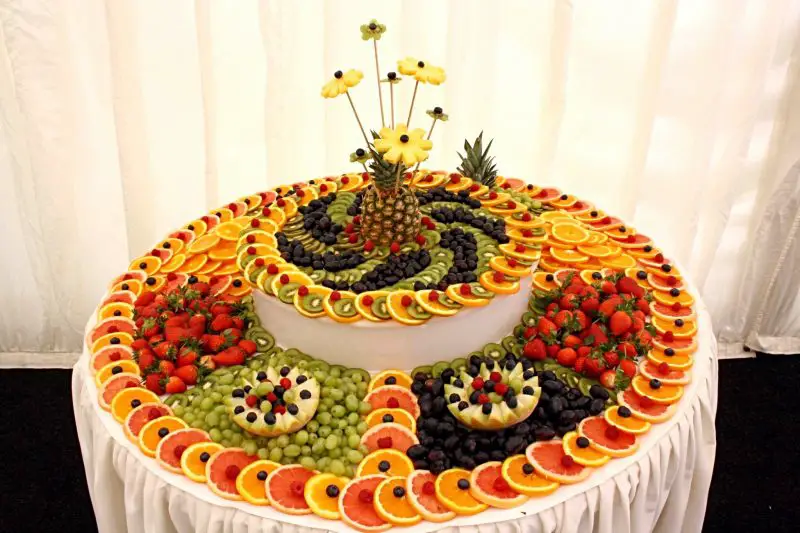 When it comes to table decoration for a party or get-togethers in general, there is no shortage of options to make the event more beautiful.
However, the fruit table is quickly gaining among the favorite decorations of the vast majority of people.
This is a natural and colorful decorative touch widely used in buffets, in classic decorations and also for everyday decorations at home.
In addition to being nutritious and delicious, especially in summer, fruits look beautiful when used in decoration, either as an arrangement or as the main theme, occupying much of the table.
But whoever thinks that just taking a bunch of fruit and spreading it on the table is wrong, it is necessary to spend a little time formulating the best way to unite the decoration of the fruits with the decoration that is already in the environment.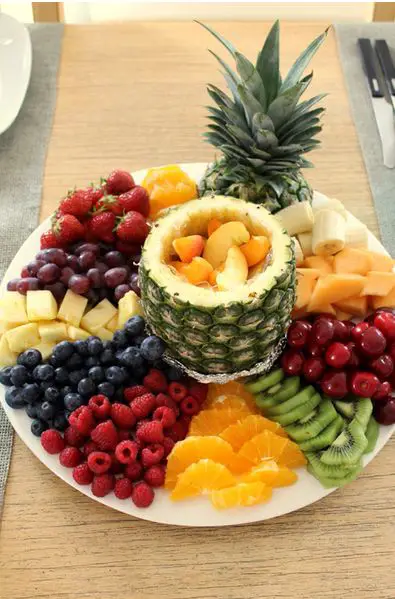 The first concern you should have is to add up the number of guests that will have at the event to know more or less how big the table should be.
Once that's done, it's time to enjoy the beauty and natural colors that the fruits have, use your creativity, place a tray with several peeled fruits on the table and then cut them in different ways, forming a beautiful arrangement.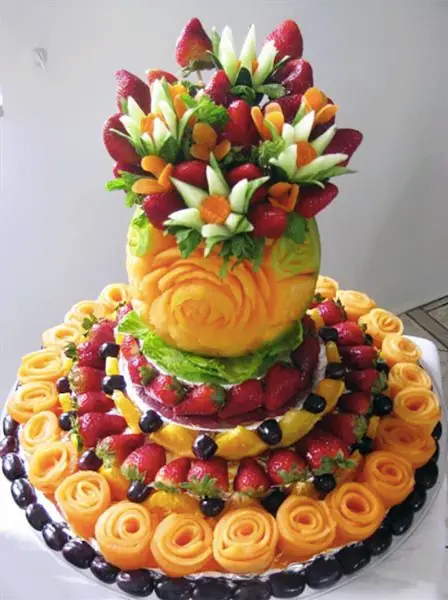 There are a million possibilities to increase the table and make it the key point of an event, when organizing follow the line according to the occasion.
The best of all is that there are many fruits that can be worked, each one with its characteristics that in the end, make any environment much more beautiful and harmonious!
If your intention is to set up a fruit table but you don't know where to start and you need some inspiration to be able to give wings to your imagination, check out more beautiful options for table arrangements with fruits and how to assemble them.
Fruit Table How to Assemble: 100 Photos to Inspire
For you who want to follow a more traditional and simple line, the best thing to do is to choose combinations of similar fruits, interspersing only the colors without forming specific designs.
This type of decoration is more basic but still elegant and presentable, remembering that for more special occasions such as wedding parties, graduations and end-of-year parties, they deserve a little more attention, dedication and whimsy, dates as they are deserve. something more elaborate.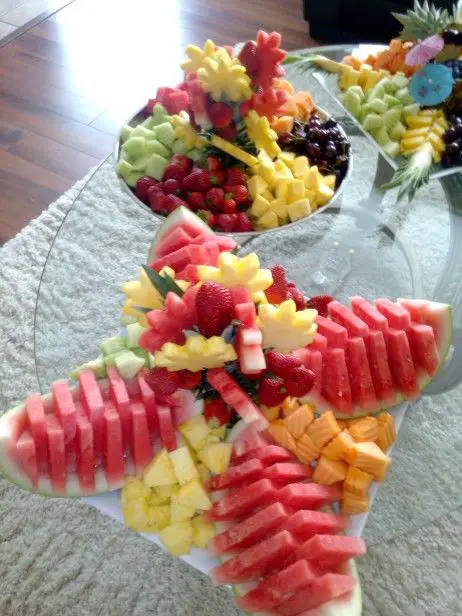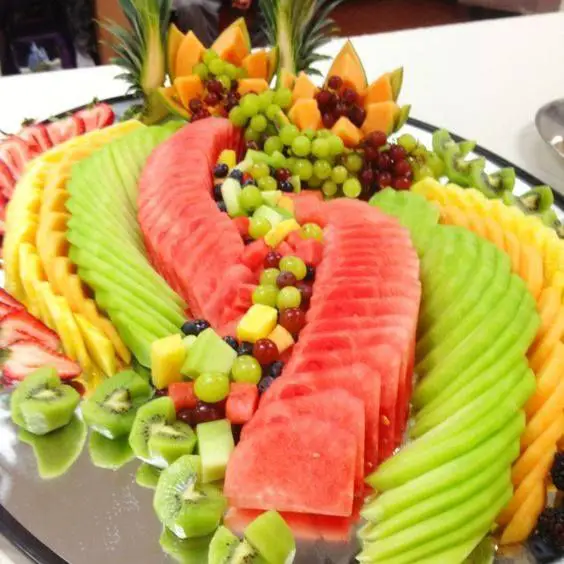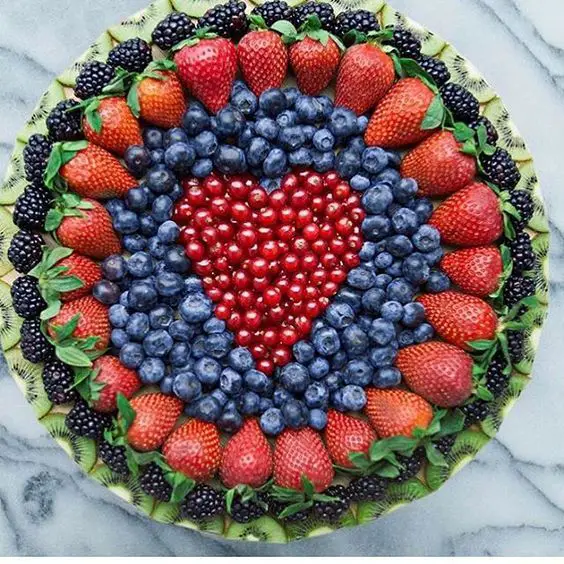 Another alternative is to use the fruits themselves as if it were a "natural bowl" to put other fruits inside, this is a very nice option to remove all the pulp from fruits such as watermelon, pineapple or apple and inside add grapes, kiwi, strawberries, anyway , make combinations that make the environment beautiful and cheerful.
If the event has a lot of children among the guests, it is worth investing in the idea of assembling a pineapple tower or cutting the fruits and then forming various designs such as butterflies, ducks, hearts, flowers, birds, among others, that have to do with the theme. of the party in order to make the children fascinated and at the same time attracted by the fruits that they had not even tried before.
If the proposal is for a Hawaiian party, for example, invest in tropical fruits such as orange, pineapple, watermelon, strawberry, grape, passion fruit, in short, there are flavors for all tastes.
If the party is more classic, put some fruits like purple grapes or plums.
Something very important that you should not disregard in any way is to see exactly the place where the party will be held so that only later, you can choose the fruits so that you don't run the risk of them spoiling or darkening faster.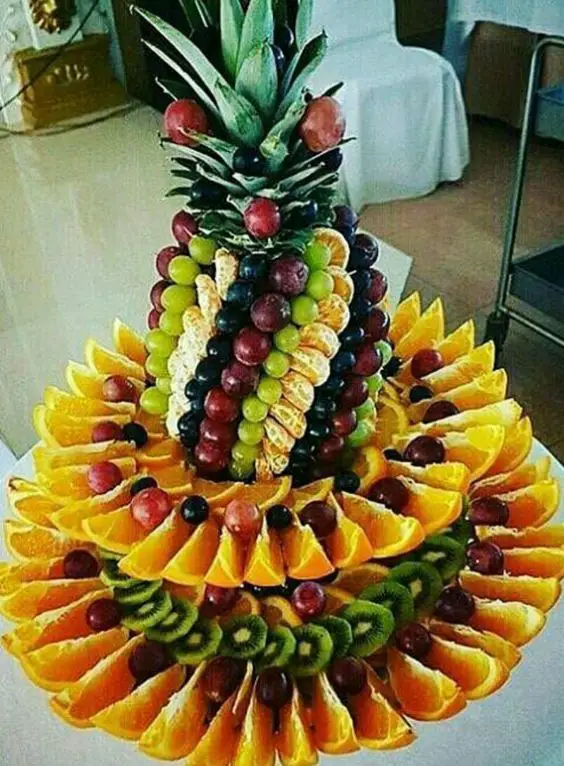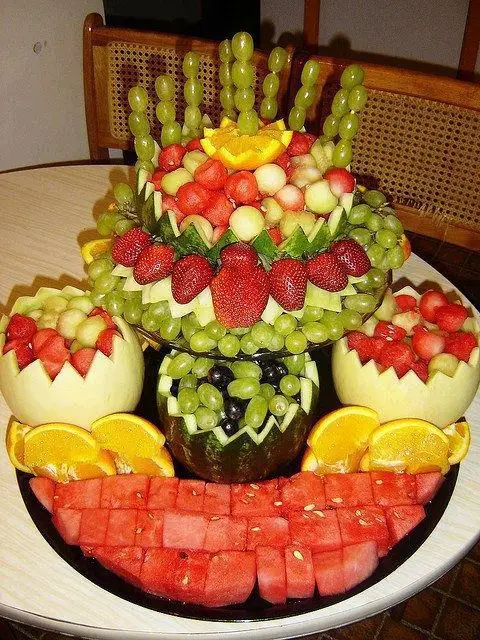 New Year's fruit table
Unlike other dinners and parties that take place throughout the year, the end-of-year decoration needs and deserves to be more elaborate.
After all, this will be one of the most important meals of the year with your family and friends to say goodbye to another year that has passed and at the same time thank God for another year to come.
The supper table will be the main point of the New Year's night, remember to add specific end-of-the-year fruits, such as the grape which is a perfect fruit for superstitious people, the pomegranate which symbolizes abundance, the apple which in addition to of its red color that will give a perfect contrast to the decoration it is a symbol of achievements, the apricot that can become beautiful flower petals and the watermelon that will bring prosperity.
See some ideas below: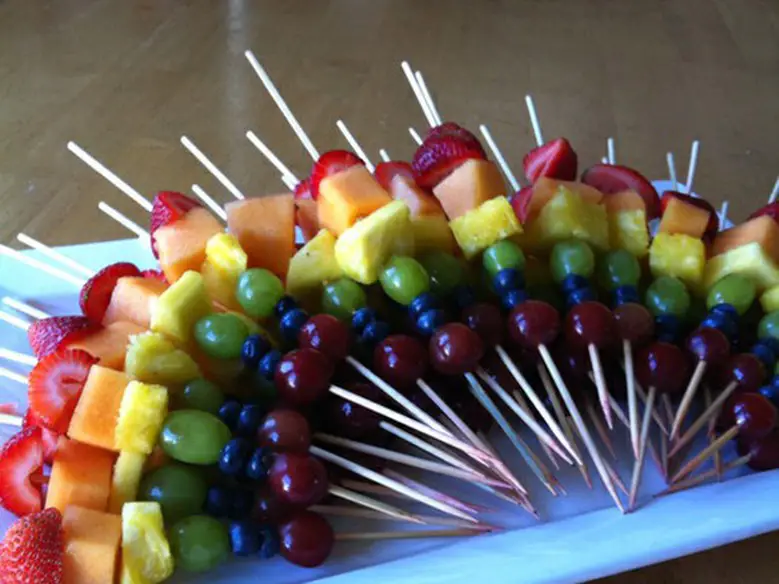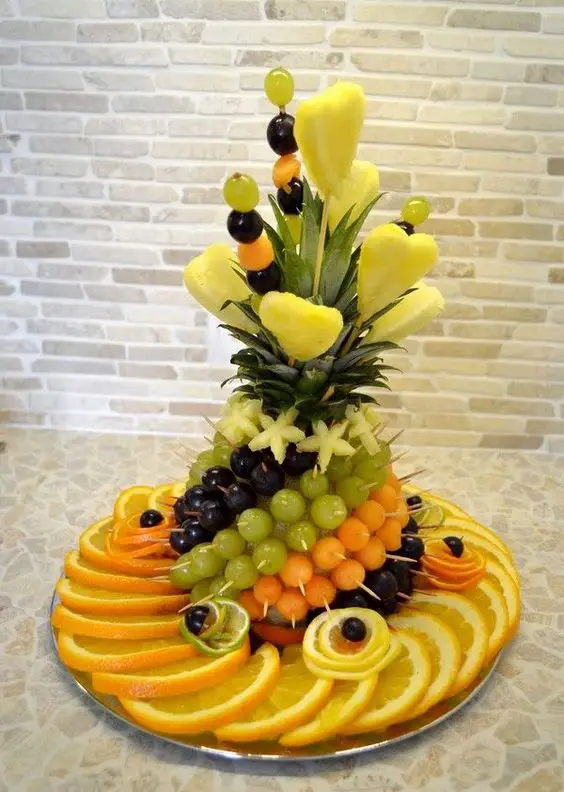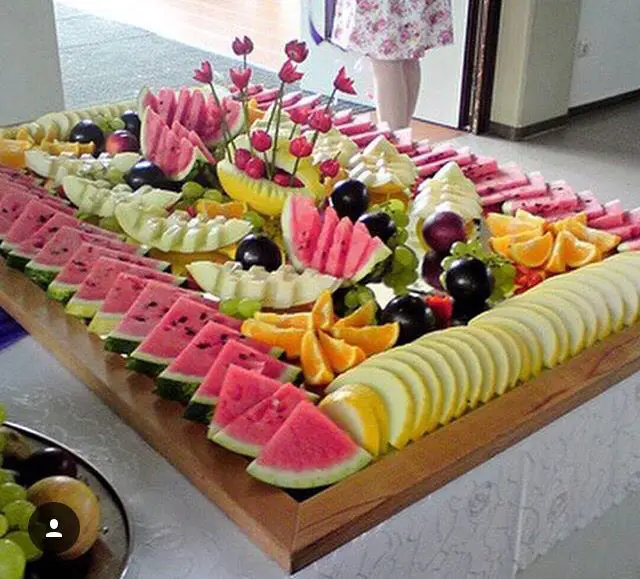 Decorated Fruit Tables For Weddings
The wedding decor itself should be more elegant and luxurious, and it's the details that make the difference.
Invest in the bride and groom's favorite fruits but also add some more elegant fruits.
You can also assemble some flowers using the fruits themselves as a base, another idea is the fruit sticks with chocolate syrup, there's no one who doesn't like this combination.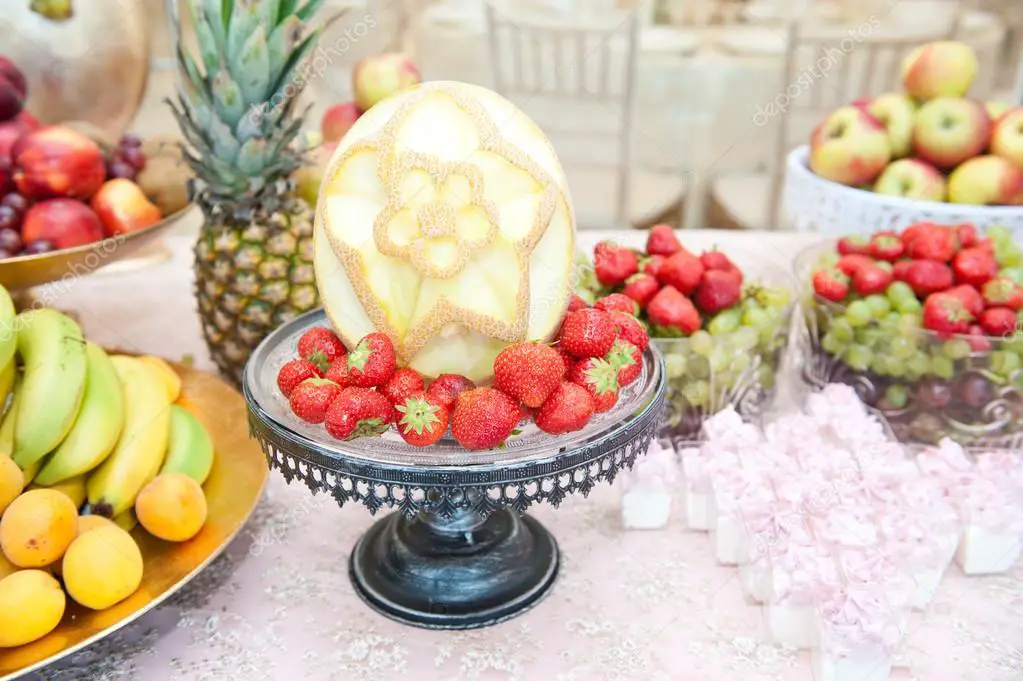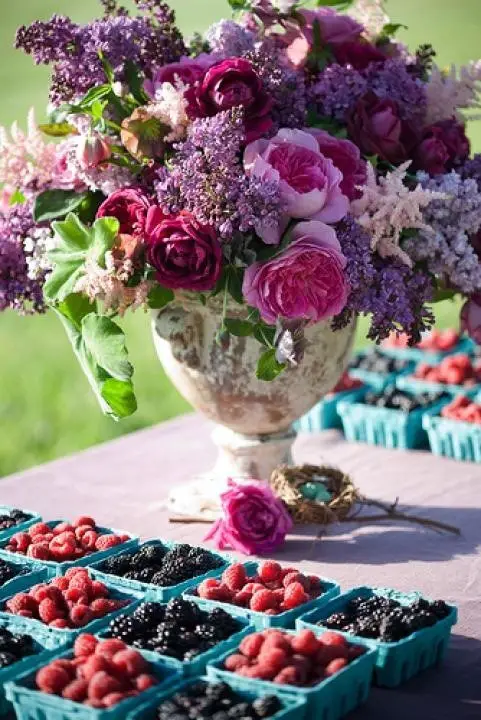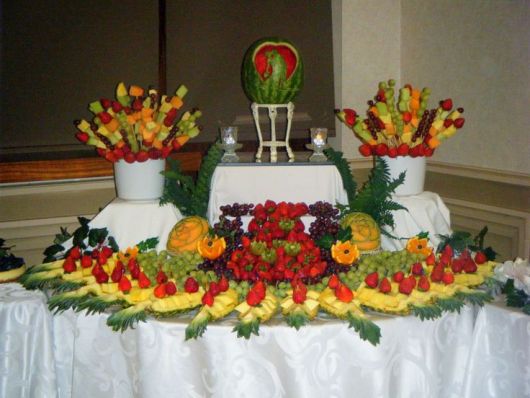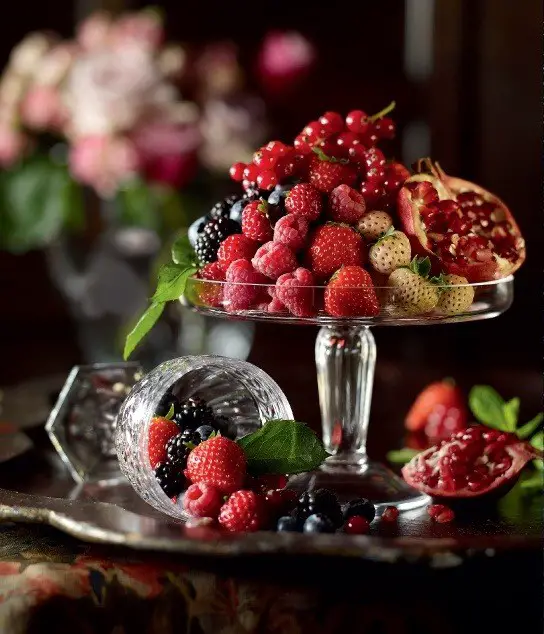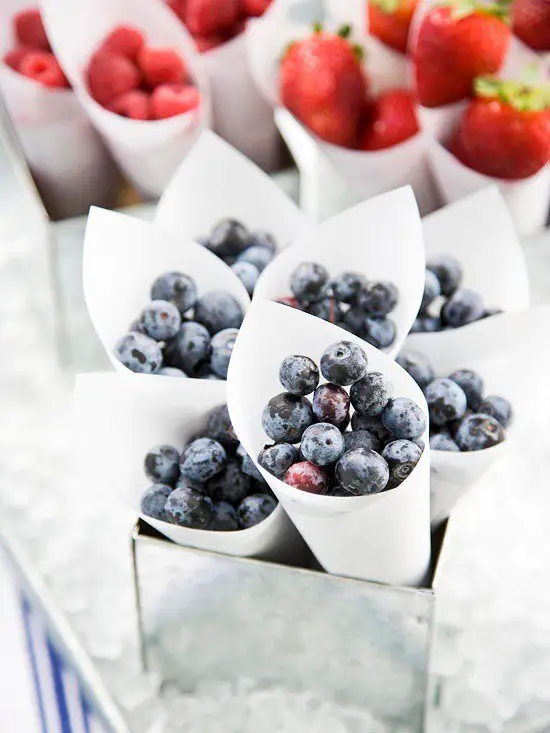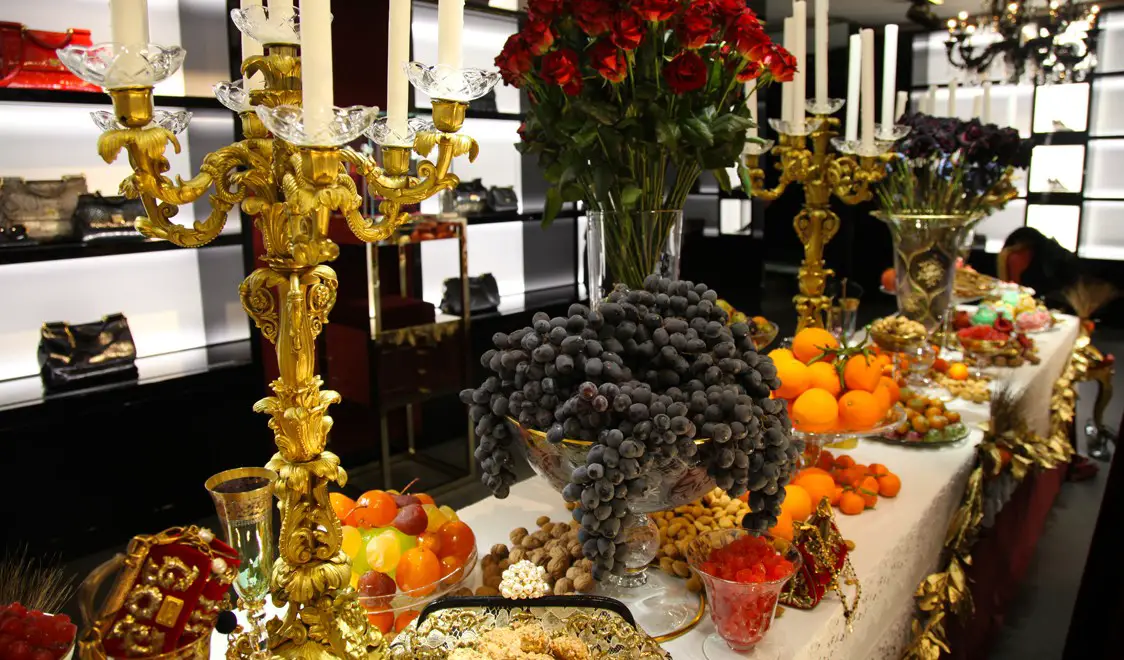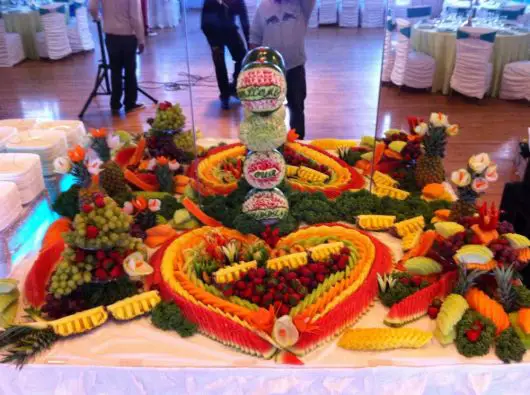 Fruit table for children's party
We mothers are always concerned about the health of our little ones, but many times after they reach a certain age it is completely difficult to make them eat certain foods and an alternative that many parents have found to include healthy foods in their children's diet is to fun dishes in many different shapes and designs.
And for you who want, in addition to sweets, to include some berries on the menu, there are several creative ways to serve them.
Use cute little pots, skewers forming the little body some design like a banana for example that can become a minions or even make a fruit cake that is today one of the strong trends of children's parties, being ideal for pool parties, in the farm or in the park.
Here are some cool ideas kids will love!
How to decorate table with fruits: Step by step
Whenever I go to an event and come across a watermelon cut in a different way I wonder how anyone managed to do this?
It was then that I went looking for some videos on the internet where people teach the step by step how to cut fruit and form beautiful decorative pieces that enhance any table making it much more charming!
How to cut decorated pineapple
Learn to Cut and Serve Watermelon Like a Pro
Porcupine fruit decoration
watermelon basket 
Fruits Decorated for Parties: Photos
Whether for Christmas, wedding, New Year's Eve, children's party or for that simple Sunday barbecue, there are perfect proposals that fit perfectly for the type of party you are going to organize. To help you, we have selected several photos that can be used as an example in your creations!
See too:
Bento cake: +30 birthday phrases and meme meaning