With the arrival of June, people start looking for tips for party favors and decorations for Festa Junina and we couldn't stay out of this one, right guys, we brought several models of party favors for children and adults.
This is a very broad theme, so many people who have a birthday this month also choose to take advantage of the occasion and use this theme to decorate their birthday party, because in addition to being cheerful, colorful, it is quite creative to work with, and when we talk about of souvenirs know that there are a lot of cool things to be delivered to your guests, some of these modelinhos are so easy to make that you can make them yourself at home, just follow some step by step, you don't need to have a lot of skill, just innovate and put the creativity in action! See: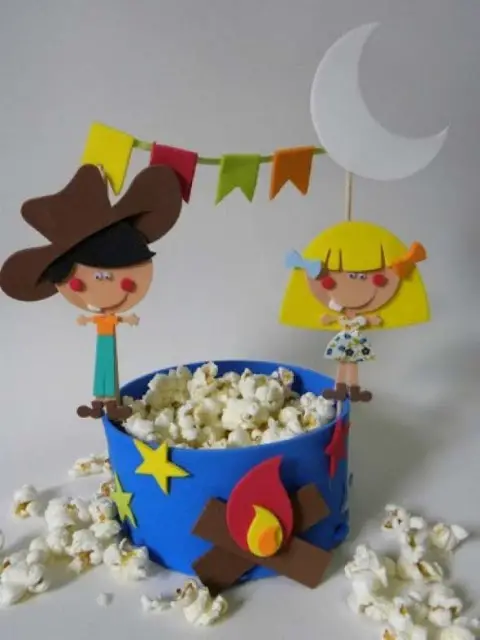 Party Favors: Simple and Easy to Make
With the union of a creative mind and willingness to get your hands dirty, you will be able to create amazing items for your next Saint John themed party. After ready some models will be so cute that they can even be used as decorative items on the main table or used as centerpieces, it looks amazing!!!
As children's party favors are all very dated and typical with colors that refer to the theme, so it's not pretty to use at other times of the year. They are ideal for a company party, children's party, school party, baby shower or birthdays at the time, as we know that everyone loves to receive a gift, this can be a good idea for a treat to please your guests.
colorful stall
This is a typical decoration and perfect for a June party, wherever you are going to use it, birthday, children's party or even to decorate your living room and leave character for the date. The creating & recreating channel shows how easy it is to do with just a few items that you certainly have in your home.
5 quick souvenirs
Using the power of your creativity Karina Correia teaches 5 party favors that are beautiful to look at and also to eat, it is certainly something that will make guests remember your party for a long time.
make a surprise bag
Using fabric, hot glue, cinnamon, hair fabric, sisal and any candy you want to put in the middle, in less than 1 minute it will be ready.
15 ideas with tips and templates
A class show you can check out in this video by WS Ateliê, they are souvenirs with candies, bonfire balloons, hat and much more.
Makeup for Festa Junina: Modern and Stylized
Lots of photos for inspiration
Inspire the little bridesmaids and bridesmaids, mini muffins and mini corn cakes, matutinhos as errands, decorations and souvenirs in Eva or Felt among others…