O Brasil é o maior país da América do Sul, estando entre o quinto maior do mundo em área territorial pra ser mais exato equivale a 47,3% do território sul-americano, estando entre o quinto em número de população são mais de 210 milhões de habitantes. Outra curiosidade do Brasil é que ele é o único país da América onde a maioria possuí um único idioma a língua portuguesa além, do mais é a nação de maior etnia isto, em decorrência da forte imigração vinda de diferentes locais do mundo.
Sua atual constituição foi oficialmente ordenada em 1988, onde foi apresentado o Brasil como uma república federativa presidencialista, formada pela união dos 26 estados, Distrito Federal e dos 510 municípios. Estando em vigor desde 1988, quando foi criado o Estado de Tocantis, que a partir da divisão do território de Goiás. Depois, dessas mudanças da constituição ocorrida em 88 os territórios de Rondônia, Roraima e Amapá tornaram-se Estados e o arquipélago(conjunto de ilhas próximas umas das outras) de Fernando de Noronha foi adicionado a Pernambuco.
Brazil Map with States, Capitals and Regions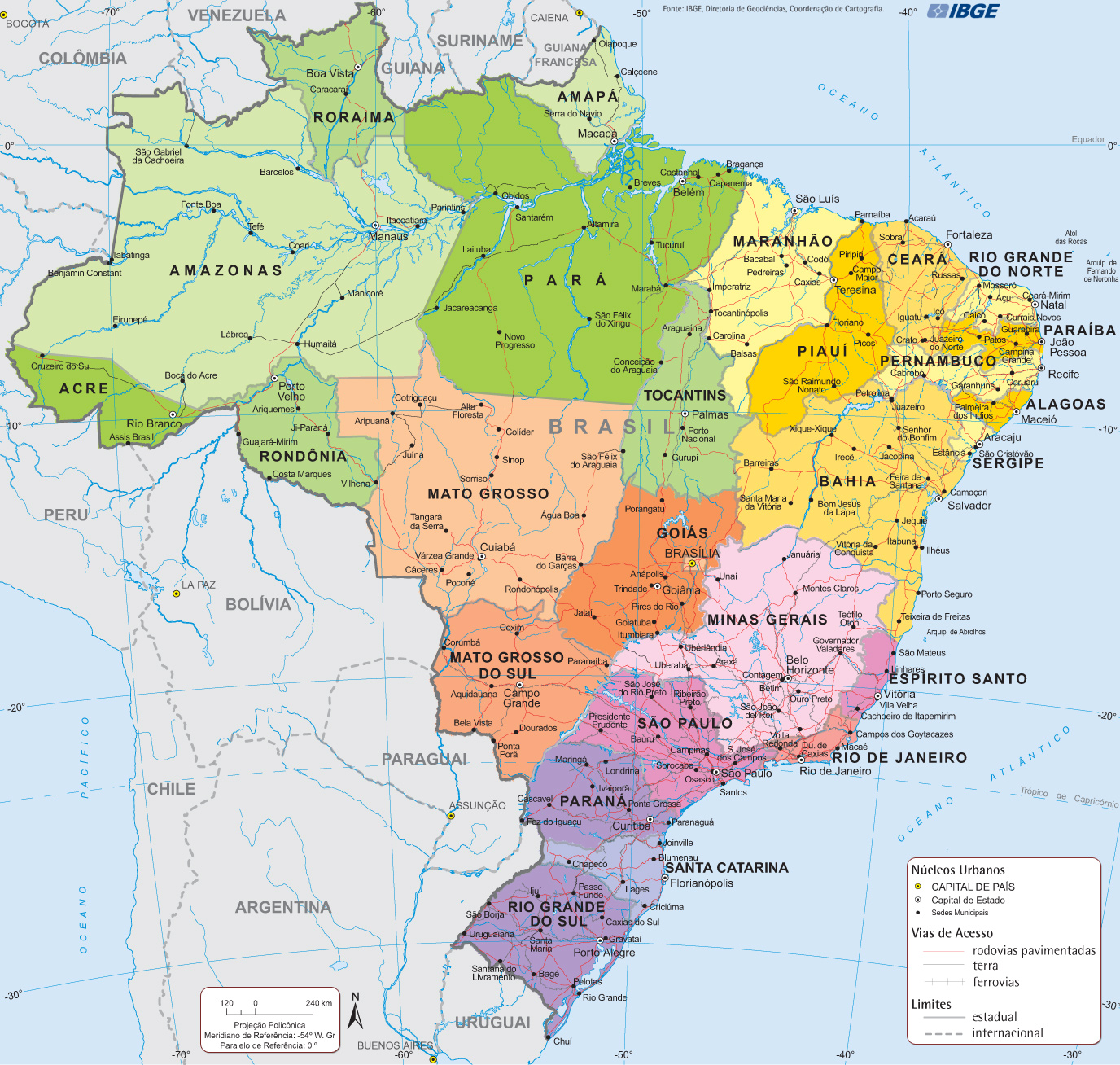 O mapa do Brasil é a representação cartográfica de todo espaço brasileiro, ele retrata o brasil a partir de parâmetros físicos, econômicos, demográficos, entre outros aspectos.
| Capitais | UF |
| --- | --- |
| Rio Branco | Acre (AC) |
| Maceió | Alagoas (AL) |
| Macapá | Amapá (AP) |
| Manaus | Amazonas (AM) |
| savior | Bahia (BA) |
| Fortaleza | Ceará (CE) |
| Brasília | Distrito Federal (DF) |
| Victory | Espírito Santo (ES) |
| Goiânia | Goiás (GO) |
| São Luís | Maranhão (MA) |
| Cuiabá | Mato Grosso (MT) |
| Campo Grande | Mato Grosso do Sul (MS) |
| Belo Horizonte | Minas Gerais (MG) |
| Belém | Pará (PA) |
| João Pessoa | Paraíba (PB) |
| Curitiba | Paraná (PR) |
| Recife | Pernambuco (PE) |
| Teresina | Piauí (PI) |
| Rio de Janeiro | Rio de Janeiro (RJ) |
| Christmas | Rio Grande do Norte (RN) |
| Porto Alegre | Rio Grande do Sul (RS) |
| Porto Velho | Rondônia (RO) |
| Boa Vista | Roraima (RR) |
| Florianópolis | Santa Catarina (SC) |
| São Paulo | São Paulo (SP) |
| Aracaju | Sergipe (SE) |
| Palmas | Tocantins (TO) |
Mapa do Brasil – Climas
A classificação do clima no Brasil foi feita pelo IBGE:
Equatorial
Tropical Zona Equatorial
Tropical Nordeste Oriental
Tropical Brasil Central
Temperado
Mapa do Brasil – Biomas
A classificação descrita abaixo foi feita pelo IBGE:
Amazônia: abrange principalmente a Região Norte do país.
Cerrado: abrange principalmente a Região Centro-Oeste.
Caatinga: abrange principalmente a Região Nordeste.
Pantanal: abrange principalmente a Região Centro-Oeste
Mata Atlântica: abrange a costa litorânea do país.
Pampa: abrange a Região Sul do país.
Localização Geográfica do Brasil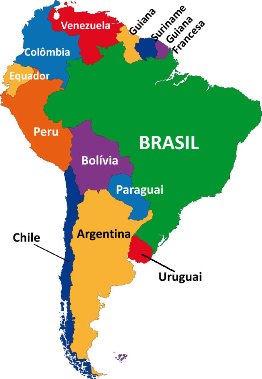 Segundo o que o mapa-múndi nos indica o Brasil encontra-se no Hemisfério Sul e faz parte do continente americano, mais especificamente na América do Sul. Sendo fronteira de vários outros países como Guiana Francesa, Suriname, Guiana, Venezuela e Colômbia ao norte, Uruguai e Argentina ao sul, Paraguai, Bolívia e Peru.
Mapa do Brasil para Colorir 
Uma ótima maneira de começar a ensinar aos pequenos sobre quais são os estados, capitais e regiões do Brasil é justamente através de atividades lúdicas, e uma bem divertida são os mapas para colorir através destes desenhos as crianças conheceram um pouco mais sobre o Brasil e também, trabalharam sua coordenação motora e criatividade.