In today's article we will give you several options for mother's day message 2023 for you to honor your mother and make this day more than special! A mother's bond with her children is so great that just looking at her, she already knows if we are sad or happy and is always on our side regardless of the circumstances.
Don't let this day go unnoticed, book some money or make yourself a gift for your mother or if the money is short send a card with a beautiful message anyway, take a little time out of your day to show all your love and affection for her person who dedicated a whole life to you! Whether through facebook, whatsapp, instagram or in person, what matters is to remember and make this day unforgettable!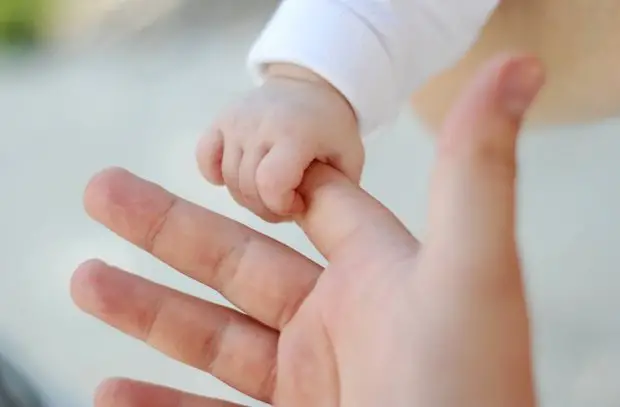 Not all people have or had their mothers close by, either, for different reasons that are not the case now, if this was your case but you have your grandmother, aunt, stepmother or sister that you consider as your mother because they were they who fulfilled and filled this role in your life you must send a very beautiful message showing all your feelings after all, mother is much more than carrying in the womb it is a love generated in the heart!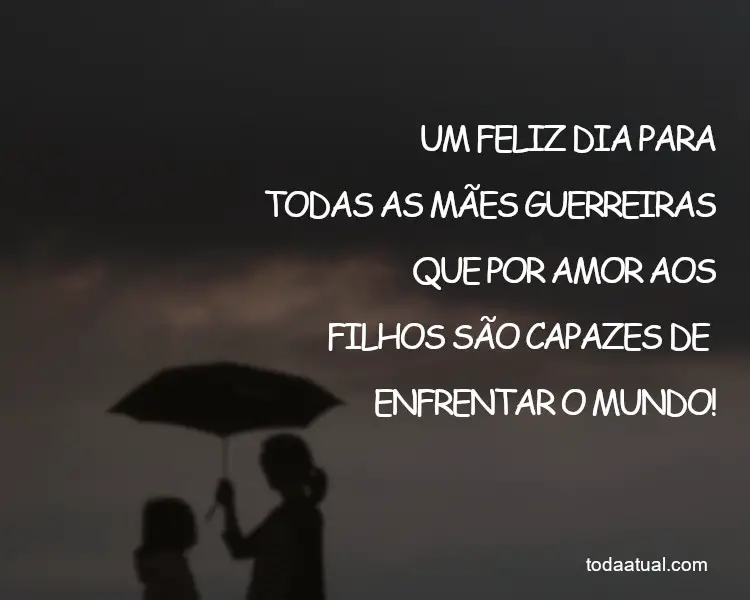 Mother's Day 2023 Message: Phrases
Not every Queen has a crown. The proof of that is my mother.
You are a gift from God. Love you mom.
Happy Mother's Day, dear mother-in-law! I thank you for the good mother you were and for the good example you continue to be for the love of my life.
Mother is Mother, and it doesn't matter if love is the fruit of the womb or not. Happy Mother's Day to the adoptive mothers!
Happy Mother's Day to the person who gave me life and every day gives me reasons to live!
Protector, friend, confidant, a blessing from God in my life. You are like that, my mother! Happy Mothers Day!
We may not call it a mother, but she cares, loves and hugs like one. Happy Mother's Day to all aunts!
On this Mother's Day, hug your grandmother with the purest and most sincere love, because she is a double mother.
Nothing is stronger or truer than a mother's love. Happy Mothers Day!
Out of 10 lives, 11 I would give for my mother.
Today is the day to express admiration for all my friends who make it great to be a mother.
Without you everything would be dark, because you are the main light of my life. I love you, dear mother!
With you I learned everything I know today. Thank you for everything mom, you are and always will be the best mom in the world. I love you! Happy Mothers Day!
God chose the best person in the world to be my mother.
Mother, principle of everything and synonymous with love. To you mom, with all my love…Happy Mother's Day
Life doesn't come with a manual, but it comes with a mother. Which is the same thing.
Mom, every day is your day! If I could, I would give you a truck of flowers of all colors, the whole sky and the sea… Because I love to love you. Happy Mothers Day!
Mom, I don't need a day to show my love for you. I love you from January to January!
Mother! A companion, a counselor, a friend, a unique example of love.
Happy Mothers Day!
Mother has to be remembered every day and at all hours, but there is one day in particular that serves to alert the most distracted: Mother's Day.
Mom's smile and lap are tastier than chocolate ice cream, and also cheaper. Happy Mother's Day, with love and joy!
Your lap is sublime comfort, your heart a source of unconditional love. The best mother in the world is mine!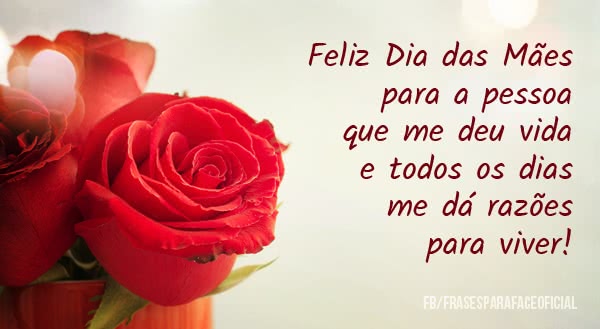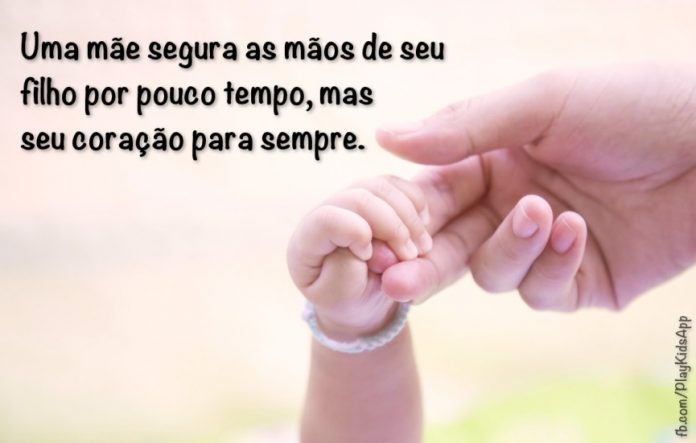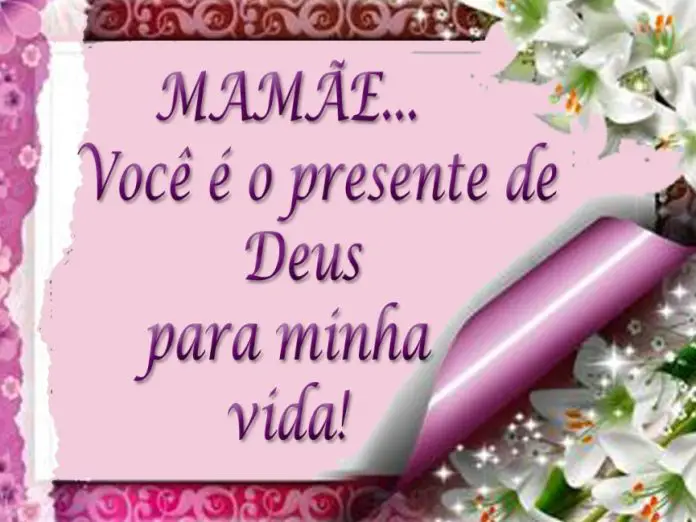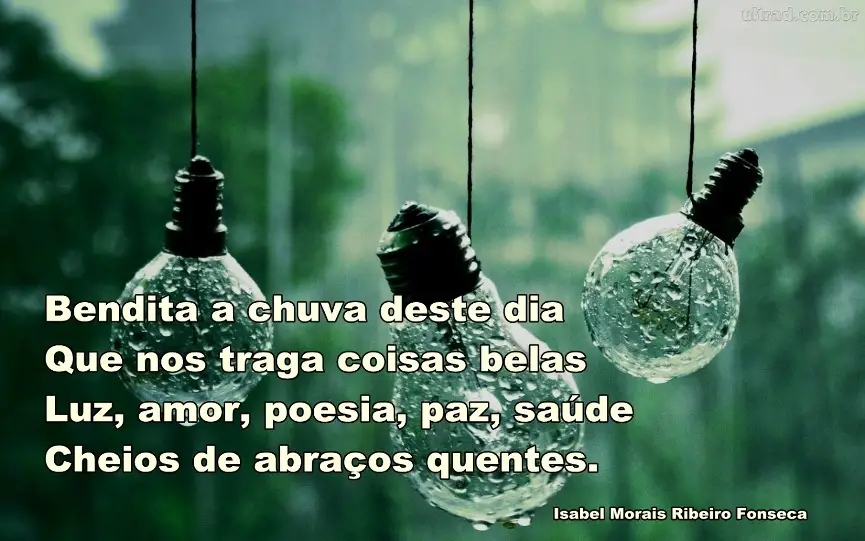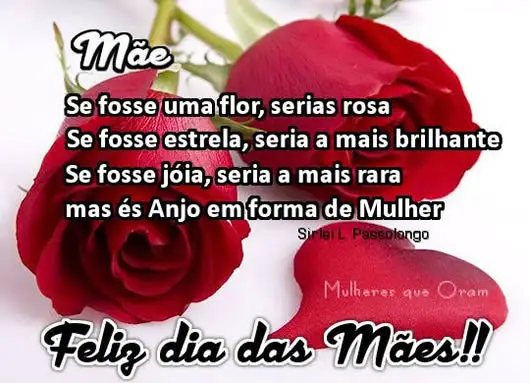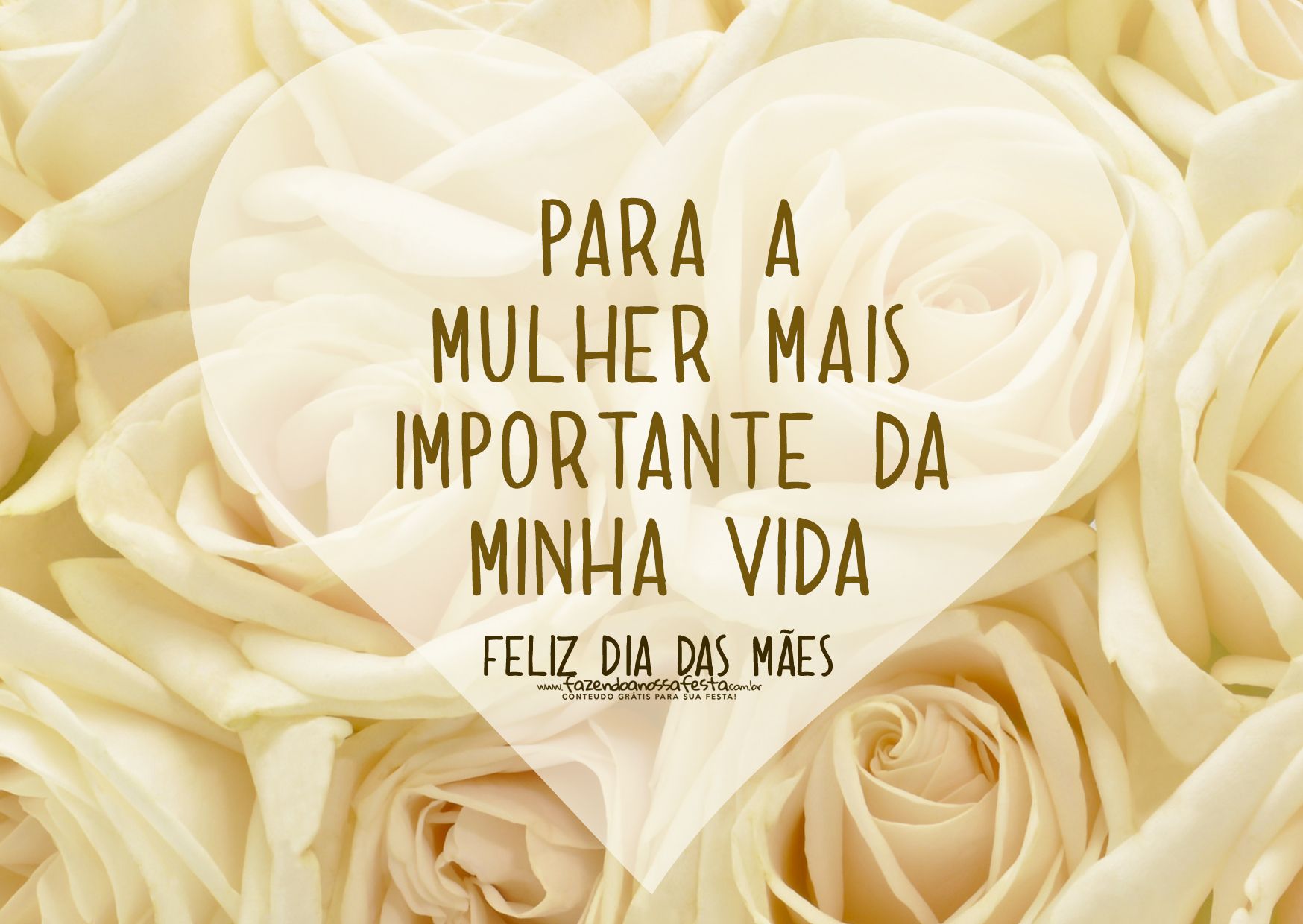 Texts for Mother's Day Exciting
Texts are also very popular on Mother's Day because sometimes a simple sentence doesn't show how much we love our mother and through several written lines it's easier to show such feeling and also, how grateful we are for her life!
thanks to the mother
You who carried me in your womb for nine months without complaining. You who took care of me without caring about tomorrow. You who complain, talk, but for my sake, you're always right. And it's still the fundamental piece of my life's puzzle.
It's mom, you may not know how much I love you, it must be because I don't show it. But my heart is overjoyed when I come home to find her by my side. And most importantly, my world is nothing if you're not in it.
Congratulations on your day!
Evangelical Homage to Mother
Its value exceeds noble rubies. Your prayers are more valuable than diamonds.
Today, when I woke up, I saw that the day is more beautiful, I remembered you, mother. A virtuous woman, full of qualities and a welcoming heart.
Mother, you positive woman, whose thoughts are always elevated to God. Mother, your presence in my life brings motivation to my spirit, which gives me joy and strength to live.
You, much more than my mother, are the one who is at my side at all times, praying, fasting and even crying in your service. Your prayers are a balm for me.
I'm sure that every tear shed by me was welcomed by an angel, and for that mother, I'm here thanking you for all this and much more that you have done for me.
Thank you mother. I love you.
Happy Mothers Day!
Gospel Messages for Mother's Day 2023
Being a mother is assuming before God the gift of creation, donation and unconditional love. Enjoy this day and show all your love! See> Evangelical Messages 
mother who are you
Mom, who are you?
if I'm happy,
how many times I forget you;
if I'm sad,
how many times i look for you
Mom, who are you?
that I criticize,
from whom I demand such small things
to satisfy my comfort,
but to whom do I ask the greatest help?
in the most difficult moments?
Mom, who are you?
for whom I so often
I forget my affection,
and from whom do I demand so much attention?
Mom, who are you, what do I argue with?
and who do I ask for advice?
Mom, who are you?
to whom I always complain,
and for whom do I keep
the biggest hug and the biggest tenderness.
Mom I know
You are just… LOVE.
messenger of God
Mother,
You are a strong, determined person.
You gather each of your dreams and try with wisdom and divine help to fulfill each of them.
Anyway mom, you were born of love.
She was generated in a womb of love and that's why she has the heart of an adored mother.
Today is your day! Surely your heart must be celebrating because today your mother's smile emerged like dawn.
Her mother's face lightened the Earth like the Moon.
And his gaze became radiant like the sun.
You mother, you are a beautiful woman, worthy of the Father's love. It is beautiful of forgiveness and peace.
Her motherly zeal gives courage and animates life. Your love is strong.
Your mother warms the soul. Your arms caress life.
Anyway… You are a happy woman.
She is a messenger of God, a wise woman, a chosen one of the Father, a daughter to whom God entrusts immense blessings.
For all this my mother...
Be very happy on that day and receive my daughter's affection and infinite gratitude!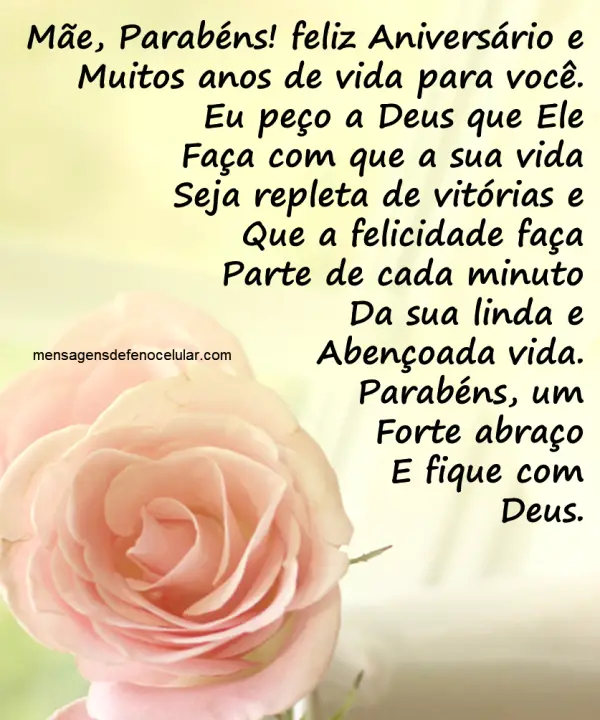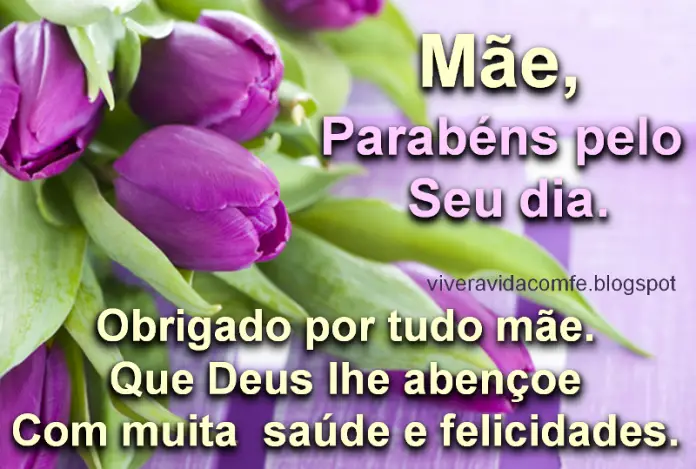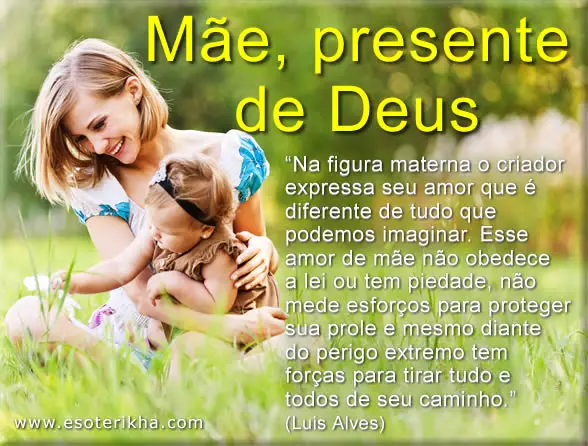 Mother's Day Message 2023 Songs
"Mother, your infinite love
Eternal love is so deep
Mom, you seem sometimes
who is everyone's mother
Mother now here before you I declare
my life gets more beautiful
With you by my side, by my side
I love you so, so much and I thank you always
And whenever I can I'll be around
clear
Mother"
Fábio Júnior – Mother
"Mother, give me your lap,
Mother, woman I adore,
Mother, if I exist, I owe you my breath
Mother, so pure mother's love
That sometimes I don't have words to express
Mom, for you I conjugate the verb to love….mother"
Rick & Renner – Mother
"Your heart is like this
Flower that blooms every morning
Fountain of love that is endless
God made you this way to take care of me
I want to grow up with you
And every day learn
that your heart is like this
My mom"
Aline Barros – Mother's heart
https://www.youtube.com/watch?v=Aq14FDmvBEU
"And there's nothing to compare
To be able to explain to you
How great is my love for you
Not even the sky, not the stars
Not even the sea and infinity
It is not bigger than my love, nor more beautiful"
Roberto Carlos – How great is my love for you
Mother's Day Printable Message 2023
The internet allows us to find a little bit of everything, and with the Mother's Day tributes it wouldn't be different we can find the best messages online to send for free, below you will have some examples. Find the one that best suits your mommy and send it right now….