Super famoso em todo o Brasil e até mesmo no exterior, o pão de queijo é um dos principais representantes da culinária de Minas Gerais. Este pãozinho tão saboroso e cheiroso e ideal para um café da tarde com familiares ou até mesmo para um lanchinho da tarde com amigos. Se você preferir você pode recheá-lo que ficará ainda mais gostoso.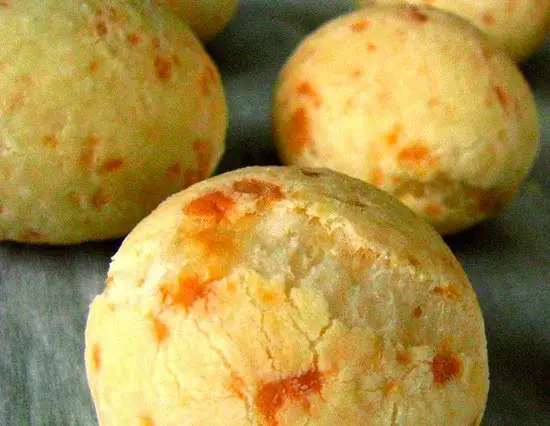 O pão de queijo mineiro é tão famoso que no dia 17 de agosto é comemorado o dia do dele acreditem? Portanto confiram a receita super prática e rápida.
Ingredients
Rende: 25 pães de queijo
1 cup of water
1 cup of oil
1 cup of milk
1 tablespoon of salt
3 xícaras de polvilho azedo
2 xícaras de polvilho doce
2 xícaras de queijo meia-cura
5 eggs
Preparation mode
Leve ao fogo a água, óleo, leite e sal. Quando ferver, retire do fogo e reserve.
Misture os polvilhos e vá despejando o líquido quente aos poucos, mexendo bem. Quando a mistura estiver morna, acrescente o queijo e os ovos, mexendo bem depois de cada adição de ovo. Trabalhe a massa até soltar das mãos e ficar lisinha.
Forme bolinhas, coloque numa assadeira e leve ao fogo por 20-30 minutos.
Preaqueça o forno médio (180ºC).