Uma das grandes dificuldades das donas de casa acontece justamente na época do natal pois, elaborar um cardápio de natal pode ser algo difícil, pensando nisso selecionamos este post que ajudará a você a preparar um arroz delicioso para você e seus familiares.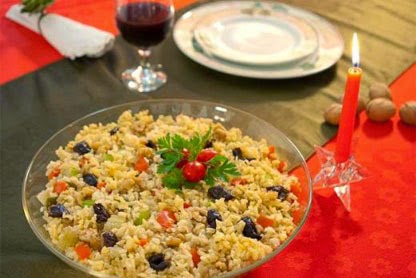 Sempre presentes nas ceias natalinas, em várias partes do mundo, aves como peru, tender e chester, entre outras, ficam ainda mais deliciosas quando acompanhadas de um delicioso arroz de natal, prato que é ótimo também para acompanhar outros tipos de carnes (pernil, lombo, bacalhau, etc). Confiram a Receita de Arroz Natalino, tenho certeza que sua família irá amar.
Receita:
Ingredients
5 xícaras (chá)de arroz cozido com óleo, sal e cebola
1 collher(sopa) margarina
200g de ameixa preta sem caroço picada
2 chopped carrots
200g de uva passa sem caroço
50g de damasco picado
2 maçãs verde picadas
Em outra panela:
2 colheres(sopa) de óleo
1 onion grated
1/2 k(Meio quilo) de tomate sem pele e sem semente
1 vidro de palmito 400 g
1 can of peas
100g de azeitonas verde picadas
200g de presunto em tirinhas
green smell to taste
salt to taste.
Para cobrir:
250 g de mussarela ou 200 g de provolone.
Preparation mode
Cozinhe o arroz de forma convencional só com cebola, sal e óleo (sem utilizar alho),reserve
Refogue na margarina a ameixa, a cenoura, a uva passa, o damasco e a maçã tudo devidamente picado(não utilize sal)
Reserve
Em outra panela refogue no óleo a cebola, os tomates, o palmito, a ervilha, as azeitonas (esses primeiros picados) e o presunto cortado em tiras finas, desligue o fogo e acrescente o cheiro verde
Numa refratária faça camadas iniciando pelo arroz, depois o recheio de frutas, o recheio salgado, o arroz, recheio de frutas e continua até terminar as camadas
Deite o queijo (mussarela ou provolone, ou até os dois misturados) ralado grosso sobre o arroz, leve ao forno para derreter o queijo
Sirva a seguir