Com a aproximação do natal milhares de pessoas começam a preparar o cardápio de natal afinal, natal sem comilanças não é natal não é mesmo? Pois bem, pesando nisso preparamos este poste com algumas dicas de como preparar pernil de natal a receita é muito simples e prática o segredo está na seleção de ingredientes para fazer o tempero além, da escolha de uma boa peça de carne, seguindo essas duas dicas fica impossível errar.
O pernil suíno assado não pode faltar nas festas de final de ano. Eles costumam ser uma tradição das ceias de natal e ano novo, podendo ser servido como prato principal acompanhado de arroz, feijão, salada e farofa ou como aperitivo com um delicioso pão de queijo é tão gostoso e saboroso que chega dá aguá na boca.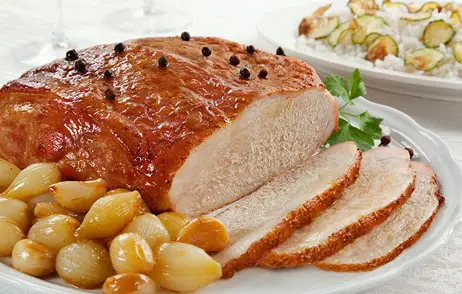 Passo a Passo de Pernil de Natal:
Ingredients:
1 pernil de porco sem osso
sala gosto
Black pepper
Suco de 1 limão
1 galho de alecrim
2 folhas de louro
2 garlic cloves
1 colher (sopa) de gengibre
1 xícara (chá) de suco de laranja
1 xícara (chá) de vinho branco seco
2 colheres (sopa) de azeite
Ingredientes para o Molho:
1 tablespoon of corn starch
2 colheres (sopa) de água
1 xícara (chá) de caldo de legumes
1 colher (sopa) de mostarda dijon
1 cup of cream (milk)
6 laranjinhas
½ xícara (chá) de cebolinhas picadas
½ xícara (chá) do molho da marinada do pernil
Preparation mode
Temperar o pernil com todos os ingredientes e deixar marinar de um dia para o outro. Colocar em uma assadeira e levar ao forno médio por 3 horas e meia. Retirá-lo da forma e cortá-lo em fatias.
Molho: misturar todos os ingredientes do molho em uma panela, menos o creme de leite e a cebolinha. Deixe engrossar e desligue o fogo. Coloque o creme de leite e jogue por cima do pernil.