This urgency to achieve the perfect body is in fact one of the great concerns of most people today, who never dreamed of stopping eating sweets, fried foods and fast food in addition to exercising 4 times a week and ended up giving up, the secret to successful weight loss is to start slowly not to set unreachable goals that you will hardly be able to maintain for a long time
What I see in gyms is that people take physical activity as an escape valve, for example, I'm going to work out "so I can eat pizza" or I'm going to work out this week without missing a day because "I put my foot in the jackfruit weekend" , if you think this way you will continue to be frustrated with the results. In order to have a satisfactory result, it is necessary to unite the practice of physical activity with good nutrition, both must go hand in hand.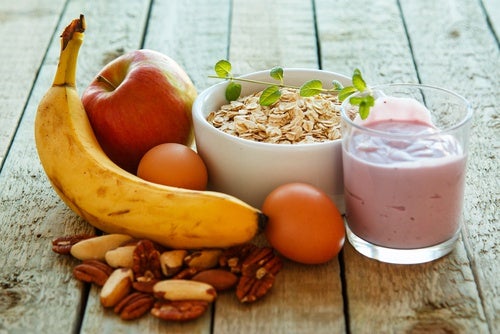 You don't have to follow extreme diets to lose weight, the best way to lose weight and maintain the weight is to re-educate your body by consuming healthy and natural foods, let's say you should "Unpack less, peel more" this is the secret to losing weight and keeping it off healthy.
I myself, I skipped breakfast over and over again, thinking that it would help me lose weight, but today I know that this is wrong since breakfast literally means "breaking the fast", after all it is the first meal of the day which will provide about 25 % of the energy intake your body needs during the day. Furthermore, skipping breakfast will only result in weight gain once, and the body will feel the urge to eat larger amounts at subsequent meals.
But for a breakfast to be tasty and nutritious, some foods must be present on the table. To help you follow a healthy lifestyle, we've prepared a list of several nutritious and functional breakfast alternatives that are healthy recipes that will surprise you with how delicious they are. Check out:
Read too: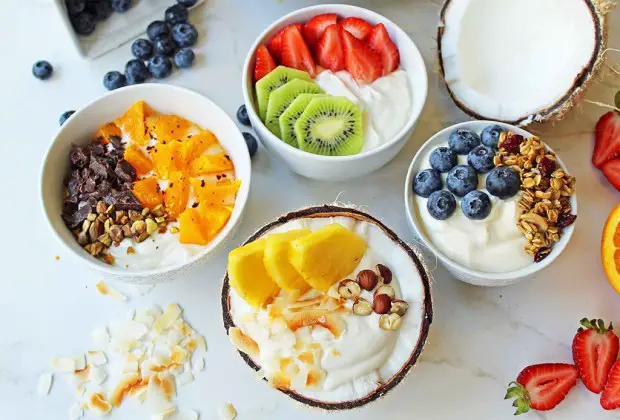 Oatmeal and banana cake
In addition to being delicious, this is a very practical and quick recipe, we will teach you a recipe enough for one person, but you can be increasing the amount of ingredients and thus being able to serve the whole family.
Ingredients:
1 egg
1 banana (ripe)
1 spoon of rolled oats
1 small spoon of cinnamon
1 spoon of baking powder
Preparation mode:
Mash the banana with a fork, mix the other ingredients following the sequence above.
Stir and microwave for 3 minutes or a little longer depending on the potential of your microwave.
Pancake Of Banana
Bananas are rich in fiber which helps to satiate the appetite in addition to assisting in the proper functioning of the intestine. Versatile with it, it is possible to make countless recipes including the pancake that when accompanied by a coffee is amazing.
Ingredients:
Preparation mode:
Mash the banana and mix it with the egg.
Then, just pour the dough into a skillet greased with coconut oil, over low heat.
Fit hot mix (without flour)
Ingredients:
1 egg
2 spoons of cottage cheese
1 small spoon of baking powder
Preparation mode:
Crack the egg into a small bowl, add the two tablespoons of curd and mix well until it forms a creamy dough.
Put the yeast, and mix.
Pour into a greased, microwave-safe bowl.
Take it to the microwave for 3 minutes, just open the pasta and fill with the ingredients you prefer.
crepioca
Do you have no idea to replace French bread in the morning? Bet on crepioca which is a very tasty recipe that combines the carbohydrate of tapioca with the protein of the egg.
Ingredients:
2 spoons of tapioca
2 eggs
a pinch of salt
Preparation mode:
Beat the eggs, mix the tapioca flour and salt.
Pour the dough into a skillet greased with coconut oil or olive oil, let it brown on both sides.
Oatmeal porridge with banana
Oatmeal helps with weight loss due to its large amount of fiber that ensures more satiety and helps in the functioning of the intestine.
1 cup of skimmed milk
1 banana
2 tablespoons of oat flour
1 coffee spoon of vanilla essence
cinnamon to taste
Preparation mode:
In a mug, add the skimmed milk to a low heat, once it is warm, add the oats, cinnamon and vanilla essence, mix and let it boil on low heat until it thickens and releases from the bottom of the pan. Mash the banana and mix it with the porridge and that's it, just enjoy it.
Frying pan cheese bread 
I'm a mineirinha so, I'm suspicious to talk after all, we are known for our cuisine and one of the typical dishes from Minas is undoubtedly our cheese bread, if you love cheese bread like me you will love today's tip , how about learning a recipe for cheese bread from a fit skillet this way, you won't have to give up what you like best, just adapt the recipe and that's it. Let's check it out:
Ingredients:
4 tablespoons of tapioca
1 egg
1 tablespoon of light cottage cheese
Preparation mode:
Mix all the ingredients one by one and then, take it to the frying pan until it releases from the bottom and gets golden.
Frying Pan Corn Cake
Tasty is one of those recipes that no one can fault! Makes up to two servings and super satiating.
Ingredients:
2 tablespoons of cornmeal
2 tablespoons of coconut flour
2 tablespoons of coconut milk
1 teaspoon of coconut oil
1 tablespoon of honey or culinary sweetener
2 tablespoons of corn
2 units of egg
1 teaspoon of cake yeast
1 teaspoon of white vinegar
1 pinch of salt
Preparation mode:
In the blender place the coconut milk, eggs, 1 tablespoon of vinegar, cinnamon, honey and corn.
Beat for a few minutes, pour into a bowl add the coconut flour, cornmeal and baking powder mix with a whisk. Pour some of the dough into the skillet to cook, turn from side to side until golden.
Microwave Muffins
Anyone who is adapted to a healthy life knows that wheat flour is one of the great villains of weight loss, so certain cakes should be avoided, but every now and then you feel the urge to eat a cookie at these times, a good tip is to bet in muffin fit without filling and without topping it can be consumed sparingly.
Ingredients:
¼ cup of oats
1 egg
Brown sugar
chopped fruit of your choice
Preparation mode:
Mix all the ingredients and then, put a handful of fruit together with the dough.
Microwave for 1 and a half minutes
green omelet 
Eating an omelet right when you wake up is a tasty and nutritious way to start your day right! This is a protein-packed option that will keep you energized all morning in addition to promoting satiety so that you can wait until lunch time without having to nibble on snacks before lunch.
Ingredients:
2 eggs
half chopped tomato
a handful of chopped onion
3 spoons of parsley
1 spoon of chives
pinch of salt
Preparation mode:
Mix all the ingredients, pour into a frying pan and cook over low heat until golden on both sides and that's it.
Avocado Pâté with Wholemeal Bread
How about starting the day with a mega laced and different snack? Follow the recipe you will be surprised!
Ingredients:
half avocado
half lemon
black pepper and salt to taste
1 tablespoon olive oil
2 parts of wholemeal bread
Preparation mode:
Mash the avocado, squeeze the lemon together with the avocado and then add the other ingredients. Mix until it becomes a very tasty cream! Pass the spread on the bread and if you prefer, make a scrambled egg in olive oil to accompany the pâté, it is very different and delicious!