Who would have thought that a simple combination of wheat bread stuffed with meat, cheese or various vegetables could become such a delicious snack! For those who think that esfirra is a Brazilian dish, this one is completely wrong, it is a dish of Arab origin with super quick and practical preparation after all, the savory consists of a fluffy dough stuffed with the most variable flavors and can be assembled both closed and open independently. of the format both are delicious and I went well on several occasions.
We housewives know that although it is pleasant to prepare the day-to-day meals for the whole family every single day it is not such an easy task, there are days when we are so tired of doing the same thing over and over that we look for alternatives to Quick and delicious snacks to diversify our family's meals, being perfect for meetings with friends or even to serve at birthday parties, as it can be molded into smaller sizes.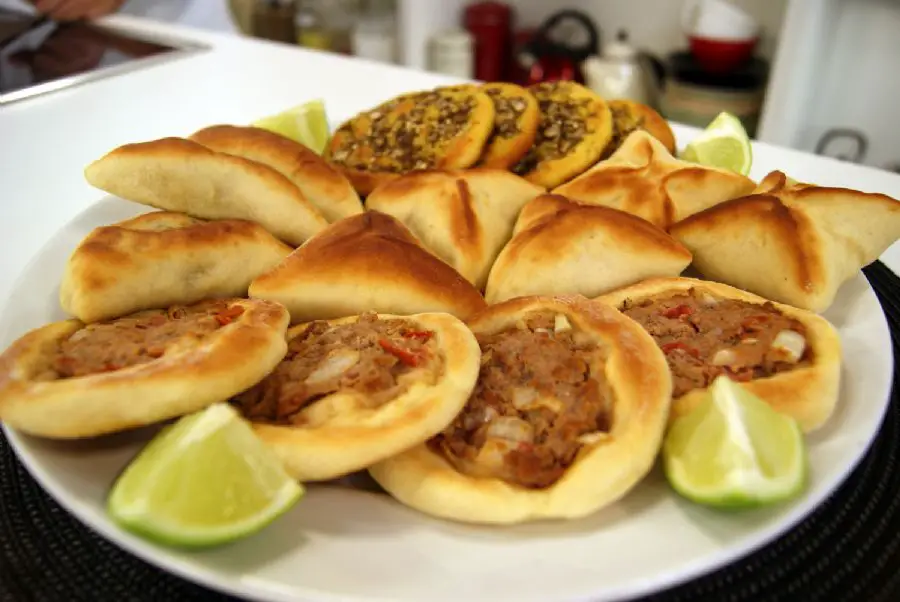 The other day I decided to test some recipes for open esfihas that I found on the internet after all, at least once a month we bought a pack of 20 esfihas for R$30.00 and I was amazed at how many units there were and it was very cheaper than the ones I bought at the esfiharia. The good thing about homemade esfirras is that you can make them with the flavors you like best.
Esfiha Recipes with Delicious Fillings
Open pepperoni esfirra with cheese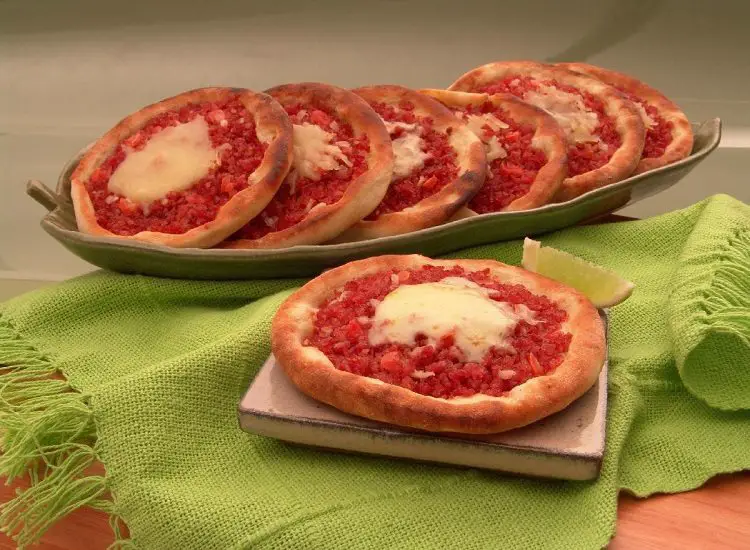 Ingredients:
4 tablets of fresh yeast (60g)
3 cups of milk (warm)
1/2 cup (tea) of oil
4 eggs
1 tablespoon of sugar
2 tablespoons of margarine
1 teaspoon of salt
9 cups of wheat flour
Wheat flour for flouring
oil for greasing
Filling:
4 slices of skinless calabrese sausage, minced
1 tablespoon of oil
1 chopped onion
2 chopped tomatoes
2 tablespoons of chopped parsley
400g grated mozzarella cheese
Preparation mode:
For the dough, beat all the ingredients, except the flour, in the blender until smooth. Turn off and, in a bowl, pour over the flour. Mix with a spoon until incorporated. Transfer the dough to a lightly floured surface and knead for 10 minutes or until the dough is soft and elastic. Cover and let rest for 1 hour.
For the filling, crush the pepperoni in a blender. Heat the oil in a pan over medium heat and fry the pepperoni until golden. Remove from heat, drain, mix the onion, tomato, parsley and set aside. Divide the dough into portions and form rolls with a diameter of 4 cm. Cut into 2cm thick slices, open the portions with your fingertips making a slight edge on the sides and arrange on a greased baking sheet. Spread the pepperoni and sprinkle with a little cheese on top. Bake in the preheated oven for 15 minutes or until golden and the cheese is melted. Remove and serve.

Ingredients
2 tablespoons olive oil (stuffing)
3 minced garlic cloves (stuffing)
1 medium onion chopped (stuffing)
2 medium tomatoes, seeded, chopped (stuffing)
* salt to taste (filling)
* to taste of black pepper (stuffing)
1 tablespoon of chopped parsley (stuffing)
2 cans of shredded tuna (stuffing)
2 tablespoons chopped green olives (stuffing)
3 cups of wheat flour (dough)
2 teaspoons salt (dough)
1 tablet of crumbled yeast – 15 g (dough)
1 cup of warm water (dough)
1/2 cup of oil (mass)"
Preparation mode:
Filling:
In a pan, heat the oil over medium heat, add the garlic, onion and fry until lightly browned. Add the tomatoes and sauté for 1 minute or until wilted. Add salt, pepper, parsley and tuna. Mix and remove from heat. Reserve.
Pasta:
Preheat oven to medium temperature (180ºC). Grease and flour a large rectangular baking dish (39 x 25.5 cm). In a bowl, place the flour, salt, yeast and mix. Add water, oil and knead until a homogeneous mass is obtained.
Divide the dough into 16 portions and shape into balls. Flatten each ball, place a little of the reserved stuffing in the center of the dough and close by modeling the esfihas in triangles, squeezing the edges well. Place on the reserved baking sheet, cover and let rise for 20 minutes or until doubled in volume. Brush with egg yolk and bake for 15 minutes or until lightly golden. Serve next. Makes 16 units."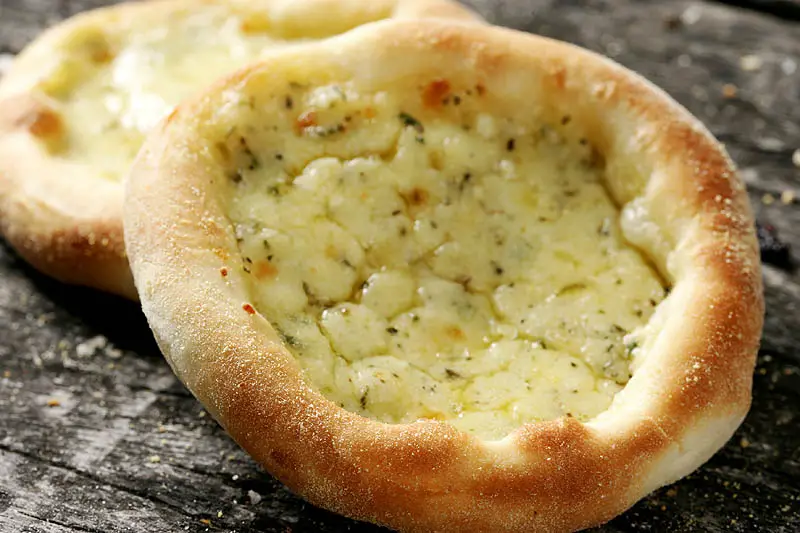 Ingredients:
1k of wheat flour (plus a little more until the dough comes together);
30g of dry yeast;
125g caster sugar;sfiha-open-habibs-2
125ml of soy oil;
0.5 to 700ml of filtered water;
13g of refined salt.
Cornmeal to sprinkle
Filling (cheese):
650g mashed white cheese
1 1/2 cup chopped parsley/chives
6 tablespoons of sour cream
1 teaspoon of powdered yeast
salt (in case the cheese doesn't have enough)
Preparation mode:
Filling:
Combine all ingredients.
Mix well, kneading with your hands and set aside.
Pasta:
Mix the flour with the yeast and sugar and let it rest for 5 minutes.
Add the oil, water and salt.
Place the dough on a marble surface and knead it until it has a smooth appearance.
With a knife, cut wide strips of the dough and then cut it in half.
Make a thick roll. Take three fingers as a measure and cut the dough into equal pieces.
Make balls and play on a table with cornmeal.
Using three fingers, flatten each ball into high sides (like a nest with not too high edges) and let rest for 10 to 20 minutes sprinkled with cornmeal.
Place a small portion of filling on each esfiha disc. Spread the filling evenly and bake in a preheated oven at 180º.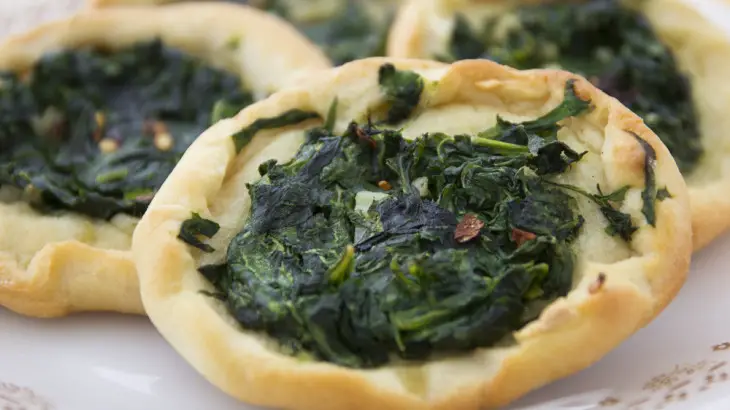 Ingredients:
1 bunch of spinach
2 medium onions
1 tablespoon of olive oil
Salt and black pepper to taste
1 lemon
1 package of ready-made puff pastry
1/2 cup of chopped walnuts
Preparation mode:
Boil spinach with water and drain.
Finely chop the spinach and onion.
Saute in olive oil and season with salt, pepper and lemon juice, letting the remaining water dry.
Add the walnuts and cool.
Open the puff pastry, cut squares, fill with spinach and close by moistening the ends with a little cold water, forming triangles.
Place in a roasting pan just moistened with water and bake over medium heat for 15 minutes.
Chicken esfiha with catupiry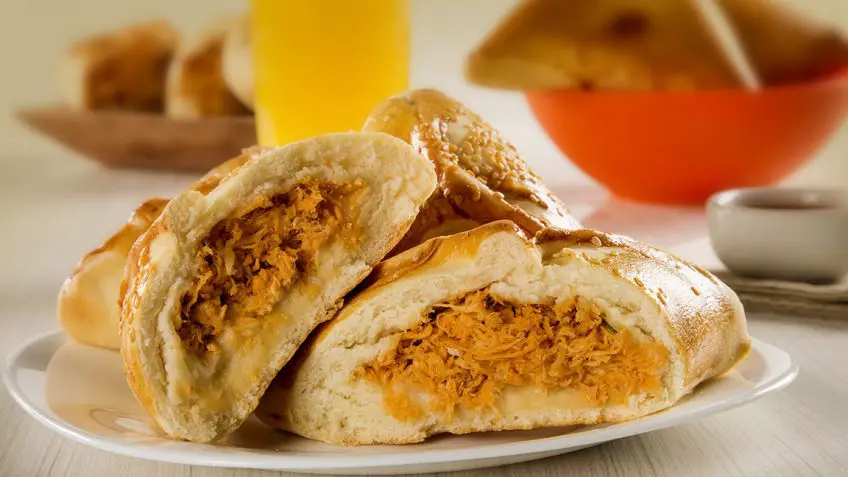 Ingredients:
2 tablespoons of sugar
1 tablespoon of salt
50 g fresh yeast
1 cup (tea) of soy oil
2 cups of warm water (tea)
1 kg of wheat flour wheat flour to sprinkle to taste
2 units lightly beaten egg, for brushing Filling
2 pieces of chopped onion
2 pieces of chopped tomato
6 tablespoons of olive oil
1 kg chicken breast, cooked and shredded, salt and pepper to taste
2 tablespoons of chopped parsley
2 boxes of catupiry cheese (410gr each)
How to make:
For the dough, add the sugar, salt and yeast and mix until smooth. Add the oil, water and flour, little by little, until you release from your hands. Knead and make balls of the same size. Spread on a floured surface and let rise for 20 minutes. Reserve. For the filling, sauté the onion and tomato in olive oil. Add the chicken, salt and pepper to taste and sauté for another 5 minutes. Stir in the parsley and let it cool. Add the catupiry and mix. Stuff the esfirras and close them. Place on a baking sheet, brush with eggs and bake in the oven for 25 minutes or until golden.
Esfirra with broccoli filling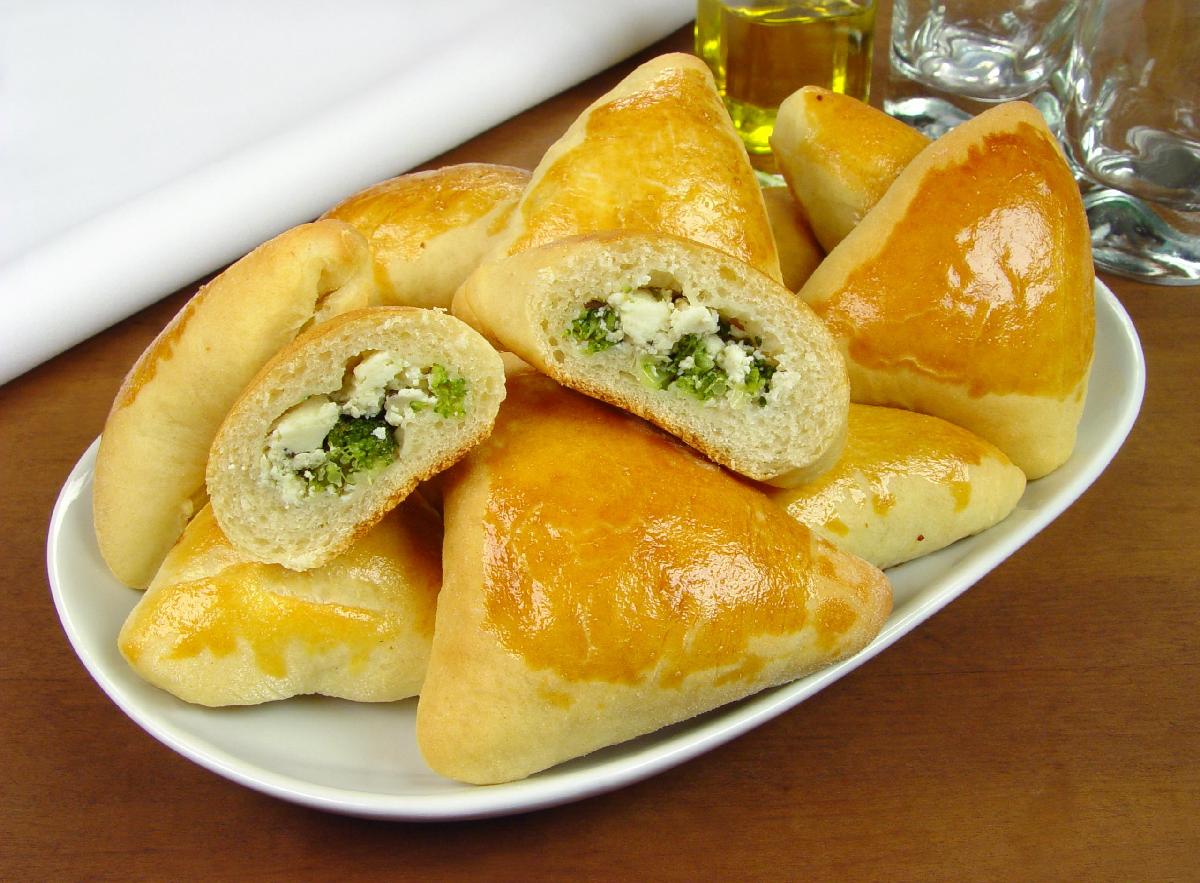 Ingredients:
Pasta:
1 sachet of bread yeast
2 cups wheat flour
2 eggs
salt to taste
1/2 cup of oil
1/2 cup hot milk
Filling:
100 g of mozzarella
1 tbsp of sour cream
1/2 cup of milk
pinch of salt
1 egg
chives and parsley to taste
ground pepper to taste
chopped broccoli
Preparation mode:
Pasta:
In a container, place the yeast, salt, add the hot milk, stir, add the wheat flour, and mix until a bread dough remains, let it rest for 1 hour, then make small balls and form mini pizzas.
Sauce:
In a container, beat the eggs (without the protection of the yolk), milk, cream, pour in a pan and bring to the fire, add the seasonings and the mozzarella, always stir until it starts to thicken, finally put the chopped broccoli and turn off the fire
Pour the sauce over the dough and put it in the white oven, taking care not to toast the dough.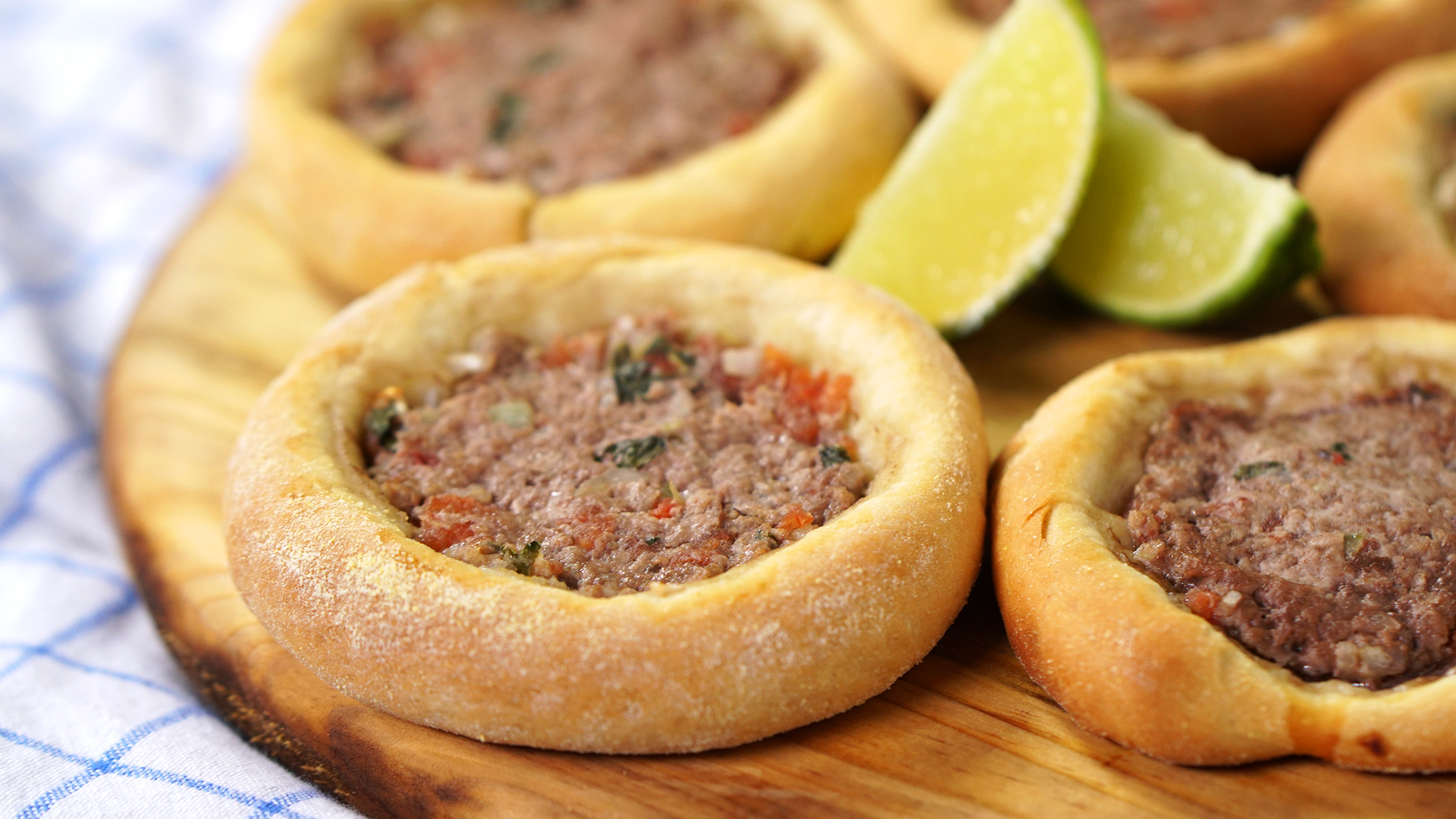 Ingredients:
1 kg of wheat flour
30 g of dry yeast
3/4 cup (125 g) granulated sugar
125 ml of soy oil
500 to 700ml of warm water
1 tablespoon (soup) refined salt
cornmeal to sprinkle
Filling:
700g of minced meat
5 chopped tomatoes
1 chopped onion
1/2 cup mint (mint)
juice of 2 lemons
Salt and pepper to taste
Preparation mode:
Filling
Combine all the ingredients of the chosen filling.
Mix well, kneading with your hands and set aside.
Pasta
Mix 500 ml of water (reserve the rest) with the yeast and sugar and let it rest for 10 minutes.
Add the flour (separate a small part), the oil and the salt.
Mix with a wooden spoon
Then pour and knead the dough on a floured surface.
Add the rest of the flour alternating with the water little by little until the dough looks homogeneous and does not stick to your hands.
Let rest for 10 minutes
After resting, divide the dough into 2 equal parts and make a thick roll with each of them.
Take three fingers as a measure and cut the entire dough into equal pieces.
Next, make balls using the cornmeal to sprinkle and shape the dough.
Using your fingers, flatten each ball into high sides (like a nest)
Place the discs in the form sprinkled with cornmeal and let it rest for 15 minutes.
Place a small portion of stuffing on each esfiha disc.
Spread the filling evenly and bake in a preheated oven at 180º.
Serve hot or cold