Whether you want to have that amazing barbecue to celebrate your birthday or simply to enjoy the weekend relaxing and having fun with special people, besides knowing how to choose a quality meat it is important to keep in mind that a good barbecue is not just made of meat and beer to make this moment even more delicious prepare a complete meal, aiming to serve an accompaniment such as salad for example, which has the power to balance leaving the meal much lighter in addition, it highlights the flavor of the meat even more!
We recommend: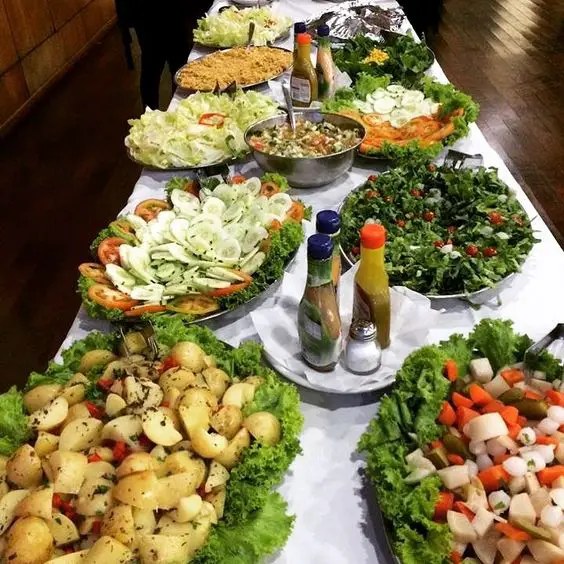 Innovate and get out of your comfort zone, although lettuce, tomato or cucumber salads are quite obvious, surprise your guests with a delicious cabbage salad for example, which can be accompanied by other exotic ingredients as well as by some special sauce. In addition to making the barbecue much tastier, salads are great since they are rich in fibers that help with good digestion, preventing you from feeling sick.
And between us, if you creatively assemble a salad bowl it will make your table much more beautiful and colorful! Taking advantage of the fact that the end of the year is just around the corner, we decided to share with you not just one, but several salad options that will surely please all types of palates, even the most demanding and refined. See:
Salads to Serve with Barbecue
BBQ Vinaigrette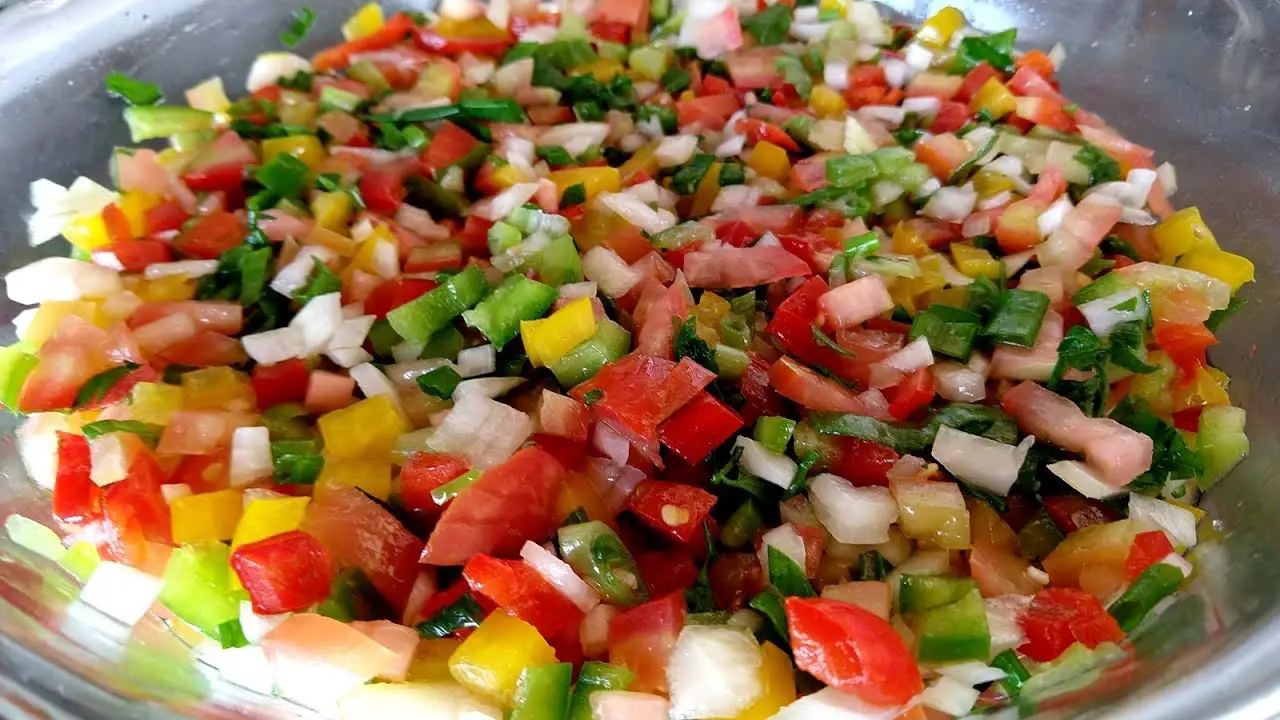 Ingredients:
2 large onions
2 tomatoes
1/2 green pepper
1/2 cup (tea) of green smell
1/2 cup (tea) vinegar
1 cup (tea) of olive oil
1 tablespoon (dessert) powdered sugar
salt to taste
Preparation mode:
Chop the onion, tomato, pepper and green smell.
Then transfer to a bowl and add the vinegar, oil, sugar and salt.
Mix everything very well and put it in the fridge for 1 hour.
Serve immediately.
The sugar has the power to take the acidity out of the vinegar which softens the vinaigrette.
mayonnaise salad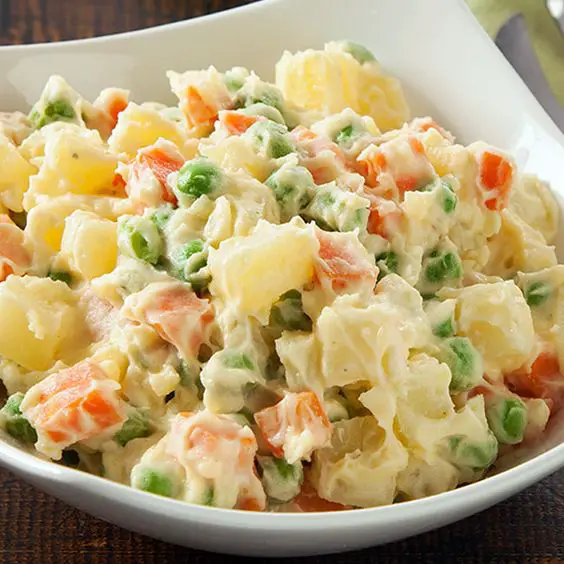 Ingredients:
1 kg potatoes, cut into small cubes
3 medium carrots, cut into small cubes

1 handful of beans, coarsely chopped

1 can of canned peas
1 can of canned corn
3 eggs
1/2 cup chopped green olives
1 onion grated
3 minced garlic cloves
1/2 bunch chopped parsley
1 lemon
3 tablespoons of olive oil
1 jar of mayonnaise of 500 g
1/2 can of sour cream
1/2 pack of grated cheese
1 packet of seasoning of your choice
1 small apple cut into cubes
Salt and pepper to taste
Preparation mode:
Cut the vegetables into cubes (potatoes, carrots and green beans) and place them in the pressure cooker and cover with water, cook on low heat until they are tender (but not fully cooked).
The time in the pressure cooker varies, but I usually count 20 minutes and then add more time until I get to the point I want.
Boil the eggs, peel them and roughly chop them and set aside.
Once the vegetables are cooked, drain the water and let them cool.
In a bowl, mix the onion, garlic, lemon, olive oil, salt, pepper, parsley and the seasoning.
Mix everything with a whisk and add the cooked vegetables, olives, corn, peas and apple.
Mix everything carefully and adjust the salt if necessary.
Finally add the mayonnaise and cream.
Place in a refractory, cover with a little more mayonnaise and sprinkle with grated cheese.
Mango salad with tomato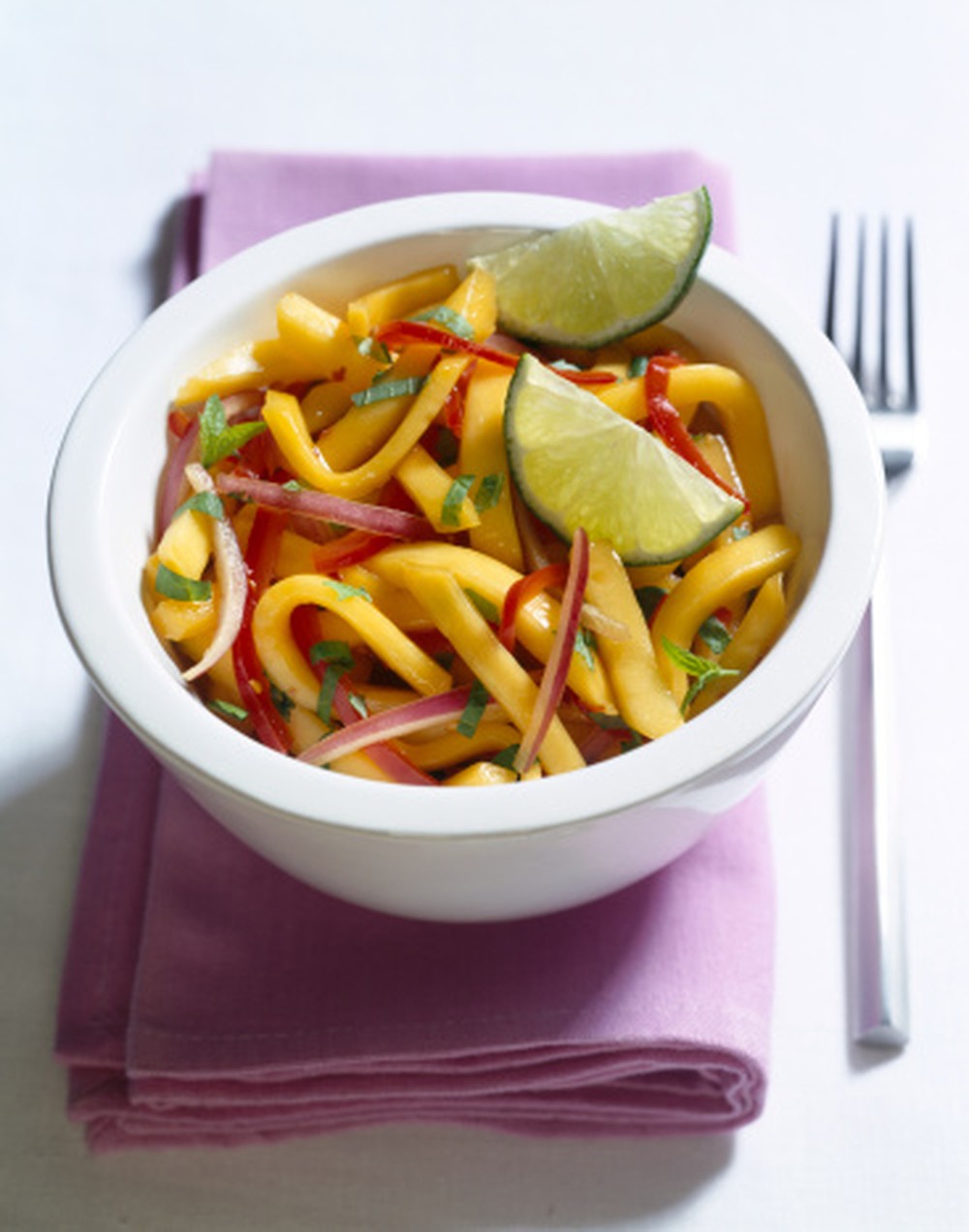 Ingredients
1 large, ripe but still firm mango
4 very ripe tomatoes (it's the only secret of this salad: RIPE)
½ large red onion
4 tablespoons of red wine vinegar
6 tablespoons of extra virgin olive oil
fresh basil
Olive oil
salt flower
Preparation mode
Cut the red onion into very thin slices, place in a medium bowl and drizzle with 2 tablespoons of red wine vinegar. Sprinkle with a good pinch of salt and let the onions soften for 10 minutes.
Meanwhile, peel the mango and cut it into slices. Reserve. Cut the tomatoes in half, remove the seeds and cut into slices or pieces. On a serving plate, arrange the tomatoes and split mango. Arrange the onions on top and sprinkle with fresh basil.
In a small bowl, mix the remaining 2 tablespoons of red wine vinegar with the olive oil. Stir well and drizzle over the salad or serve separately. Sprinkle some salt. Serve immediately.
cream cabbage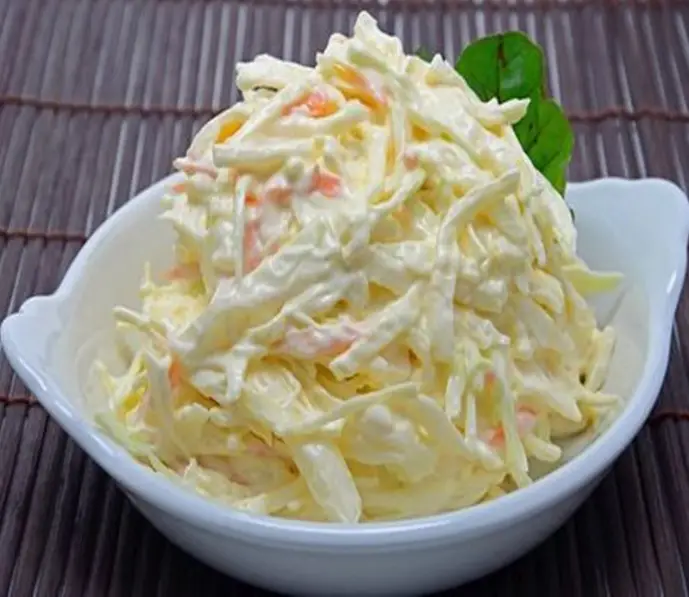 INGREDIENTS:
1 cup (tea) milk
2 cups cabbage (grated)
2 tablespoons of wheat flour
2 teaspoons of melted butter
2 tablespoons of hot milk
Salt and black pepper to taste
PREPARATION MODE:
Heat the milk in a pan and add the cabbage.
Bring to a boil and cook slowly for 2 minutes.
Mix the flour and butter.
Add the hot milk.
Add to cabbage and cook for 3 to 4 minutes or until thickened, stirring constantly.
Season with salt and pepper when serving.
Yield: 4 servings.
Seasoned Potatoes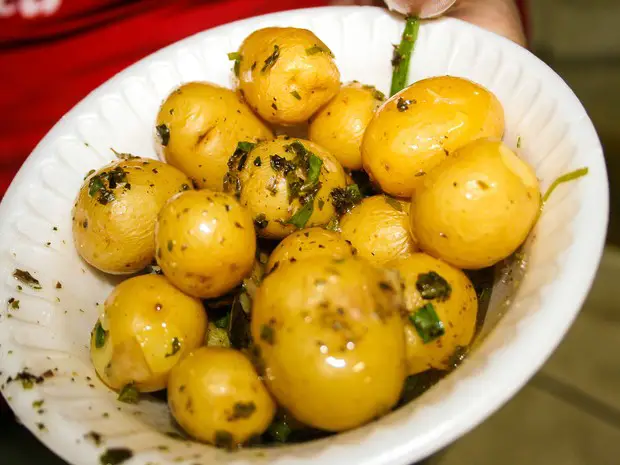 Ingredients
– 1 kg boiled potato
– 2 onions
– Parsley and chives to taste
– Chopped chili pepper to taste
– 1 cup of olive oil
– Oregano to taste
– 1/2 cup of rice vinegar
– Salt to taste
– Bahian seasoning to taste
Preparation mode
1. Wash the potatoes well and cook until soft.
2. Chop the onion, chives, parsley and the girl's finger pepper.
3. Mix the chopped ingredients with the potatoes.
4. Add the oil and vinegar.
5. Mix well.
Green Salad with Mustard Dressing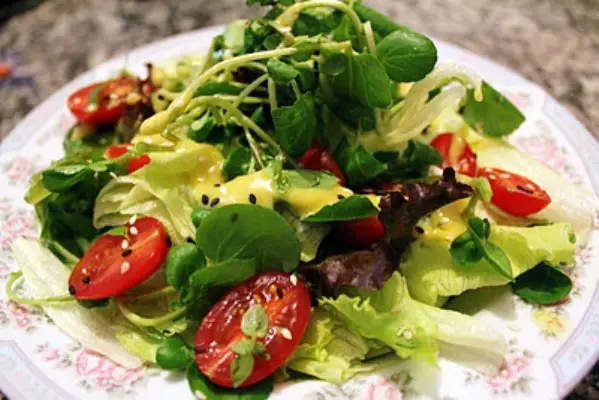 Ingredients
lettuce to taste
Arugula to taste
1 large tomato
150g of sun-dried tomato
350g buffalo mozzarella
1 large onion
Olive to taste
2 lemons
2 tablespoons mustard
Olive oil
salt
Way of doing
In a bowl, tear the lettuce leaves (I used the American and the curly) and the arugula. Chop the tomato, the sun-dried tomato, the olive, cut the onion into slices and the buffalo mozzarella into slices.
To make the sauce, place all the other ingredients in a blender (lemon juice, olive oil, mustard, salt, basil, parsley and pepper) and blend well. Taste the sauce and add as needed.
Pour the dressing over the salad and mix well. Is ready!