When we are organizing a children's party, our main focus is to be able to create an impeccable and beautiful decoration, but we cannot leave aside the choice of the menu that must have varied options of food and drinks to please all types of palates, after all, it is no use preparing a beautiful party and disappoint the guests and the birthday boy at the time of the tasting, even more so if the celebration is for children!
An option that guests will hardly eat just one are the snacks, whether roasted, fried, meat, chicken, sausage or ham and cheese, they are the most requested at parties in general, for children so there is no mention, they are delicious and tasty. became indispensable in several celebrations.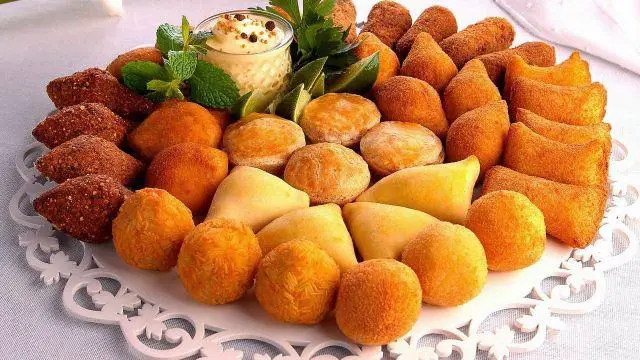 Faced with so many options we are even more lost so we selected a list with several alternatives some are fried so it is important that parents pay attention so that their children consume in moderation others, options were designed precisely thinking about the health of the little ones through consumption of healthier foods, but without forgetting the taste that must be appetizing to please the little ones. That healthy food is bad has become a thing of the past today, nowadays we can find delicious recipes prepared by nutritionists that fool anyone!
Snacks for Children's Party: 30 Easy Recipes
drumstick 
I'm not a child, but I confess that this is one of the children's party foods that I love the most! Just imagine a well-made coxinha, crispy and stuffed with chicken and catupiry are perfect combinations of ingredients that consecrated this classic snack almost mandatory in children's parties. The most ideal thing is to order in smaller sizes, since it is for children and they are quickly satisfied with it, avoiding waste.
Traditional chicken thighs recipe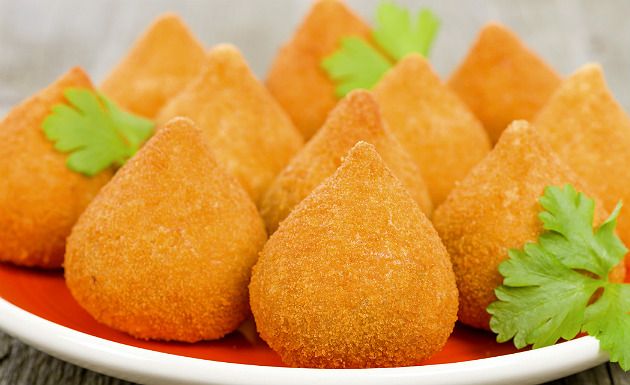 4 cups of milk (tea)
1 cup (tea) of water
1 packet of powdered poultry seasoning
5 tablespoons of butter
5 cups of wheat flour
3 tablespoons of water for breading
2 eggs for breading
2 cups breadcrumbs (for breading)
Frying oil
Filling
3 tablespoons of oil
1 chopped onion
1 packet of powdered poultry seasoning
1 tablespoon of ketchup
4 cups cooked and shredded chicken breast
2 chopped tomatoes
1/3 cup (tea) chopped parsley
salt to taste
Preparation mode
In a large saucepan over medium heat, heat the milk, water, seasoning powder and butter. Cook for 5 minutes or until it starts to boil. Add the flour all at once and stir with a wooden spoon until it releases from the bottom of the pan. Place on a smooth surface and wait for it to cool.
For the stuffing, heat a pan with the oil over medium heat and sauté the onion for 3 minutes. Add the seasoning, ketchup, chicken, tomato and sauté for 3 minutes. Turn off, add the green smell, season with salt and mix.
Open portions of the cold dough in your hands, put a little of the stuffing and close, modeling the drumstick. Pass the drumsticks through the water-egg mixture and then through the breadcrumbs. Slowly fry in hot oil until golden. Drain on paper towels and serve.
Creamy Baked Coxinha recipe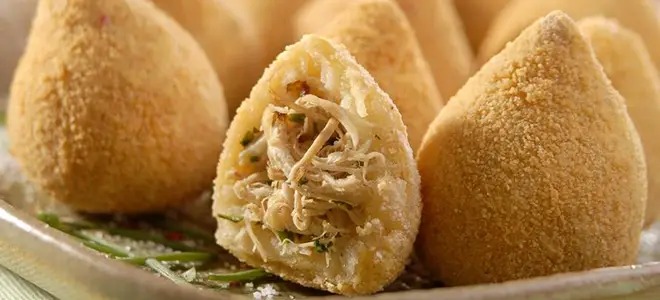 Ingredients:
Pasta:
1/2 liter of milk
1/2 liter of water
2 packets of chicken broth
4 tablespoons of oil
100 g of margarine
1 chopped onion
2 garlic cloves
1 cup of corn flour
3 1/2 cup all-purpose flour
Filling:
1 kg chicken breast cooked with all the seasonings and shredded
6 eggs for breading
Breadcrumbs
Oil for greasing and brushing
Preparation:
In a pan, place the milk, water, chicken broth, oil, margarine, onion and garlic. Let it boil.
Remove from the heat, add the wheat and corn flour mixed together.
Stir until it thickens and leaves the pan.
Grease a smooth surface with oil and work the dough with the help of a spatula.
Wait for it to warm up.
Remove a portion of the dough, form a ball and press it with your hands until you get a 1/2 cm thick disc.
Fill with a teaspoon of meat and close.
Dip in egg and breadcrumbs.
Arrange the drumsticks on an oiled baking sheet, brush with oil and bake in the oven for 30 minutes.
Makes 100 medium drumsticks.
Cheese ball 
This is a very nice alternative to include in the menu, especially for those who do not eat meat. And it's not complicated to do!
Crispy cheesecake recipe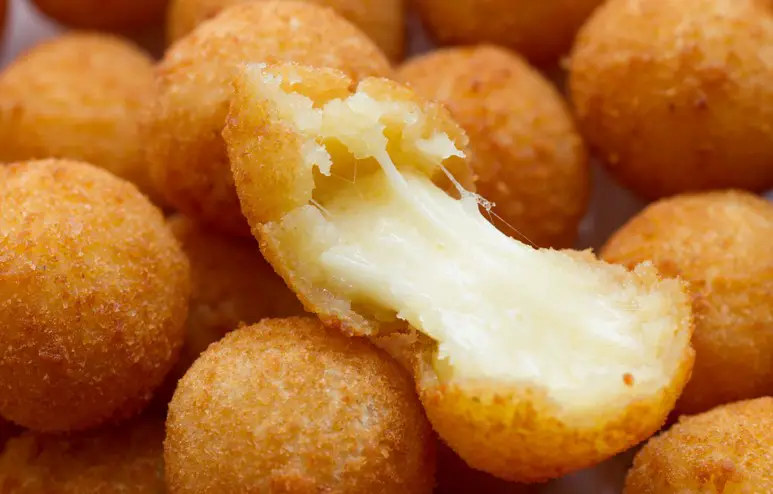 Ingredients:
1 cup (tea) milk
1 cup (tea) wheat flour
1 tablespoon of margarine
1 yolk
1 pinch of salt
white cheese or mozzarella to taste
frying oil
Preparation mode:
In a pan, add the milk, wheat flour, margarine, egg yolk and salt.
Bring to a boil and stir with a fork until the dough releases from the pan, then let it cool.
Shape the dough into balls and fill with the cheese, then pass the cookie in the egg yolk and breadcrumbs.
In a pan, add the oil, after hot add the balls and fry them.
mini fried kibbeh
This option mixes the useful with the pleasant, the main base being a well seasoned meat and that yields a lot with it, you will save a good amount of money.
Recipe for kibbeh stuffed with mozzarella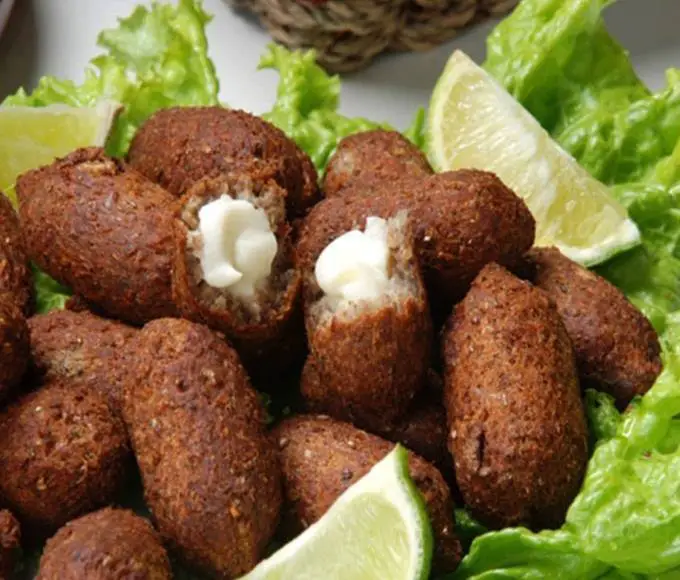 250 g of wheat for kibbeh
1/2 kg of minced meat
1/2 bunch of mints
1 large chopped onion
2 crushed garlic cloves
1 egg
4 tablespoons of wheat flour
Salt and pepper to taste
Frying oil
FILLING:
300 g mozzarella cheese, cut into sticks
Preparation mode:
Soak the wheat overnight.
Drain to remove all the water
In a container place the ground beef, wheat, mint, garlic, onion, salt and pepper, stir
Add the lightly beaten egg and the flour.
Stir to combine
Grease your hands with oil and open portions of the dough in the palm of your hand
put the stuffing
Close modeling the kibbeh
Fry in not too hot oil.
sausage roll
You know those foods that remind you of childhood, sausage rolls are one of them, there is the option of making them roasted, which is the healthiest, or fried. Check out the two recipes below:
Roast Wrap Recipe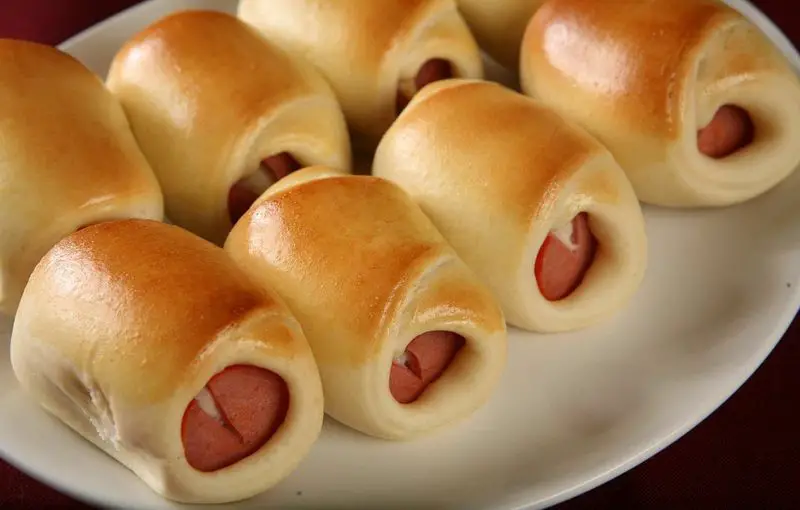 Ingredients:
1 teaspoon of salt
1 tablespoon of sugar
2 tablets of fresh yeast
1 cup of milk tea
1/4 cup of oil
1 egg
4 and 1/2 cups all-purpose flour
1 beaten egg (for brushing)
Preparation mode:
Dissolve yeast in milk
In a bowl, place the flour and dissolved yeast and the rest of the ingredients.
Knead the dough until smooth and homogeneous.
Divide the dough in two, cover with plastic and let it rest for 30 minutes.
Open the dough with a rolling pin and put the stuffing
Roll up, place in a greased shape with butter, and take it to golden in the oven.
Fried sausage roll recipe 

Dough Ingredients:
3 cups of water
2 and 1/2 cups of wheat
2 tablespoons of oil
1 season
salt to taste
Stuffing Ingredients:
1 kg of sausage
Breadcrumbs for breading
Preparation mode:
Mix everything together and bring to a boil.
Stir a lot (the point and the mass come off the pan), when you get the point, remove from the heat and set aside.
Cut all sausages in half
Grease your hands with oil and roll the sausages in the dough.
Roll in breadcrumbs and fry in hot new oil.
Cheese bread
If your child or one of his friends is gluten-restricted, cheese rolls are a delicious alternative for the little ones not to be left out of the party. Light, delicious and the face of Brazil, the pão de queijo goes well at any time and the best of all is that you can fill it with different types of meats, pâtés and cold cuts.
Traditional cheese bread recipe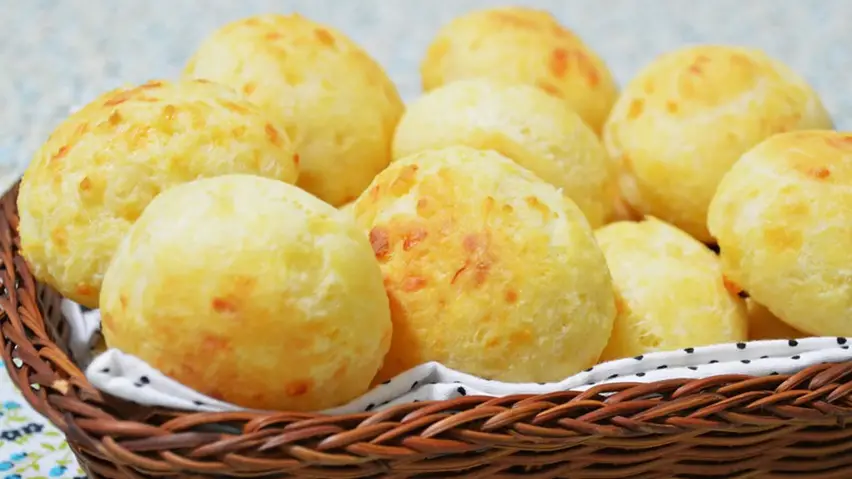 Ingredients:
1kg sour starch
1 American glass of water
1 American cup of oil
400g grated semi-cured cheese
5 large eggs or 6 small eggs
Milk or water to soften the dough
butter to grease
Preparation mode:
Place the sprinkle in a bowl and set aside.
Heat the oil and water on the fire, then pour this mixture over the sprinkle.
Add the eggs to the dough and start mixing.
Gradually add the grated cheese and continue stirring.
Soften the dough with a little milk or water, until the dough is ready to roll.
Grease your hands with butter and make balls.
Arrange the breads on a greased baking sheet and place in a preheated medium oven (180ºC) for about 20 to 30 minutes.
risoles
Cheese risole has been a success since the 90s, who has never had a fried ham and cheese snack accompanied by juice in the school canteen? I think this was part of the childhood of many people and until today, it is present in children's parties. The dough is simple based on wheat flour, milk and egg and the filling usually has mozzarella cheese, ham and a little oregano, to give a pizza taste.
Ham and Cheese Risolle recipe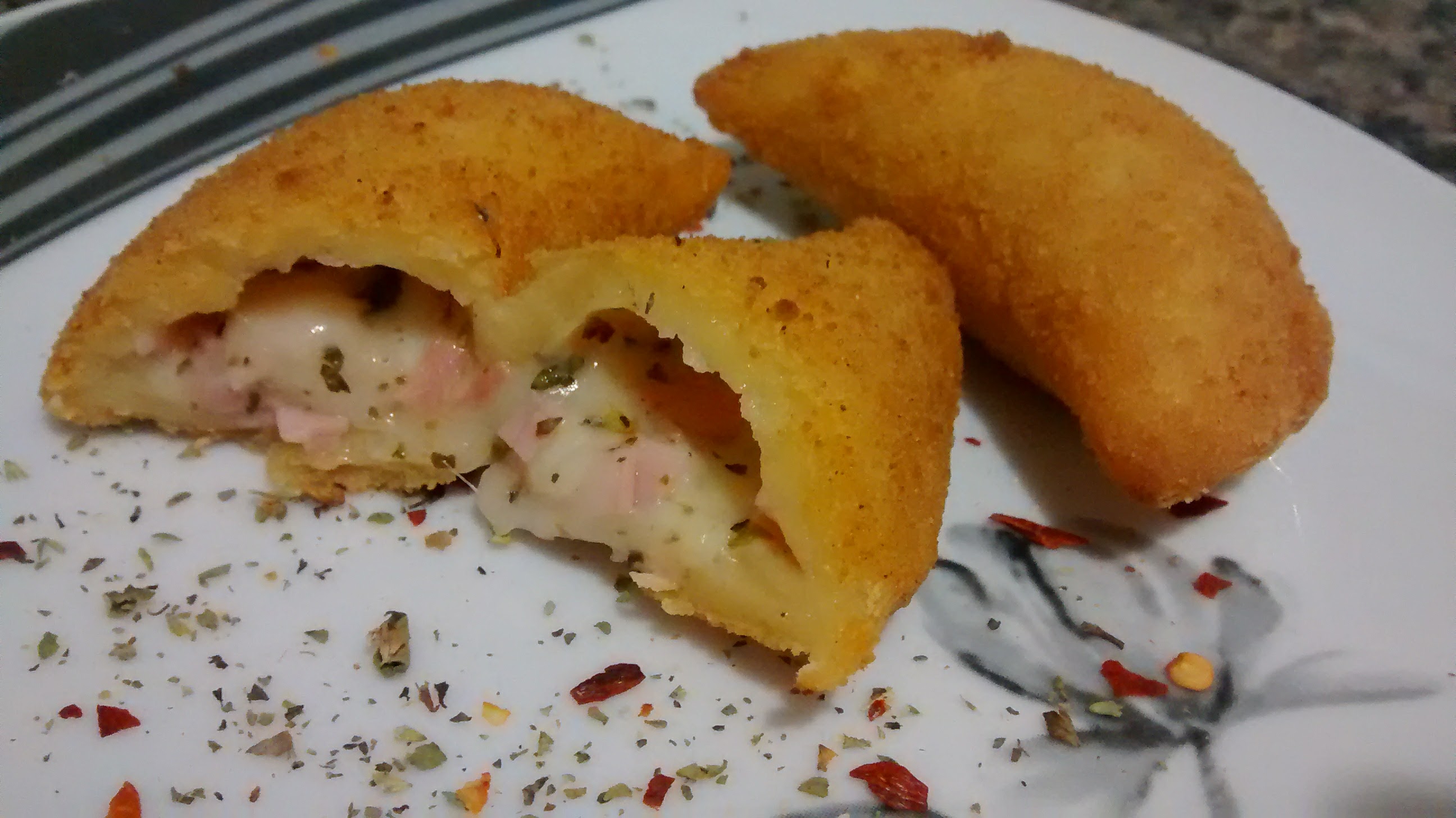 Ingredients:
Pasta:
4 cups (American) all-purpose flour
2 cups (American) milk
2 cups (American) water
50 g grated parmesan cheese
1 beef bouillon cube
1 teaspoon of salt
Filling:
160 g of sliced and chopped ham
200 g of sliced and chopped mozzarella
enough oregano
breading:
1 egg
breadcrumbs as much as you need
Frying:
enough oil
Pasta:
In a pan on the fire, add the milk, water, salt and beef broth.
When it starts to boil, add the grated Parmesan cheese and mix.
Wait for it to boil, then lower the heat and add the wheat flour all at once, stirring constantly until the dough is homogeneous and comes off the pan.
Place on the countertop and knead until smooth, then open the noodle roll and cut with the help of the cutter, fill and close by squeezing with your fingertips
Filling:
Mix the ham, mozzarella and oregano
Bake:
Pass the lightly beaten egg and the breadcrumbs
Frying:
Put the oil in the pan, as much as necessary to cover the salt, and when it's hot, fry it.
Empadinha 
Children's party the children are super excited and agitated, it's a rush just for that, a lighter snack option fell perfectly!
chicken patty recipe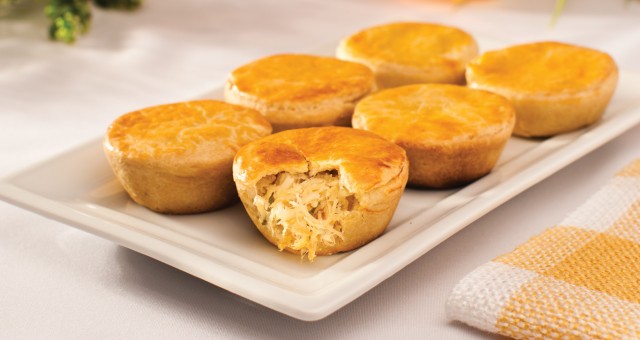 Ingredients
Pasta:
3 gems
50 ml of water or (1 coffee cup of water)
600 g of wheat flour
1 teaspoon of salt
300 g of margarine
lightly beaten yolk for brushing
Filling:
2 tablespoons of oil
4 cloves of minced garlic
2 medium onions chopped
2 medium tomatoes, chopped
2 chicken broth tablets
1 large seasoned chicken breast, cooked and shredded (reserve the cooking broth)
400 g of wheat flour
parsley, chopped chives, salt, pepper to taste
40 pitted olives to put one in each pie
Preparation mode
Pasta:
In a bowl, sift the yolks and then mix in the water. Reserve.
In a platter, place wheat flour, salt and margarine and mix well. Add the yolks with water (reserved above) and mix everything until you get a homogeneous mass. Let it rest in the fridge for 30 minutes.
Filling:
In a pan with oil, sauté the chopped garlic and chopped onion. Add chopped medium tomatoes, the broth from the cooking of the chicken, chicken broth and bring to a boil.
Add cooked and shredded large seasoned chicken breast, mix well.
Finally, add chopped parsley and chives and season with salt and pepper to taste.
Take a small portion of the dough and line each pie tin (TIP: Make a thin layer of dough) and fill with the filling.
Take another portion of dough, open it in your hand and cover, covering the pie and brush the lid with beaten egg yolk.
Bake in a preheated oven at 200 degrees C for 25 minutes.
Mini pizza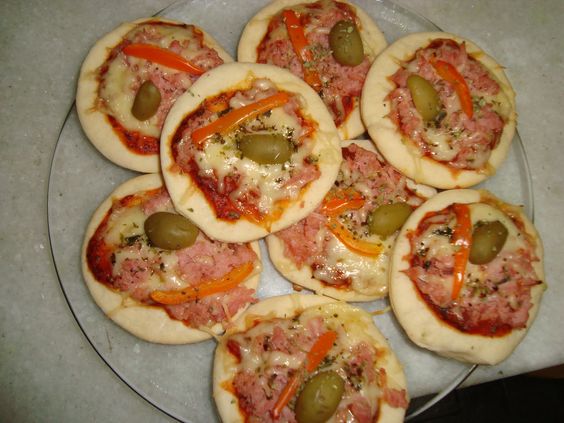 I confess that this is an appetizer that brought me back to childhood, it reminded me of school days where there was always a girl at the gate with a car selling mini pizzas wrapped in plastic film, whenever I had coins I bought them for lunch. And with today's children this is no different after all, it's impossible to find someone who dispenses with this delight! If you add it to your child's party menu, the little ones will love it...
Ham and cheese mini pizza recipe
Ingredients:
Pasta:
1/2 kg of flour, or until the dough comes off completely
200 ml of warm water
1 packet of granulated yeast
1/2 cup (tea) of oil
1 teaspoon of salt
1 teaspoon of sugar
Filling:
To your taste, you can make it with bacon, ham and mozzarella, chicken, etc.
Preparation mode:
Dissolve the yeast in the warm water, add the oil, salt and sugar.
Gradually add flour, working with your hands, until you get a homogeneous dough.
If necessary, add flour
Knead the dough for approximately 15 minutes, until smooth and releasing air bubbles.
Cover with a cloth and let it rest for 40 minutes.
Roll out the dough not too thick, as it grows a lot, leave it with about 0.5 cm
Cut with a cutter or use a small round cap
Place on greased baking sheet
Bake in pre-bake for about 10 minutes
Remove from the oven and place the filling
It can be frozen, or it goes in the oven for another 10 minutes, or until the cheese melts and the dough is completely baked.