There are sweets that remind us of childhood, the bakery dream is one of them! I remember that when I was a child I loved coming home from school and seeing that my mother had bought dreams for breakfast, this memory is so vivid in my memory that when I close my eyes I can remember the softness and delicious taste that I had that dream, if you've never tried this sweet you're missing out on tasty, soft and with a surprising aroma, the bakery dream is a hit to this day, especially among children who can't do without a sweet!
According to reports, the dream is of Portuguese origin, some say that it was created in Germany, being derived from the Berlin cake, invented by a World War II soldier, however, the version of it was filled only with red fruits. Then, after some time, it gained other variations of fillings, here in Brazil it is possible to find the same sweet with several options of fillings, such as guava, dulce de leche, cream, cream or chocolate, among others, and it can also be fried or baked. .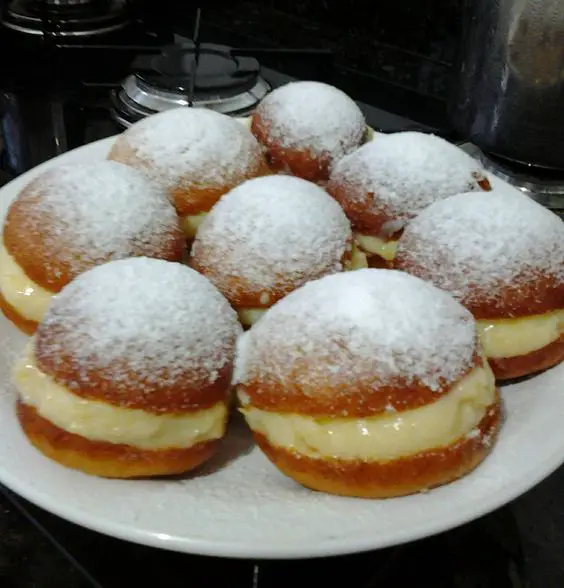 If you are looking for an extra income that is profitable and with a low investment cost, know that selling homemade bakery dreams is a great opportunity because you won't have to spend buying different shapes, and best of all, you will do it yourself. your working hours. Start selling in the neighborhood, at your child's school, to your co-workers, make several options for fillings in this way you will be able to please the most varied types of palates.
Surely, the dream most likely to sell is the traditional custard, which has a soft dough, a slightly sweet filling and, to finish, a little sugar sprinkled on top. Initially you will find that the recipe is a little complicated, but it is all a matter of practice with time you will improve and get faster both when preparing and when frying them.
The biggest difficulty people have when making the dream is to achieve the result of soft dough, but if you follow all the steps that we will show you correctly, you can't go wrong. So, let's learn with me how to make a delicious bakery dream? In addition to the pasta recipe, we will also give you 4 options for fillings, choose the one you like the most, and start changing your financial life for the better right now.
Dough Ingredients:
1 tablespoon of margarine
1 1/2 fresh yeast
1/2 cup of milk at room temperature
2 eggs
1 pinch of salt
2 tablespoons of sugar
450 g of wheat flour
Preparation mode:
Start by kneading the yeast in a bowl, now add half of the sugar and mix well afterwards, add half of the milk and set aside. In another bowl place the margarine, sugar and the rest of the milk mix with a fork or fouet. Finally, add the salt and the eggs, always stirring so that all the ingredients are completely mixed.
Now just incorporate the yeast dough that we reserve, adding the flour little by little, always stirring. Knead the dough on the bench for about 10 minutes, this will make a total difference in the softness and texture of the dream, after this process let the dough rise for 30 minutes, after the rest time put the dough again on the bench open with a rolling pin, the dough should be approximately 1 cm thick.
Cut discs 6 cm in diameter and place on a floured baking sheet, let it rest for another 20 minutes or until you notice that the dough has doubled in size. Put the oil to heat and fry until golden, remove from the pan and let it drain on a paper towel. Below are some filling options:
Guava filling:
Just cut the guava into cubes and put it inside the dough before frying.
Dream cream filling:
Ingredients:
1/2 can of sour cream
1 can of cow's milk
2 gems
2 tablespoons of corn starch
1 can of condensed milk
Preparation mode:
Place the condensed milk, cow's milk, cornstarch and egg yolks in a pan, bring to a low heat and let it cook until it forms a very thick cream. Turn off the heat and add the cream, stir, if the mixture becomes too liquid, bring to the fire again until it thickens, as soon as it is ready, turn off the heat and fill the donuts.
Dream Chocolate Filling:
Ingredients:
½ liter of milk
1 ½ cups of sugar
6 yolks passed through a sieve
25g of corn starch
25g of wheat flour
40g of butter
1 teaspoon of vanilla essence
150g melted semisweet chocolate
Preparation mode:
In a pan put the sugar, the yolks, the cornstarch, the wheat flour, the vanilla and the butter. Mix, and then take it to low fire, always stirring for approximately 2 minutes, finish, adding the already melted chocolate, stir, and wait to cool. Ready, just fill the dreams!
Cream filling for dreams:
Ingredients:
1 pot of cream
1 box of condensed milk
3 egg whites
Preparation mode:
In the mixer, beat the egg whites, add the cream and condensed milk, beat again for about 3 minutes, see if the filling is very firm and creamy, if not, beat for a few more minutes. And ready, this filling can also be used in cakes and pies.
For how much can I sell the bakery dream:
You have already learned how to make your dream bakery, but your biggest question now is knowing how much to charge, everything will depend on the filling and size of the dream, here in my city the traditional big dream is sold for approximately R$ 3.50 a unit, mini are sold for 31.90 kg.