Pregnancy itself is marked by several special moments that begin with the discovery, then the first ultrasound, the first kick and finally the most awaited day of all, the discovery of the baby's sex.
To make this moment unforgettable and special you can opt for the reveal tea which is a party to reveal the baby's sex in a fun and creative way to parents, family and close friends, sharing this moment with the ones we love makes everything more special!
In addition to the decoration, which must be delicate and beautiful, another very important point of this event is the choice of text that must convey emotion through words.
Keeping the suspense is part of the event's plot, so it is extremely important that parents appoint a trusted person to keep the secret whether it's a girl or a boy and it will also be this person who will provide the way the revelation will be, these are the factors that will bring excitement to the tea.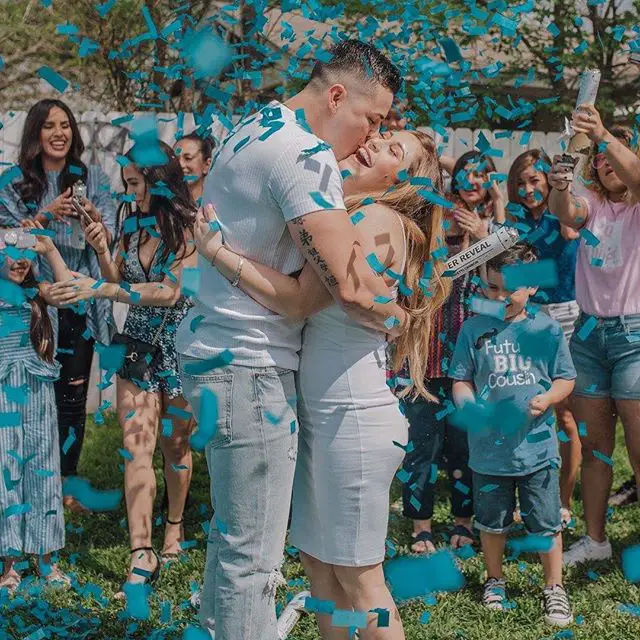 Read too: Revelation Tea 2020 Decorations
Examination to find out the sex of the baby:
It is usually possible to find out the sex of the baby around 18 weeks, through ultrasound. But, if you are anxious today, nowadays there is an exam called fetal sexing that is done by analyzing the mother's blood if the result is Y chromosome, it means that the baby is male and x chromosome female, it can be done from the eighth week of pregnancy and has almost 100% hit.
How old are you to make revelation tea?
The revelation tea should be made as soon as possible, so that the parents will have more time to decorate the little room and provide the trousseau.
Regarding the name, parents can choose before the revelation tea by selecting a name if it's a boy and another if it's a girl, these names can compose the decoration either on the plates or stickers that will be delivered to the guests.
Text for revelation tea for parents
We made a selection with some beautiful texts for revelation tea, one person will be responsible for reading this message at the time of revelation some of the texts are like a letter from the baby to the dads impossible not to get excited!
1-
"Father, since I was seeded here, my life hasn't been bad at all. At first I took shape, then I grew, growing, and now I look like a (a little flattened) copy of you.
I want to warn you that when I leave, I'm going to start screaming like that, okay? After all, I already know that I'm going to face a lot of space and a lot of strange people around me. But I'll calm down soon, because I'll recognize your voice and Mom's. Then you'll cuddle me in your lap, all proud, and I'll feel safe again.
At first, I'm going to do a little work. Until I get used to it, I'll often wake him up with my cry because of hunger, stomachaches, earaches, colds and those things typical of very small people.
Oh! And don't be jealous of Mom, okay? For a while she will put you in the background, as she will be too busy with the big news called ME. That doesn't mean her love for you will have diminished. You can date when I can sleep longer.
When I grow up, I will fondly remember the wonderful times we had together in my childhood and, on all my birthdays, I will give him another one of those emotional hugs, saying: 'Hold that one more, Dad! Created child is double work!' Get ready… I'm coming, daddy!"
2-
I'm still in Mom's belly, but I can already hear your strong, steady voice every time you're near her. I can already imagine his protective arms holding me, his eyes almost talking and saying he's the happiest father in the world. Believe me, we are going to have a unique and special relationship.
It will be wonderful to grow by your side and learn everything you have to teach me. I want to know the true meaning of the word family and, more importantly, feel it every day of my life.
I'm looking forward to the time when I'll finally see the world, feel the touch of your hands on my skin, and meet those who will be the most important people to me.
Don't be nervous, I know it's a big responsibility, but my love for you is already more than infinite, Dad. See you soon!