Some time ago, people only heard about Frozen, it was such a fever among girls that we even published some ideas for birthday decorations that, by the way, are still very successful, but today we are going to talk about a new design called Miraculous – The Adventures of Ladybug and Cat Noir if you have children aged between 4 and 9 I'm sure you've already been introduced to this adventurous gang, if you haven't heard about it, stay tuned in our article and we'll talk a little more about it. these cuties!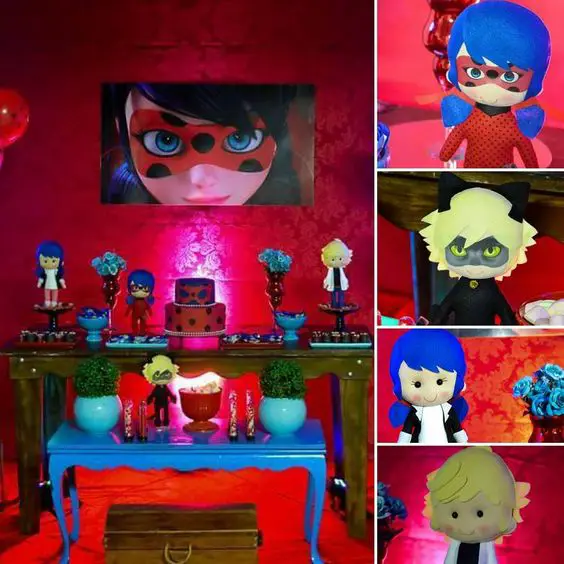 Miraculous is a Korean cartoon that is popular with children. It tells the story of Marinette, a cheerful fashion student who lives through the typical problems of this hectic phase of adolescence. As the background of the cartoon is the city of Paris, Marinette ends up having to transform into a Ladybug heroine full of personality to save the city of Paris from a mysterious villain.
Adrien, who also becomes the hero Cat Noir, is the young girl's great secret crush. The drawing is super educational because it deals with controversial topics such as prejudice, bullying and education in a light way for children to understand. After this small result I'm sure you'll love some birthday decoration tips inspired by these beauties that are the Miraculous Ladybug, you'll be delighted!
Through these suggestions you can be inspired when decorating your little one's party, so let's get your hands dirty? Don't forget to get a costume of the character your daughter will love, another suggestion if the budget is tight is to paint the birthday girl's face imitating Ladybug's mask, trust me, kids love to dress up!
Miraculous Ladybug Children's Party Decor: Simple Ideas
Invitations:
The invitation must be inviting and cheerful and can take the traditional image of the characters, but if you want to innovate with something different and more elaborate, a good alternative would be to take advantage of the red and black polka dots of Ladybung's clothes and make an invitation in the shape of a ladybug so, when the wings are opened, all the data with address, date, time and place will be inside.
Ladybug Panel:
You can have a panel made with your daughter's face printed, dress her in character with the red jumpsuit with black polka dots and don't forget to put on a wig or dye her hair with those paints used at carnival and finish with a mask with the same pattern as the clothes.
cakes:
The main table is a very strong point of a party so it deserves to be decorated with a themed cake. Order a fondant cake with a heroine biscuit doll on top, it looks lovely. Another model that is most successful and makes the table irresistible is the multi-tiered cake, with each one representing a character in the story.
Gifts:
Make the moment of delivery of the souvenirs a game, invest in tiaras with ladybug antennas or masks of the heroes the children will love, it will be a lot of fun to play pretend to be their favorite super heroine and for the boys just change the image to Cat Noir.
Other cool alternatives are goodie bags, tubes, keychains, mugs, sleep masks, yo-yos, Eva dolls anyway, innovate and show that you can also surprise your daughter on this special day!
Miraculous Ladybug Party Decor: Photos