So the dreamed baby is already in the oven? Well, hold that urge to go out to the 4 winds and check out creative ideas to announce your pregnancy in a super special way.
This is a more than exciting moment in any woman's life, the discovery of pregnancy, after taking the test and seeing that the result was positive is a mixture of emotions that it is not possible to describe.
Such news alone will mark the lives of the husband and family forever, now if the pregnancy is announced in a different way, it will be even more memorable.
Among so many emotions that the expectant mother goes through in the discovery of pregnancy, it is even difficult to think of a different and cute way to tell the good news, but in this article you can find super cool tips to make this announcement.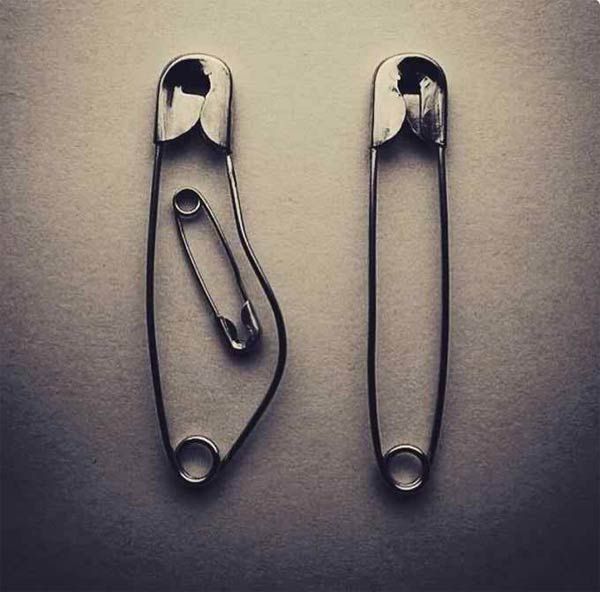 Announce to Future Father (Husband)
There are several creative ways to announce your pregnancy to your husband, instead of just showing the pregnancy test, make a surprise, a good idea and film this emotional moment to keep as a souvenir, see great ways to tell.
Surprise box to tell about pregnancy
A great way to surprise your husband is to put the positive test in a gift box and send it to him at work, but that way you won't see his face with emotion.
Another way is also to put the test in a gift box and leave it at home in a place where he will find it, leave a camera filming his reaction when he drops the chip.
Surprise baby clothes
Still following the idea of a gift box, a great option is to put inside the gift box a shoe, a piece of clothing, a bib or something similar that makes him discover the big news.
Revealing pregnancy with a pea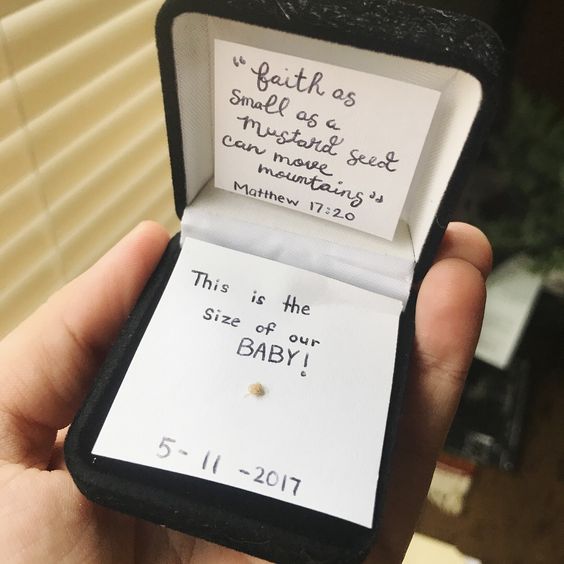 Put a pea in a box like the one you put rings on and write the following message or something similar:
"This is the size of our baby"
And place the pea just below the message with the date the pregnancy was discovered, it will certainly be a very emotional moment.
Announcing pregnancy at lunch or dinner
It doesn't matter if it's your first, second or third pregnancy, making a surprise always makes everything more special and unforgettable. To make the reveal whether it's lunch or dinner, write in a non-toxic permanent ink on the bottom of the plate telling about the pregnancy. Hope your husband doesn't choke on emotion.
Another interesting tip is also instead of putting food on his plate, put on a baby shoe and give it to him to wait for his reaction.
Announcing pregnancy in coffee cup
It's hard to find someone who doesn't like a coffee, and if your husband likes it too, as soon as he arrives write on the bottom of the mug with a non-toxic ink the phrase "congratulations future daddy" or something like that, put coffee or even a darker juice and offer it to him.
As soon as he finishes taking it, he will have a surprise, at first he may not understand, since men have slower thinking, but as soon as he realizes it will be a moment of great emotion.
Creative surprise with belly drawing
Make one of those creative drawings that pregnant women usually do on their belly to take pictures like the battery charging eyes, mouth and nose and so on, start playing or sensualizing for your husband, as soon as he lifts his shirt he will have a mega surprise
Diaper cake: Tips and step by step for you to make your own
Photos to tell the pregnancy
This tip can be a little more complicated and will require some knowledge in photo editing.
If you have a photo holding hands with your husband (future dad) use an image editing program and place a white balloon over the two, write the following math sound inside the balloon (1 + 1 = 3).
It won't take long for anyone who sees the image to notice that it's a pregnancy, this tip serves both to surprise the husband as well as the family, ideal also to send on social networks if interested.
If it is the second or third pregnancy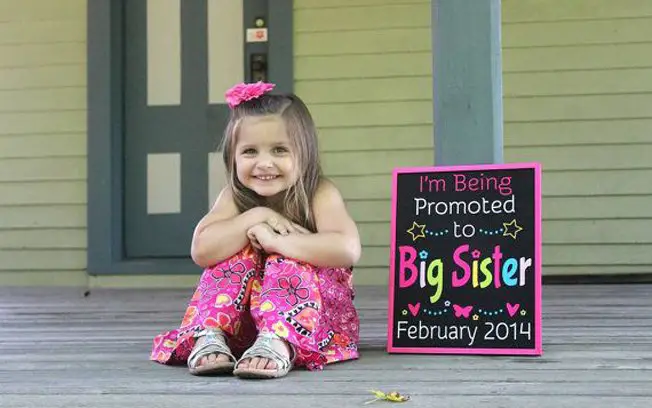 Still in the image editing tip, take a photo that you have of your child or family together and write it on a plate next to the child with the message "promoted to big brother", anyone who reads the message will realize what it means. treat.
Advertise to family
Check out great ways to announce the long-awaited pregnancy to the family and leave them surprised.
family photo
As soon as your family is together ask someone to take a picture of everyone together, as soon as the picture is taken instead of saying CHEESE, say out loud 'I'm pregnant' surely everyone will make a surprised face and the picture will be super beautiful As a souvenir for the rest of your life, leave it to whoever is taking the photo to take several photos in a row and also so that he doesn't forget to take it when you make the announcement to be shocked.
surprise card
Buy or make at home, a card that folds in half, and on the front write "Congratulations you've been promoted..." and inside write the following message "from husband to daddy" or "from daddy to grandpa". Write down several of these to give to various family members like uncles, cousins, etc.