A children's party trend that showed that it's here to stay is the balloon arch, however it got a makeover in the look, no longer being all symmetrical and tidy, but having a much more modern, beautiful and creative design!
I doubt you haven't realized how much this decorative item is becoming a fever at children's parties, but even with all this success there are still people who have no idea what this artistic concept is, let alone where this idea came from, but so you can understand a little more let's give a quick summary.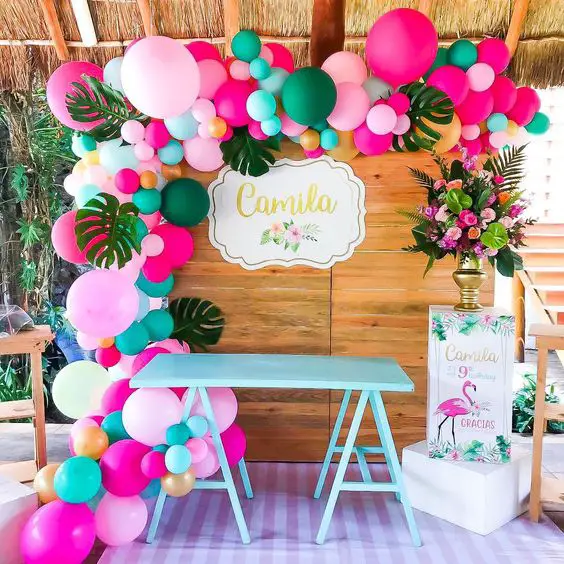 In the assembly of the deconstructed arch it is possible to use several different colors of balloons this technique was inspired from the look that the traditional arch was at the end of the party, the balloons withered and with irregular sizes left the arches looking a little messy.
When choosing the colors that you will use in the assembly, choose tones that match the theme of the party, the format can be made of different geometric shapes, being able to go from the floor or you can just cover half of the wall as if it were a 7 and in the On the other side, some flowers or frames can be added.
The main element for assembling the arch are the balloons and a chicken coop arch where the balloons will be hung, in addition you can add other elements such as giant paper flowers, foliage and a golden or silver helium gas balloon with the age of the child. , it's these personal details that make your bow different and beautiful!
See more Tips that will be super useful in organizing your party: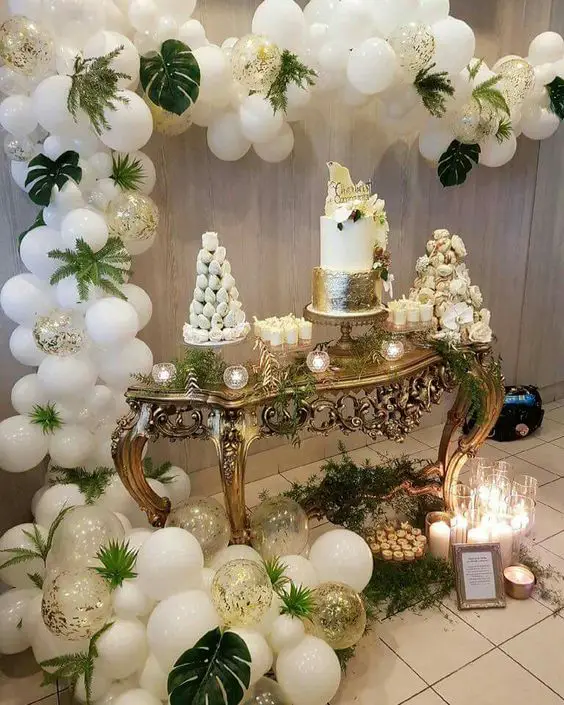 You may be thinking that to assemble these amazing arches you will need to take a course in the decoration area or you will have to spend a fortune to order a ready-made model, but what I am going to tell you now is exactly the opposite, with a a little patience and perseverance anyone can assemble a deconstructed bow, in this case a great ally are the tutorials we can find out there…
Right here on the blog we will make some really cool ones available for free, so you can do it on your child's next birthday or maybe even make this art a source of extra income. To achieve a satisfactory result, practice is the solution, with the main objective of bringing your bow a natural look, not having to follow a correct pattern, but always maintaining harmony and balance so that it does not look sloppy.
Deconstructed Balloon Arch: Step by Step
Necessary materials:
17 white #9 balloons
17 #9 cobalt blue balloons
17 #9 turquoise balloons
17 white #7 balloons
17 #7 cobalt blue balloons
17 balloons nº 7 turquoise blue
50 balloons #5 turquoise blue
50 balloons #7 baby blue
1 compressor
1 balloon gauge
Nylon
Check out the video of the party decorator, Andreia Faleiros, there she teaches how to assemble a deconstructed arch in an uncomplicated way, she explains very calmly and carefully what makes the work much lighter and easier to understand.
If you were delighted with this technique, see below some more cool tutorials I found on youtube.
unicorn deconstructed bow
deconstructed flamingo arch
Deconstructed Magali Arch
deconstructed mermaid arch
Deconstructed Moama Arch 
Deconstructed wedding arch 
Deconstructed Balloon Arch: Ideas and Photos
How about having a photo gallery full of inspirations? The deconstructed arch, in addition to making any event much more charming, is a very cheap and versatile decorative accessory as it opens up a range of possibilities with shapes and colors for all tastes.