O buquê de bombom é uma alternativa bastante, criativa e fofa de presentear as mulheres da sua vida sendo, perfeito em datas comemorativas como dia das mães, aniversários e dia dos namorados afinal, este é um presente cheio de afeto e romantismo pois, possui dois itens que nós mulheres amamos as flores e o chocolate, mesmo as mais exigentes vão amar receber este mimo tão saborosa!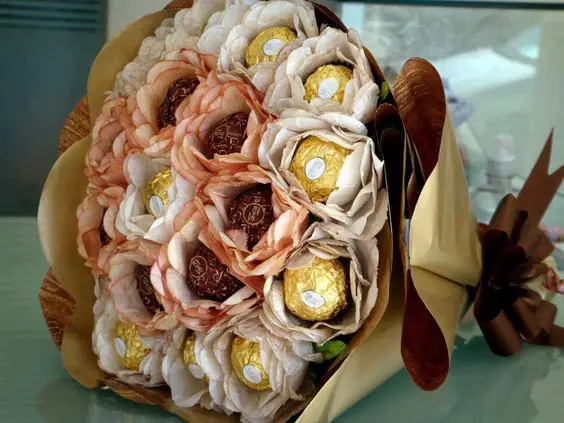 Nós mulheres valorizamos muito os pequenos gestos por isso, um presente confeccionado artesanalmente pelas suas próprias mãos terá um valor inestimável pois, isso significa que você teve trabalho tanto para fazer quanto para comprar os materiais. O lado bom de você mesmo(a) fazer o presente é que você pode incorporar detalhes que combinam com a pessoa como cor e bombons preferidos.
Sendo também uma excelente alternativa de fonte de renda você pode espalhar para suas amigas, parentes, vizinhas e colegas de trabalho que você está pegando encomendas deste tipo de trabalho, á partir daí você começara pegar suas encomendas que podem ser feitas com bombons ou com trufas, de acordo com o paladar da sua clientela.
Pra vocês terem uma ideia do quanto da para lucrar com este tipo de artesanato que um modelo simples com mais ou menos 15 bombons serenata de amor custa R$ 75,00 no mercado livre eu fiquei chocada com a porcentagem de lucro, já que os produtos usados para confecção são todos baratinhos. Abaixo você confere alguns tutoriais de como fazer essas belezuras lembrando que você pode alterar as cores e a qualidade dos bombons utilizados.
How to Make a Candy Bouquet with Crepe Paper
Necessary materials
Bombons ou trufas
Papel crepom para fazer as flores, cor de sua preferência
Papel crepom com a cor verde;
Linha dourada
Scissors
Palito para churrasco
Papel celofane ou vasinho
Folhagens e enfeites de sua preferência para decorar o seu buquê
Papel para bombom dourado
Step by step: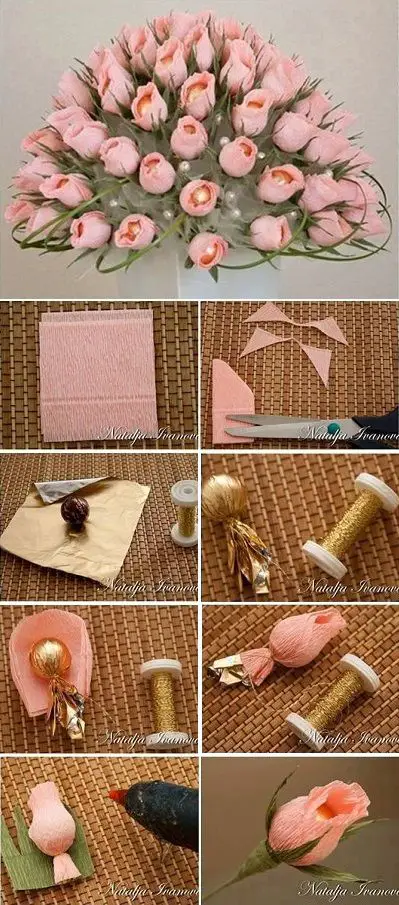 Enrole os bombons um a um no papel dourado como se fosse uma bala.
Corte um retângulo no papel crepom para a flor e arredonde a parte superior, dobrando o retângulo ao meio e cortando as pontas.
Coloque o bombom no meio das várias folhinhas de papel crepom, depois dobre as laterais e amarre embaixo como na mostrada acima.
Pegue a folha verde de papel crepom e corte como se fosse uma graminha. Depois, de cortado enrole o mesmo no palito de churrasco e fixe o palito na parte de baixo do bombom, o palito deve estar fincado no bombom.
Para terminar faça, vários bombons e organize todos juntos, envolva com papel celofane ou em um vaso, finalize decorando com os enfeites e está pronto o seu buquê. Abaixo você confere mais alguns videos com o passo a passo que podem ser usados como inspiração, já que existem mil e uma alternativas de decora-los e monta-los.
Buquê de Bombons para o Dia das Mães em E.v.a
Buquê de Ferrero Rocher para o Dia dos Namorados
Buquê de bombom com bola de isopor