Getting married and going to live in a gigantic house is not the reality for most Brazilians, nowadays achieving the dream of their own home has become almost impossible because real estate values are getting higher and the bureaucracy is enormous for financing so the only alternative left is to buy a plot of land or half a plot, and then build it little by little. You don't necessarily need to build a house with many rooms, after all, it's not the size that determines the warmth of the home!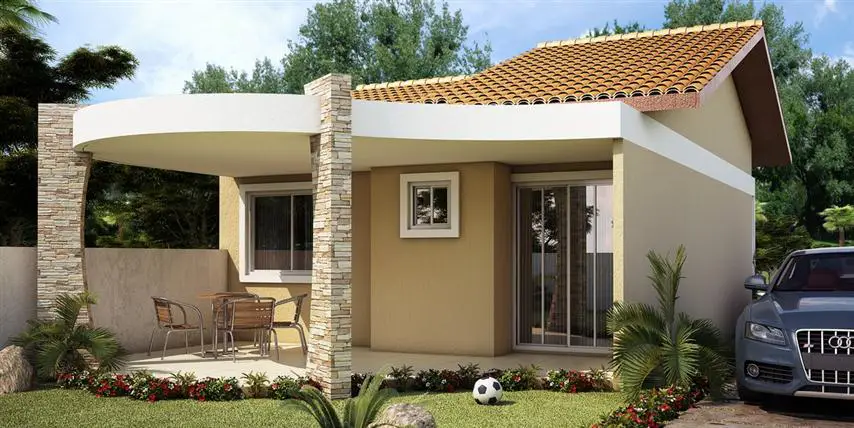 The good thing about starting a construction from scratch is that you can do it little by little and everything will be to your liking from the base to the finish, everything will have its style placed in every detail, but it is important that you keep in mind that building a house is not one of the easiest tasks there is, you will encounter a lot of unforeseen events, but in the end it will be worth it.
An essential tool to start any construction is the floor plan, with it you will be able to divide each corner correctly, making the most of each space. The vast majority of architectural projects incorporate the more traditional style, however, for houses with modern facades, the plants must be the union of functionality that your family needs and also, the visual part that must be differentiated and beautiful at the same time.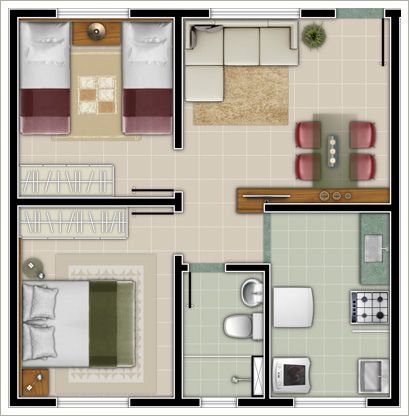 This plant above, for example, is perfect for families with a maximum of 4 people in this, humanized plant proposal was divided as follows: kitchen, two bedrooms, bathroom, living room and dining room, all very small but very comfortable.
House with 40m2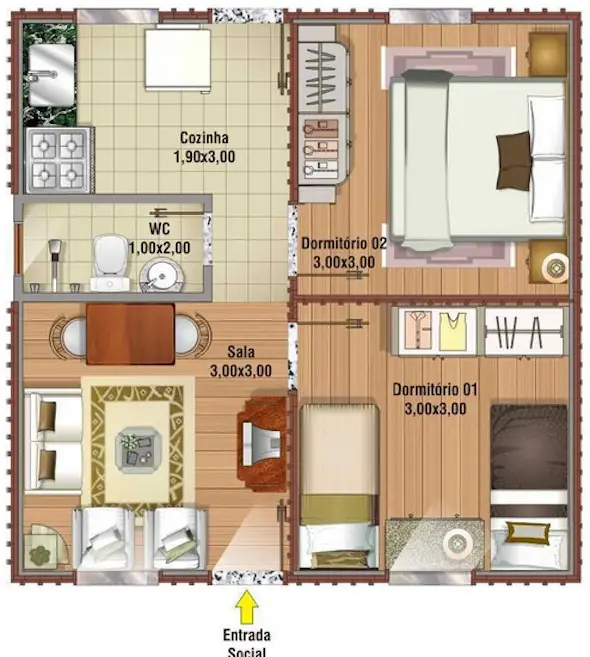 The division of each room in this plan is exactly the same, only the kitchen is smaller because it will share space with the bathroom. It is a very simple house, but it holds a family very well, it has 2 bedrooms, kitchen, living room and bathroom.
3 bedroom house plans
If, in addition to the dream of your own home, you envision having a large family, then it is necessary to harmonize the two things with the space, and the way in which you will distribute the furniture counts a lot, to have comfort. This project above is 97 m² with 3 bedrooms, one a suite, dining room, 2 bathrooms, service area, living room, large and bright kitchen.

Small and Simple Houses: 60 Blueprints and Projects Models
If you're still completely lost, here are some more pictures of small and simple houses in addition to 60 models of plants and projects to inspire you! Remember, choose the one that best fits your budget and the one that your family can comfortably accommodate.
Small and simple house facades
In addition to the plan, you need to carefully choose how the facade of your house will be, after all, it will be the first thing that everyone will see if the interior of the house is beautiful, this will demonstrate that the lower one will follow the same language. There are a thousand and one ways to decorate it so that it is modern in a simple way, check out some of the ideas we have selected and choose one that is your face.