When we talk about decoration and organization of the house, an item that cannot be missed are rugs, in addition to being a great decorative accessory, it is also very useful, whether it is to clean your feet when entering the rooms of the house or to put your feet when getting out of bed.
There are many different models of rugs available to buy, but if you want to have a piece that is original and personalized, bet on the handmade rug, being a good option the patchwork rug that is colorful and mega economical, even more if you are a seamstress already. Surely you must have piles and piles of leftover fabrics and a good way to end them and at the same time a new use for them is to make patchwork rugs that will add an extra charm to different rooms in the house!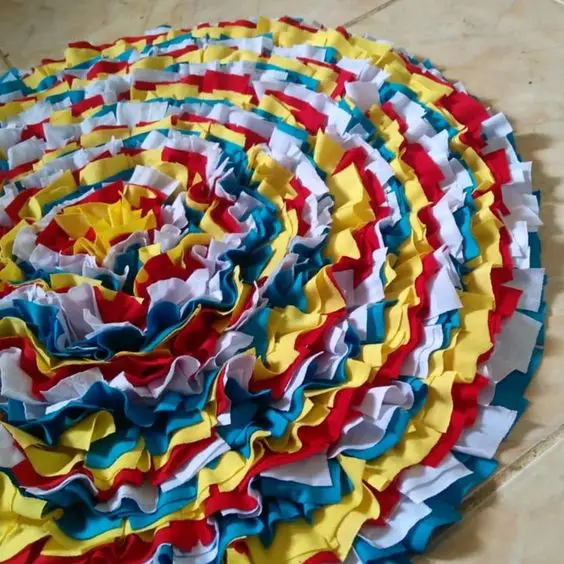 Are you even more interested in discovering which rug models you can create using this unique material? Keep following our article in which you will not only find models that inspire you, but also some very simple step-by-step instructions, in this way you will be able to reuse leftover fabrics, knits and even jeans that would have a single purpose, the can. of trash.
If you want to make to sell and thus earn extra income at the end of the month, or simply want to learn to decorate your home, then you are in the right place. Sustainable and easy to make, rugs made of patchwork have a great output, and can compose the decoration of all environments in your home if done in the right way, with care and good taste when choosing the colors that will be used, you will be able to do it. a wonderful piece!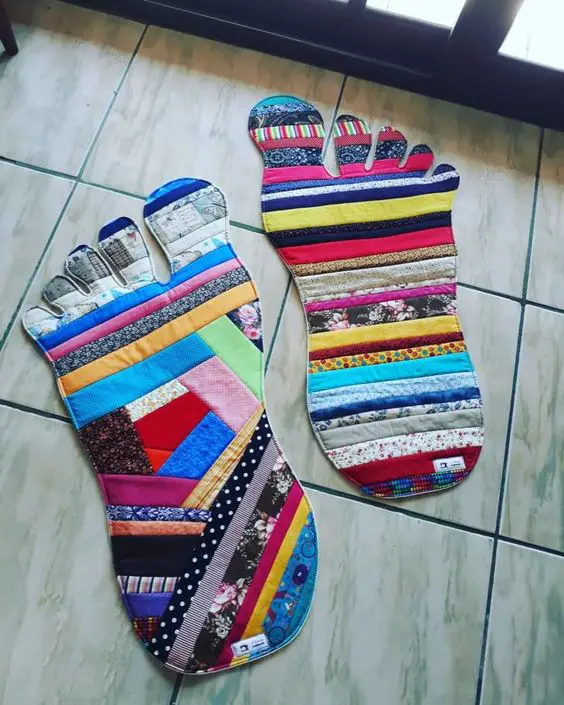 Patchwork Rug: Models
Another positive point of patchwork rugs is precisely their versatility, after all there are a thousand and one different ways to create a patchwork rug, you can do it using several colors or just use a single color, always try to choose colors that somehow match the other details of the decoration, in this way it will maintain the balance.
simple patchwork rug
If you are starting in the world of handmade rugs, a good tip is to start with the simplest models. Generally those who prefer the simplest models usually bet on neutral and classic colors with brown, gray, black, dark blue and white, but this depends a lot on each person's personal taste. The format can be square, rectangular or round, usually in smaller sizes, although simple they are a charm to compose environments with classic and minimalist decorations.
Check out this cool tutorial on how to make a patchwork rug using pieces of sheet, in the making of this rug you won't need to use a sewing machine, everything is done manually.
mesh retail rug
If you are a seamstress and you no longer know how to end that patchwork world, a good tip is to make knitted rugs that are very easy to handle. Use the crochet technique using a crochet hook, this model is ideal for decorating baby and children's rooms. Resistant and with a very cute look, it will give an extra highlight to the general look of the little room.
Denim fabric patchwork rug
Are you one of those daring women both in the way you dress and in the time of decorating your home environments? Then you will fall in love with patchwork denim rugs which are basically a mix of edgy and funky styles.
Cut a few squares and join them one by one until you get the shape you want. Another very different idea is you just make the base of the rug with jeans and the top made with fabrics you have. See the video below:
Patchwork Rug: 52 photos for you
Now that you've become familiar with this technique, check out our image gallery full of patchwork rug models of the most different styles, sizes and shapes and get inspired:
Learn How to Quill: Paper Filigree Technique
Bamboo Crafts: Amazing ideas for you to do