Your little one's birthday is coming up and you are completely lost when choosing a party theme, don't worry, today's article will solve all your doubts and more, we will give you some suggestions for themes for girls' parties without using characters, yes it is possible to innovate and have an unforgettable party, escaping a little from the classic and traditional themes of every year.
Let's get away from those decorations that are always the same, using princesses, cartoon characters, movies or famous books. For mothers who organize their own children's party, escaping the obvious and avoiding the characters can be a very complicated task, even more so if the child has already decided what theme he wants for the next birthday, the ideal is for you to sit down and talk as much as possible. , important right now is to choose something that makes you happy!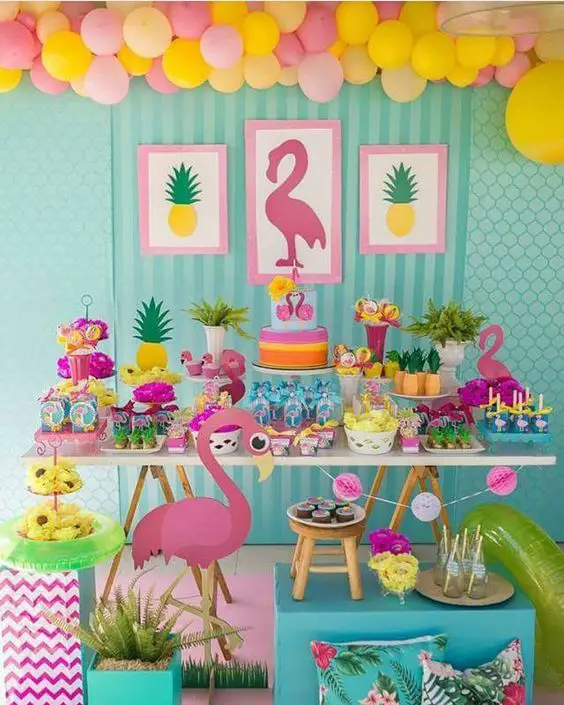 There are options that are perfect for parents who have two or more daughters of different ages, you can choose a theme that is compatible with the age of both and then have a single party for all of them. Sometimes it's hard to find a theme that everyone likes! Check below a selection of photos with several ideas for you to choose from and make a beautiful party for your daughter, there are numerous very cool suggestions, choose the one that best matches the style of the birthday girl.
Girls party theme ideas without using characters
Flamingo
This is a theme that is booming in 2017 and promises to continue with everything in 2018, we are talking about the colorful, cute and cheerful flamingo themed party she is the face of summer. It's impossible not to fall in love!
Owl
The owls are cute and sweet, being one of the most requested themes by adults and children. Whether at a children's party, baby shower or adult party, the little owls look beautiful in the details of the table, on the cake and even on the souvenirs. You can use the theme with light and soft colors like baby pink with blue, lilac and white or more vibrant colors like green and yellow anyway, this theme allows us to play and assemble several very cool combinations of colors.
fairies
Fairies can replace princess parties, beautiful and full of magic they can bring all the charm and delicacy in addition to messing with the imaginary side of the little ones.
spa
Only those who are a mother of a girl will know what I'm talking about, today's girls are getting more and more vain, they like to use their mother's makeup and heels to play, if your daughter is a real preppy, throw a spa-style party including decorated nails, hairstyles and costumes.
Here are some more perfect ideas of themes for a children's party for girls without using characters, among them are seamstress themes, sweets, confectionery, pool party, watercolor, sheep, heart, enchanted garden, butterflies, ladybugs, puppies, bees , ballerina, mermaid, cotton candy, unicorns, poa, watermelon, royalty, chanel, matriosca, paris, pic nic anyway, there is no shortage of options…