The way the days are flying by in the blink of an eye will already be Easter, days before it is already possible to see stores, schools and houses taken by the symbols of Easter is simply beautiful! Make no mistake Easter goes far beyond delicious chocolate eggs and cute bunnies, the Easter holiday is an important celebration for Christians, celebrated annually on Sunday where the resurrection of Jesus Christ is celebrated.
And to make this date more memorable for children, some tricks can be used, whether through coloring pages, the easter egg or also, the souvenirs that are a real success they can be delivered at Easter celebrations at school and churches like also, offering it to friends and family as a form of affection, and the best of all is that they can be made in different types of materials, whether edible or not, it is much easier to please all audiences.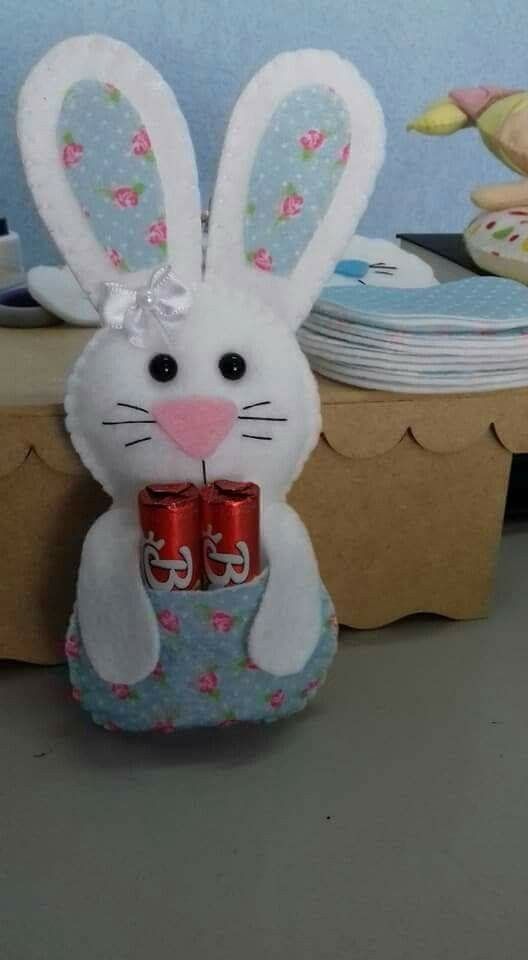 But for this mission to go as you planned, having some creative and different party favor ideas is of excellent help. We then selected some very cool and cheap suggestions that can be made with different materials, whether with EVA, felt, fabric, Pet bottle, MDF, in short, versatile, cheap and easy-to-handle materials, in addition to souvenirs we will provide several free molds. So, just take advantage of the ideas and choose the one you like the most and get to work.
EVA easter favors 
EVA is a very cheap and malleable material with which you can do a thousand things, be it a bunny candy holder, the candy should be in the middle of the bunny's body. Other suggestions are the mini baskets, carrots for sweets, cones decorated with the little bunny's face that values and makes the treat much more charming!
Felt easter favors 
With the felt it is possible to make decorated bags to put goodies, the bunny-shaped keychains, another super cute keychain is the egg-shaped one that draws attention for its coloring, to give it an extra touch, place a satin strap to hang on the car or key. The molds are essential for making crafts, especially if you are a beginner, because it is from them that you can shape your souvenir. Searching the internet I found some really cool inspirations so I decided to separate them for you.
Recycled easter gifts 
How about joining the useful to the pleasant, and teaching children about environmental awareness? Using pet bottles, cans, plastic pots, disposable cups, toilet paper rolls with rabbit ears and eyes, decorated milk cartons that can be used to put chocolates and candies. Through simple ideas you can stimulate the imagination of the little ones and they can even take home a fun souvenir made by themselves.
Easter Favors with Printable Templates
If you are interested in a souvenir above and want to make it, see below some templates are all free, just print them on A4 sheets and then transfer it to the material you want to make the souvenir.