The school is like our second home after all, it is there that we spend most of our day, let's say, that learning and education are things that go hand in hand, and the participation and inclusion of parents in school life is extremely important. of children, and through simple gestures such as making a simple father's day wall can become a true welcome portal, making parents feel loved and special!
And as Father's Day is just a few days away, many teachers begin their search for tips on how to decorate the classroom and, who knows, even the whole school to receive parents for the presentations and tributes that marked this date even more.
See more: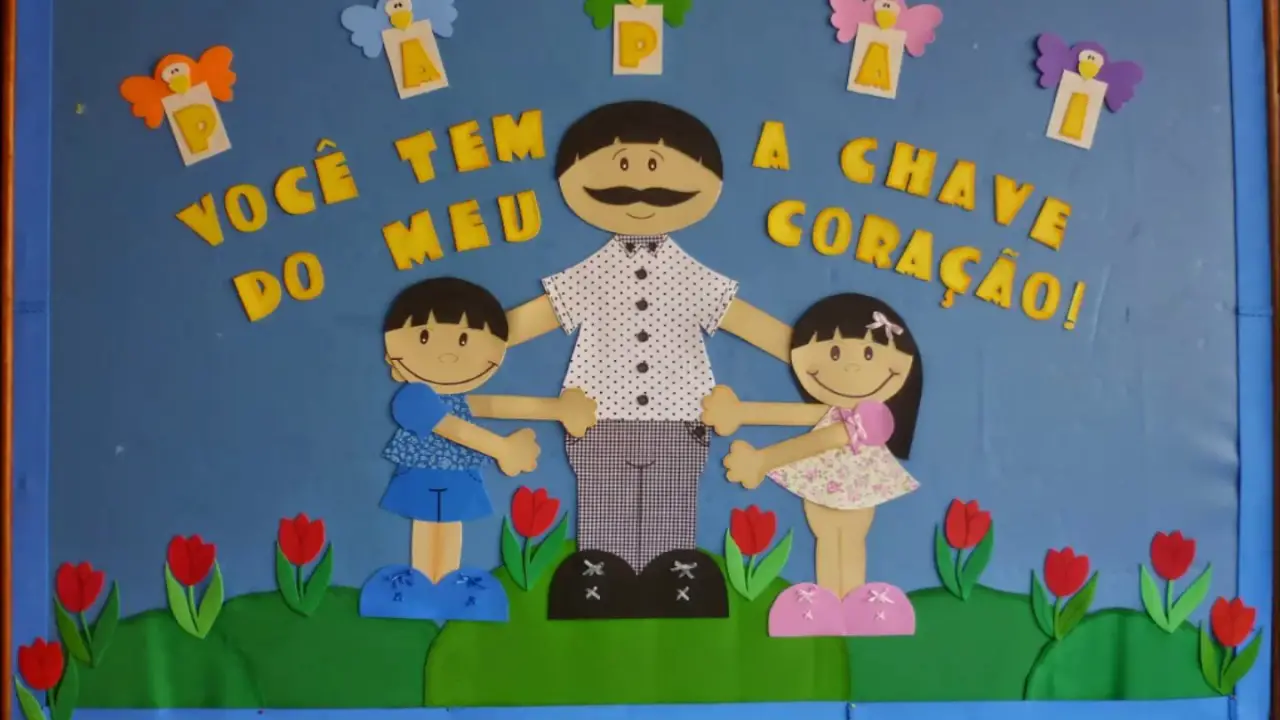 School decoration for Father's Day should be beautiful, cheerful and not too expensive after all, the income destined for this type of ornamentation is not always large, but using creativity it is possible to make incredible creations, and the best of all we can, include the little ones in the making. You will only need, a beautiful phrase or poem in addition to cheap materials such as Eva leaves, cardboard, scissors and lots of love! Check out some phrases and then some templates with free templates.
Father's Day Wall: Messages and Phrases
Dad, you will always be my favorite superhero! I love you and congratulations on your day!
Dad, I shouldn't wait a day to tell you the obvious: I love you! Happy Fathers Day!
You are the best dad in the world. Happy Fathers Day!
Father: the certainty of an eternal friend. Congratulations on your day! I love you!
Being a father is: smiling, crying, suffering, laughing. To be a son is: to be grateful every day to
Being a father is planting and taking root, it is teaching holding hands with courage and determination. I love you! Happy Fathers Day
Dad! Thank you for sharing with me the best moments of my life. You are the best dad in the world!
You cried for me, wiped my tears when the world made me cry, taught me beautiful things, and you continue to be a fundamental piece for the functioning of my heart beats. Happy Fathers Day!
Your presence always gave me security to chase all my dreams.
I thank God for your life. Happy Fathers Day!
Father, you are the foundation of my life, my direction and my guide. Happy Fathers Day!
A father has the wisdom of a teacher and the sincerity of a friend. Happy Fathers Day!
I know I can count on your love and wisdom to instruct me. Thank you for always being with me. Happy Fathers Day!
The most beautiful and remarkable legacy that a father can leave his son is character building and the steps to be followed. Happy Fathers Day.
Father's Day Panel: Creative Ideas with Templates
Below you can see in our gallery a selection of different panel models for Father's Day, there are options of all kinds that served as inspiration for you to make yours, however, nothing will stop you from creating your own personalized panel with colors, phrases and drawings that you want.
Father's Day Mural with Templates 
The molds are essential materials to make craft work because they served as a basis when cutting any image you want later, just transfer the mold to paper or Eva and then paste it together, assembling illustrations and even phrases.