Brazil is a country full of festivities, right after the turn of the year comes Carnival, Easter and in the middle of the year the Festas Juninas, a traditional popular festival that takes place during the month of June that is very successful throughout the country, especially in the Northeast. .
In addition to the typical foods beyond delicious, another element that cannot be missed are the traditional clothes of the day, men should bet on rustic-style looks and women "Maria Chiquinha" style with that colorful dress full of frills that is a charm!
But as we know that party dresses are very expensive during these seasons, a good solution is to invest in skirts, they are cheap and easy to make and the best thing is that you can be reusing scraps of fabric you already have at home , this specific piece has been gaining strength and today many women, including famous ones, are adhering to it.
Another reason that these skirts are falling in the women's taste is precisely their versatility since you can make them in the length and style you prefer, simple or more elaborate as is the case of models with suspenders, in short, there are plenty of options. .
Beautiful models to bet on that date
Check out these tips and use them as inspiration when putting together your look, in addition to the skirts, analyze the look as a whole and so be sure that it will rock.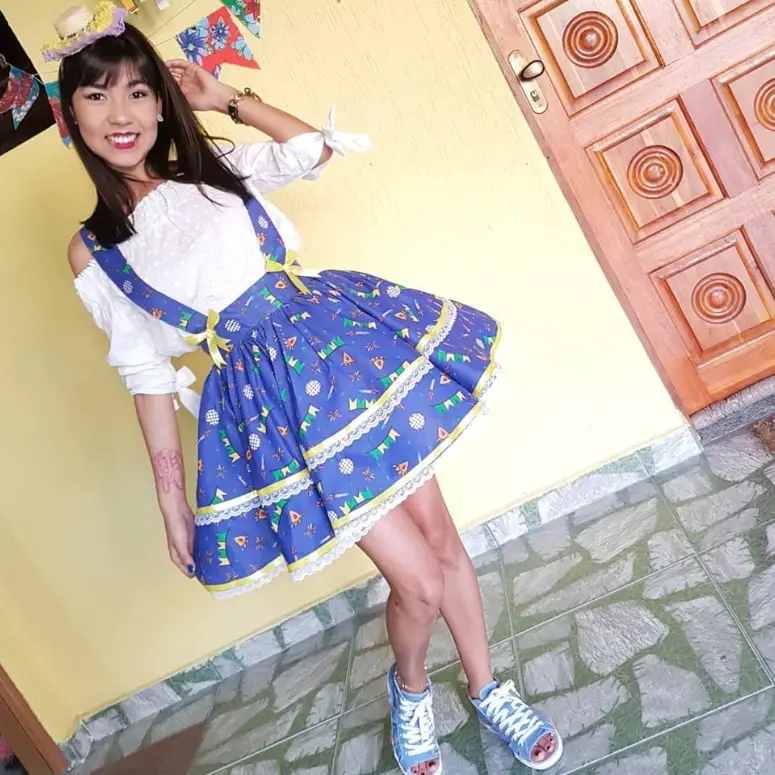 Festa Junina Skirt with Suspender
This is one of my favorite models, besides being cute, this style of skirt matches any basic blouse you already have at home, formerly used exclusively by men, the suspender is nothing more than two stripes on the skirts, it doesn't have much functionality except be to leave the skirt more incremented.
Visually it is very reminiscent of a planter. If you want to save even more, get a printed skirt that you already have in your wardrobe, and adapt it by putting the bands, buttons, fabric flowers and even some details in yo-yo is a luxury!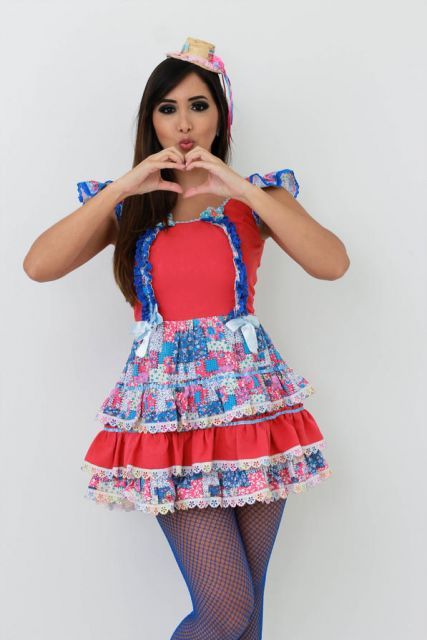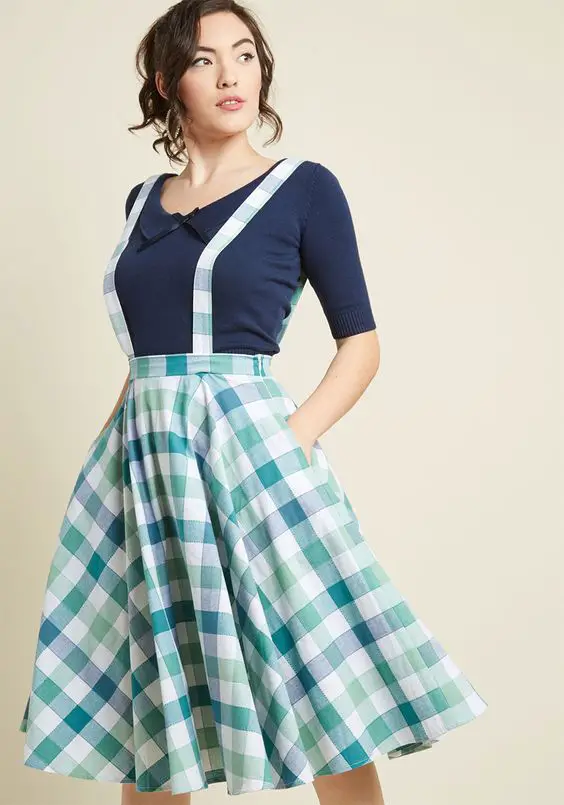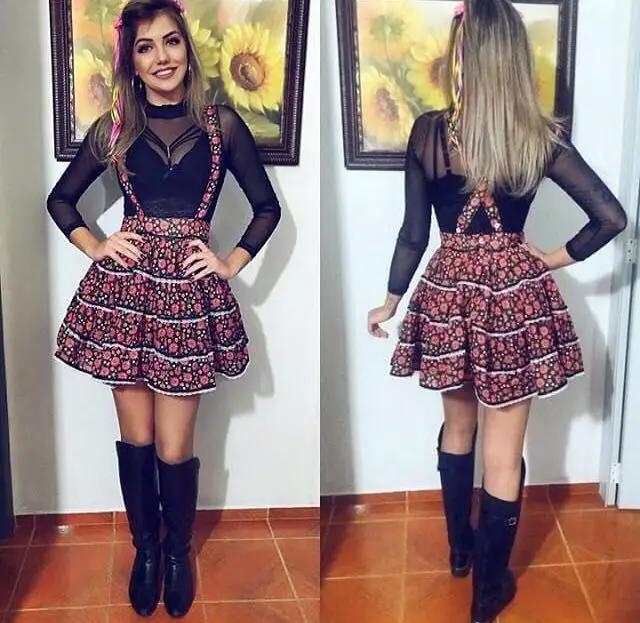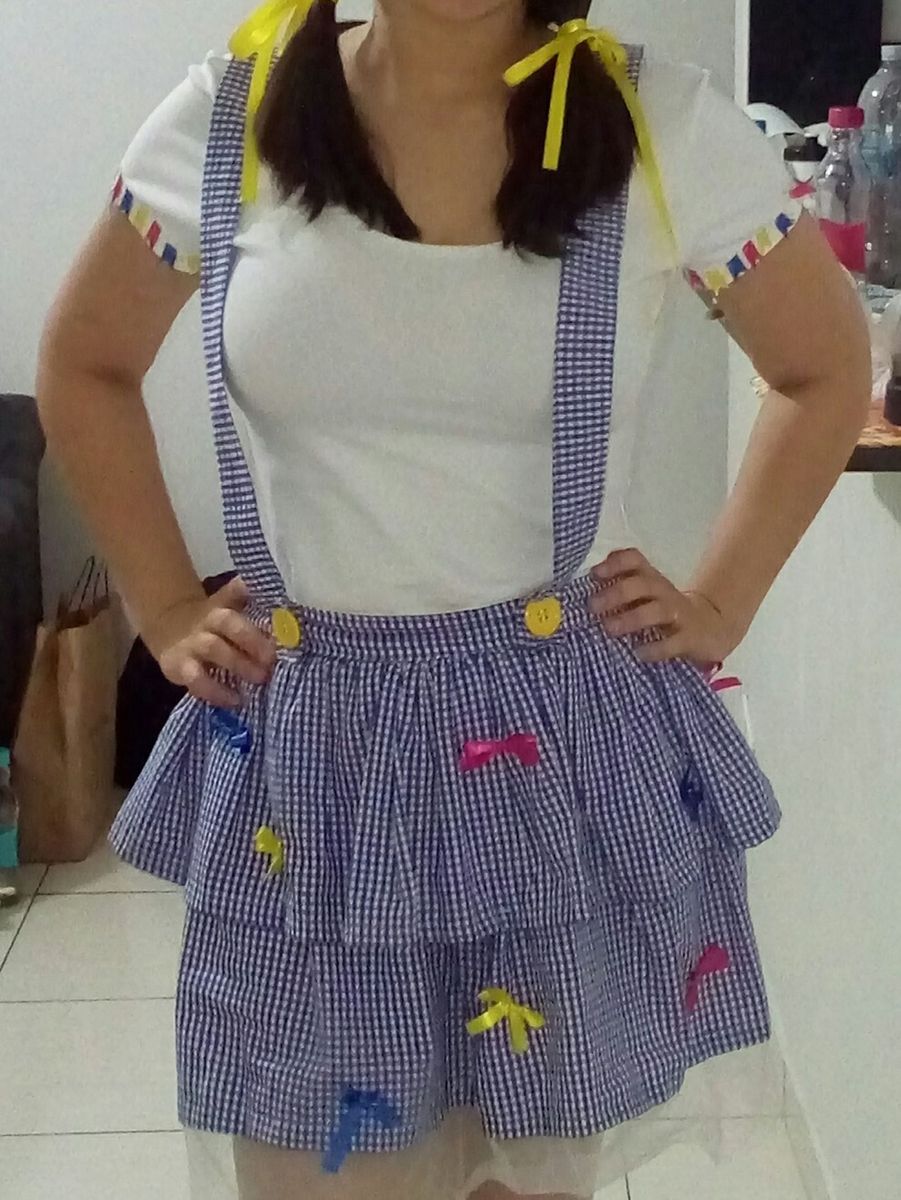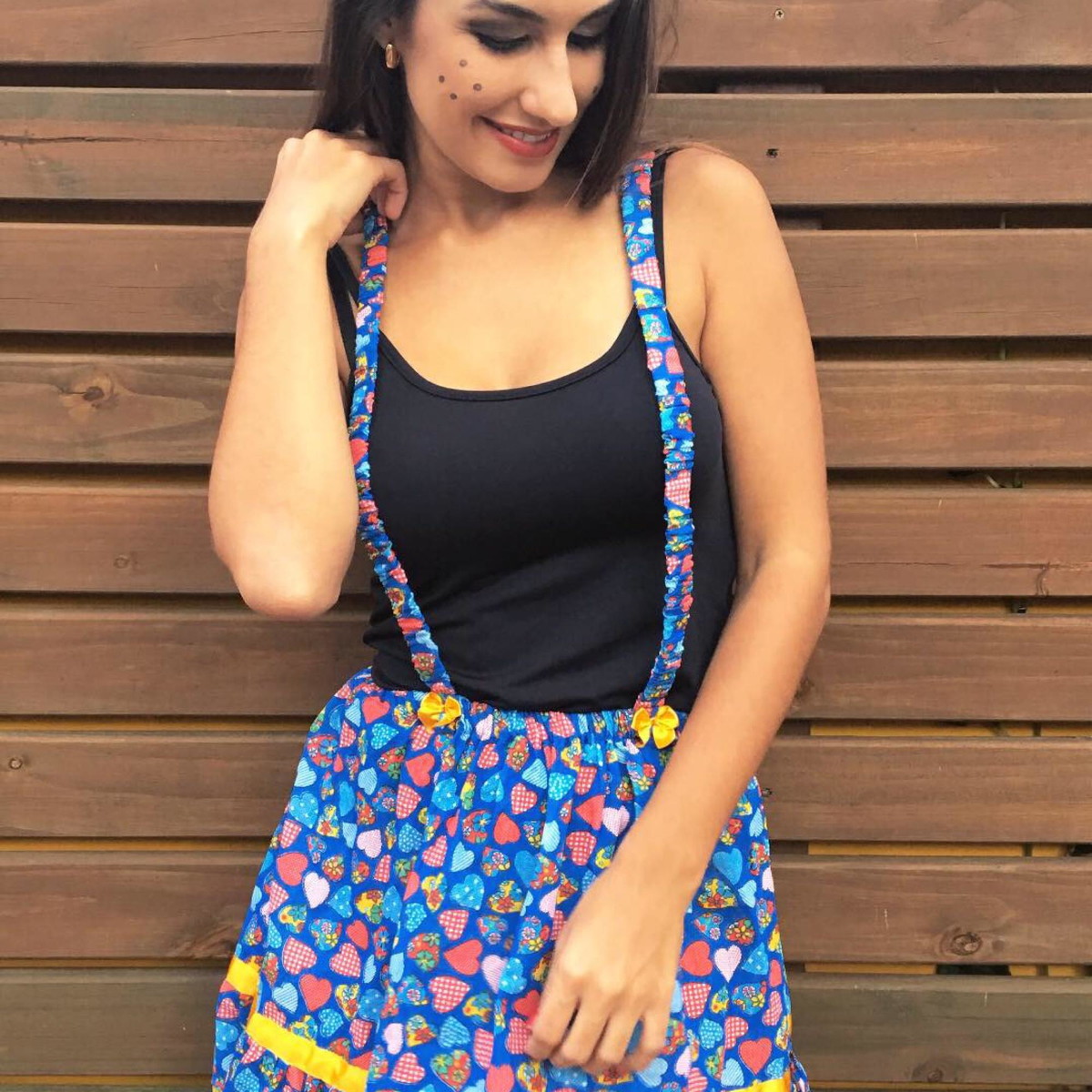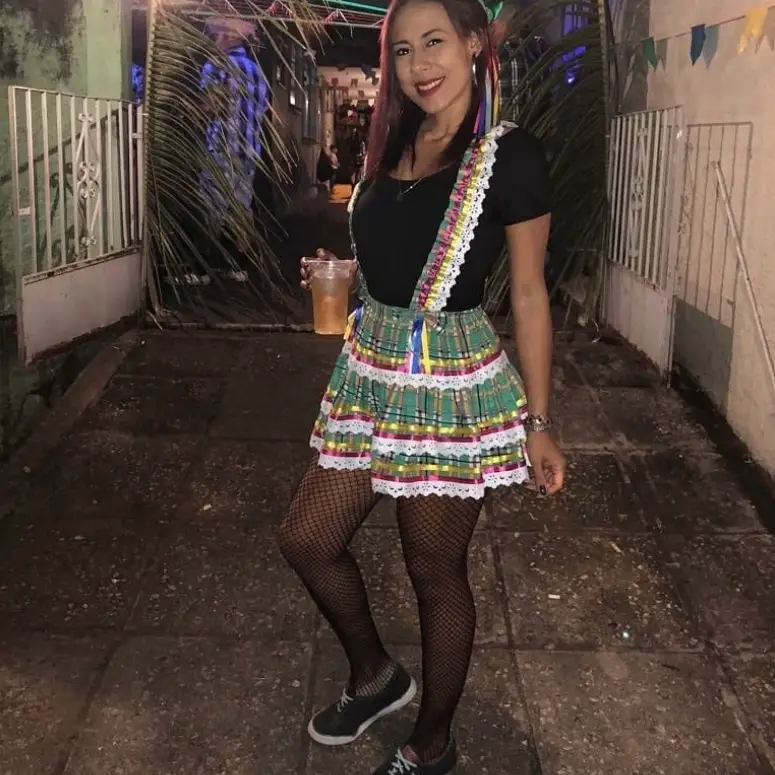 Modern Junina Party Skirt
There is also the option to bet on the more modern style, yes the June party clothes are mega stylish, the outfits with cropped top, for example, are perfect and look beautiful on the body. Escape from plaid and prints, choose plain or tulle with delicate details at the waist or hem.
The long and flowing skirts with floral prints are the biggest hit, different and with an elegant air, the models in envelope and pencil length fit super well, in addition to leaving a beautiful swirled effect. These models with a more refined touch are perfect for you who go to June parties in more formal places.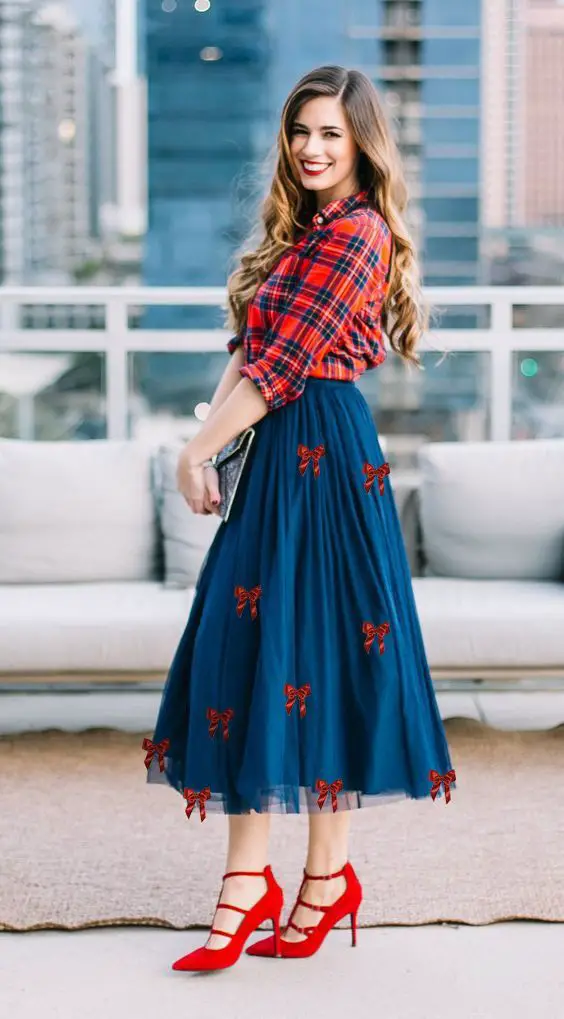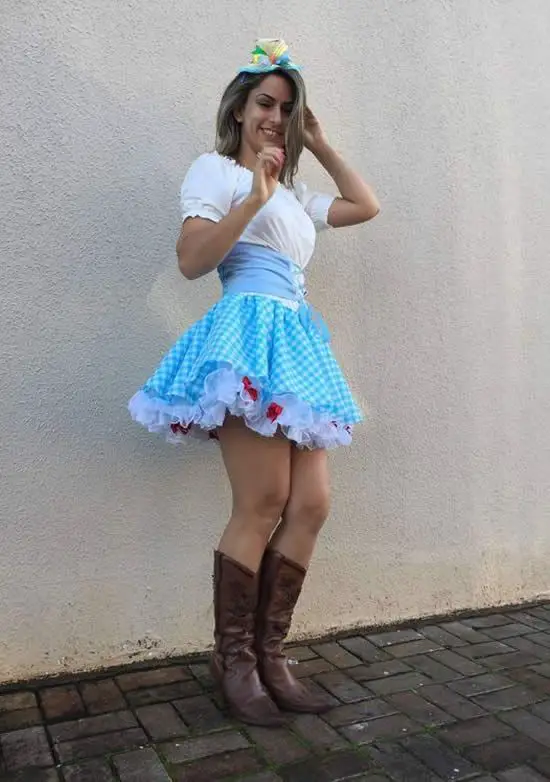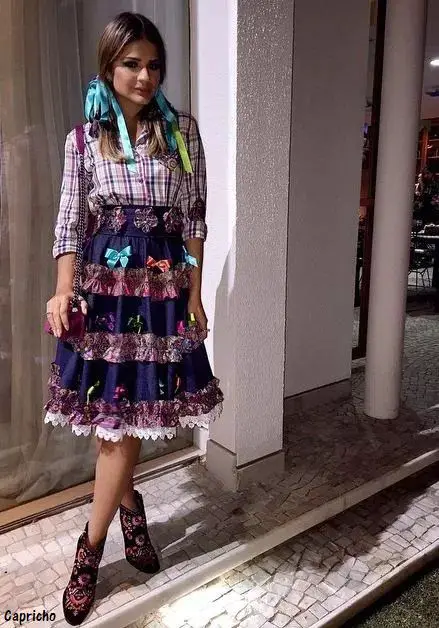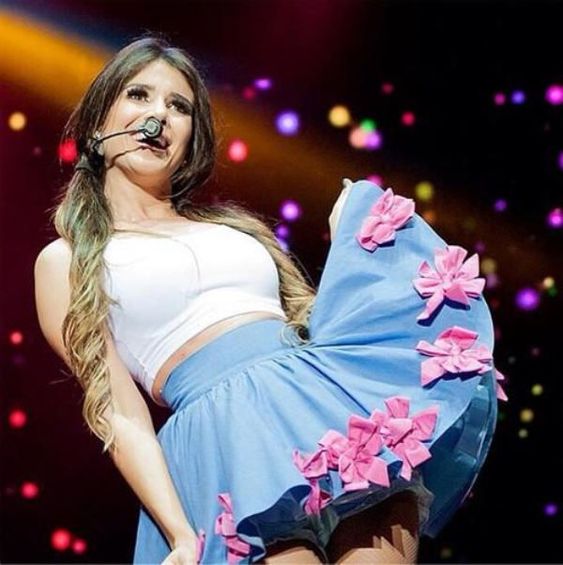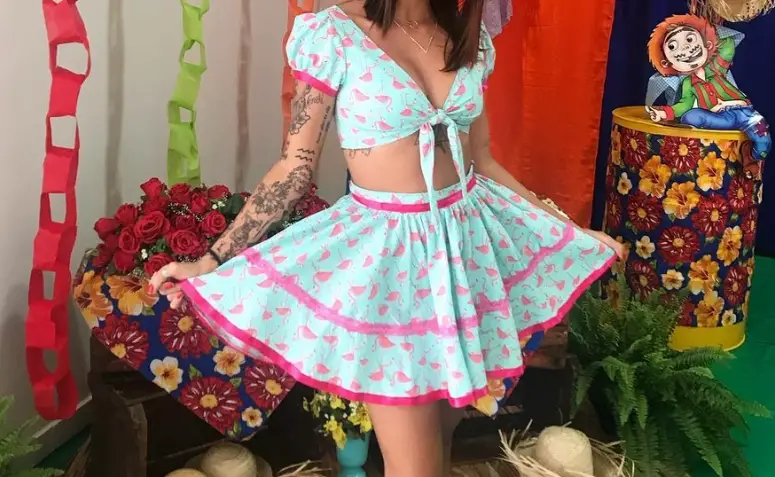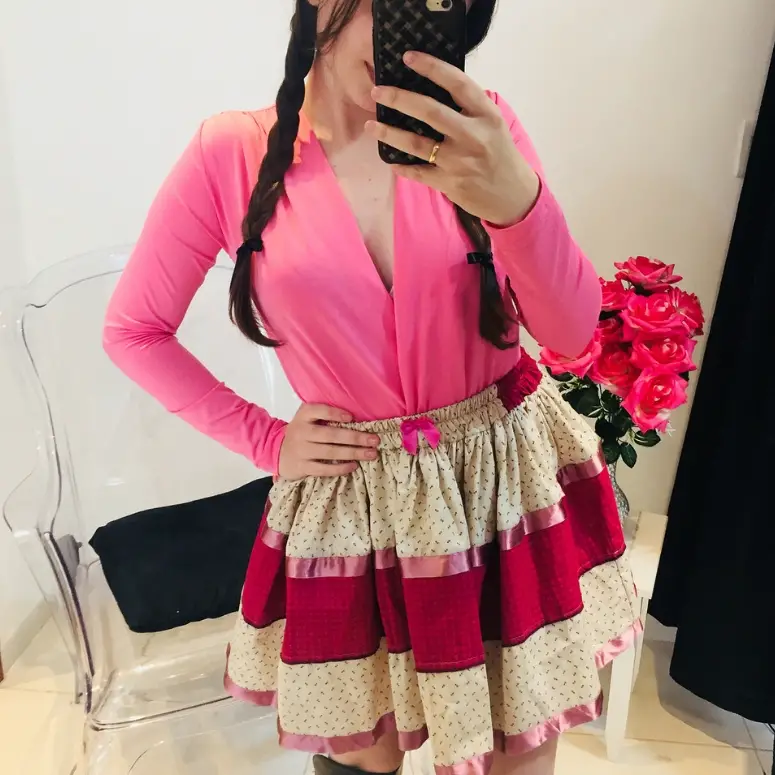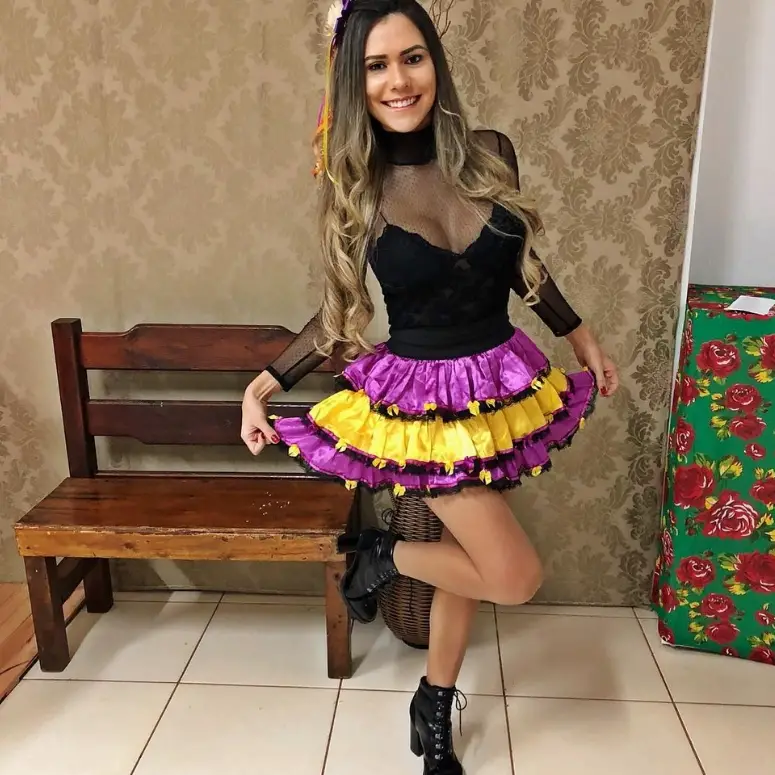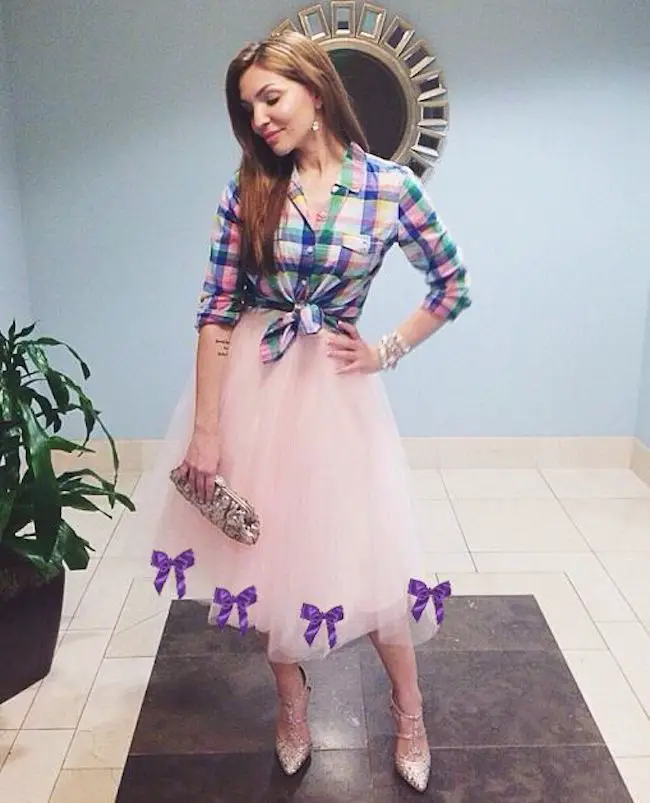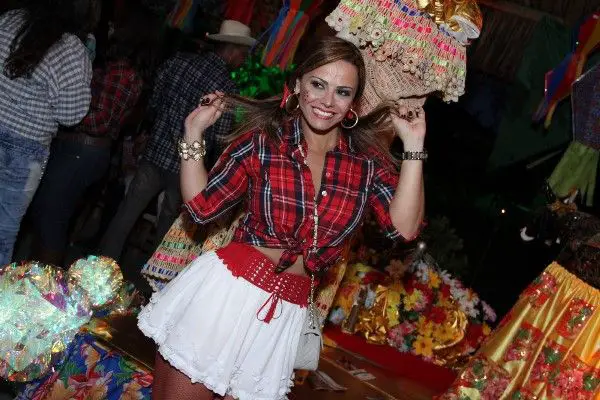 Festa Junina skirt with tulle
Versatile, tulle allows us to make many, many things, from souvenirs, tablecloths for parties and even skirts, yes, but we are not talking about those round ballerina skirts, but cheap skirts for June parties, versatile and practical to handle the tulle can be easily found at craft stores, haberdashery and online stores.
It is possible to find it in different colors, you can make it in a single color or in several colors, delicate and feminine the tulle skirt is very pretty, the length is up to you, if you want to add a little more volume to the hip area just make it more puffy, for that just add a second skirt to the skirt.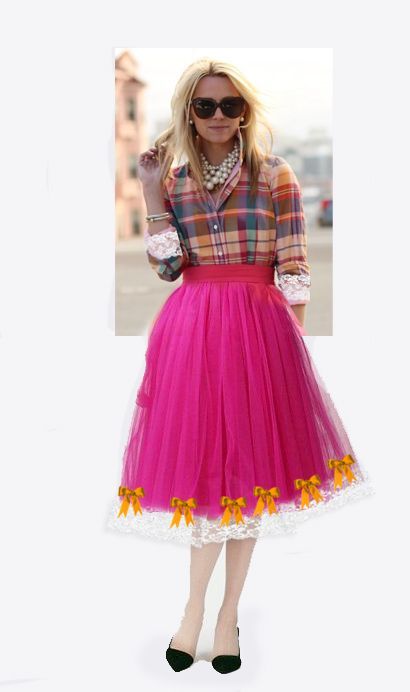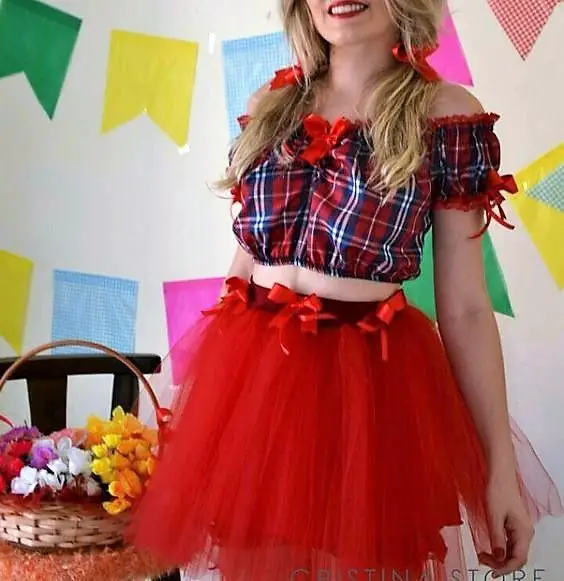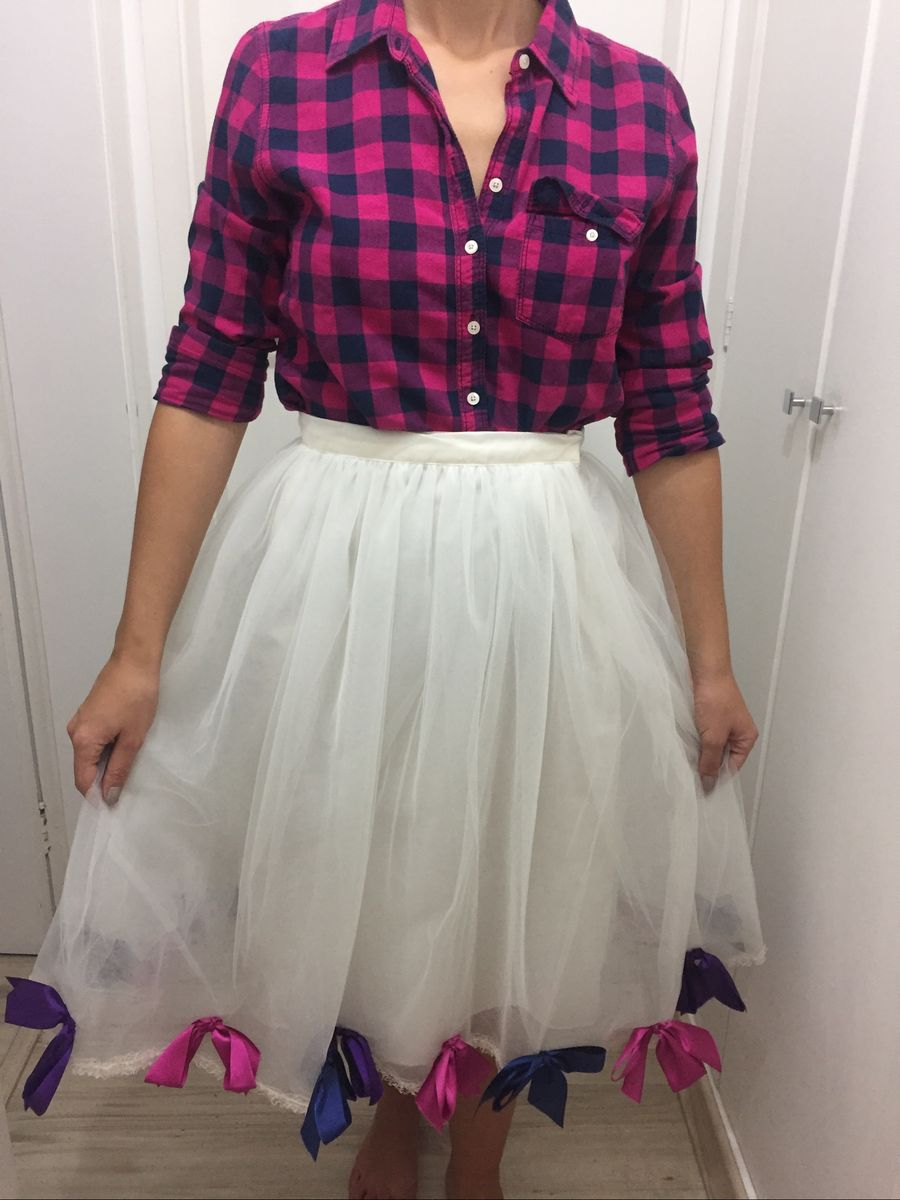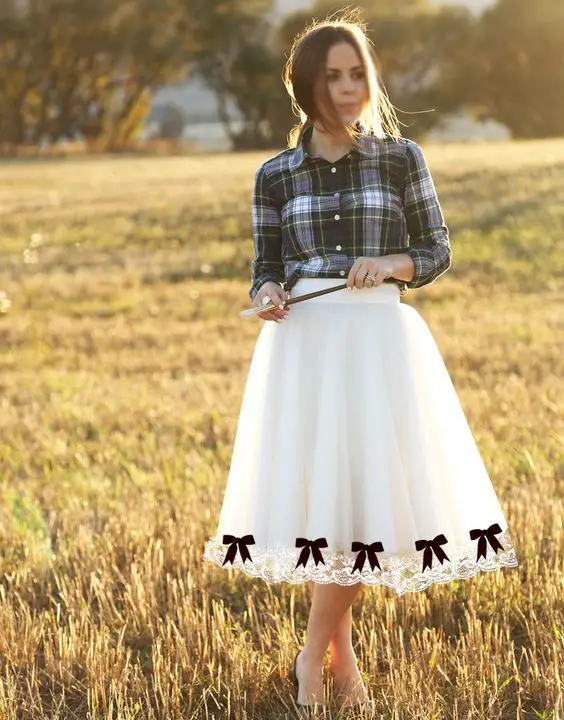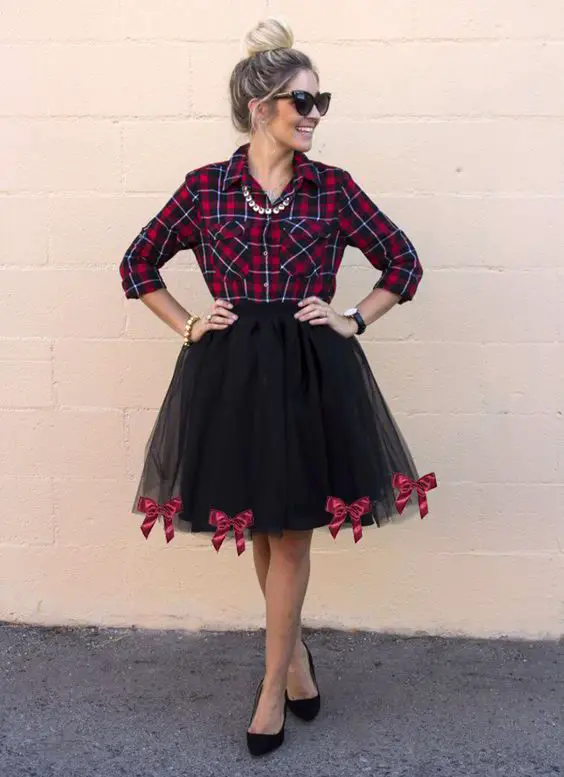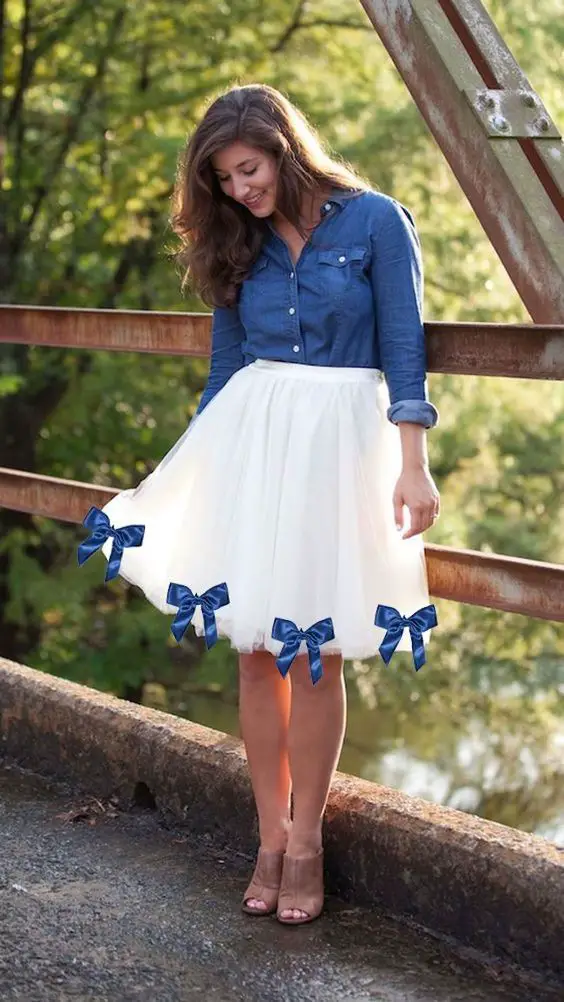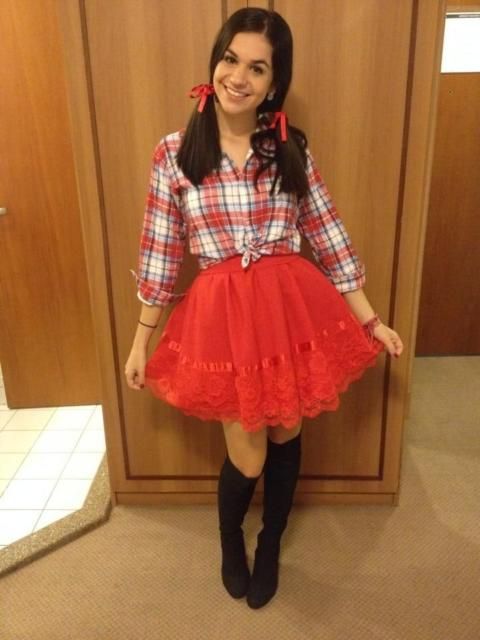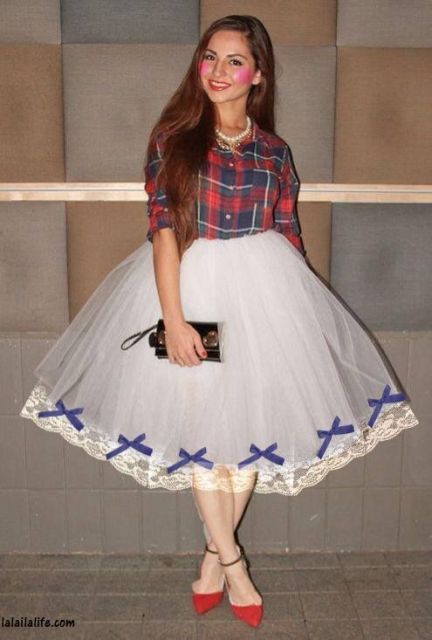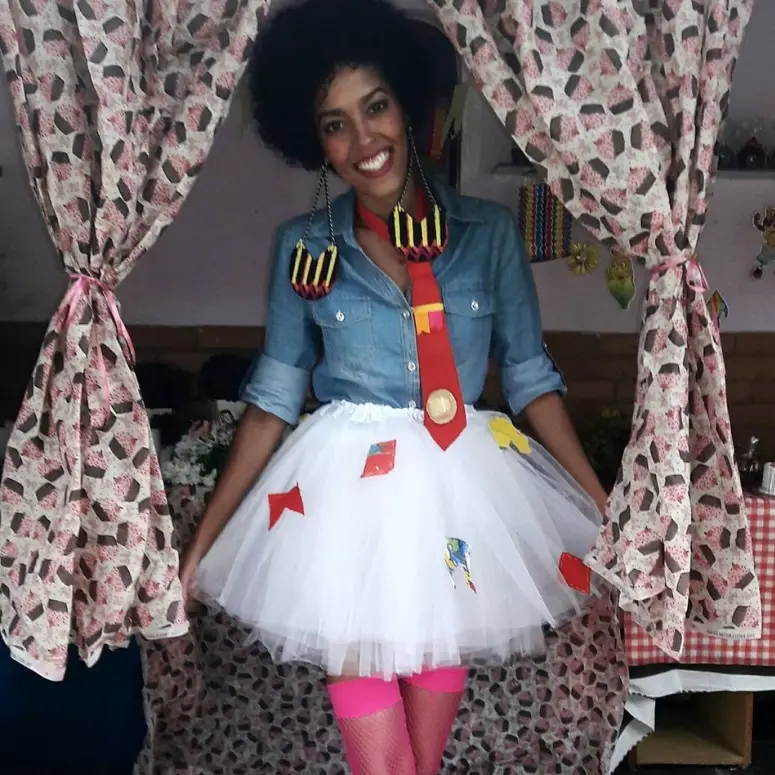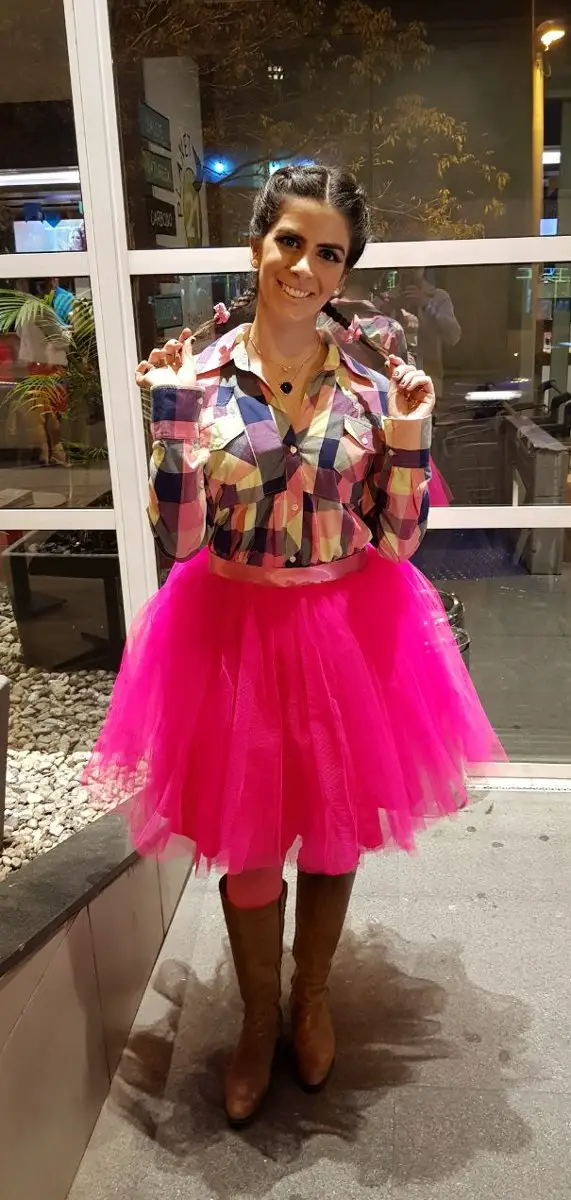 How to make a June Party Skirt
To create a beautiful June look you don't necessarily need to spend money, that's because it's possible to make a skirt by reusing an old short, yes, just cut and add some hems, you don't need to have skill and much less have a custom machine at home, just one scissors, thread, needle and some scraps of patterned fabric. This also serves to create an improvised children's skirt, as it is very common for children to dance square at school so you can make a beautiful skirt at the last minute for your little one. So let's go to the tutorial: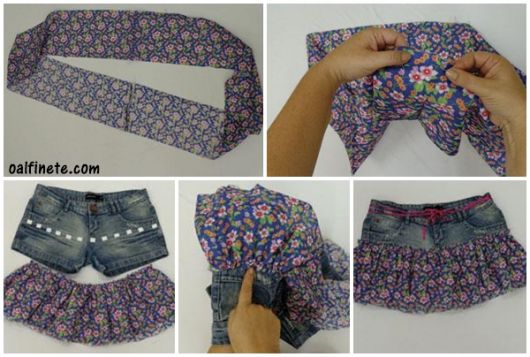 Cut a strip of fabric of your choice, the size of the fabric will depend on the size you want the skirt to be.
Sew the piece of fabric basting to leave the fabric puckered.
Now take the shorts and cut just below the zipper, sew the already puckered fabric and finally add some ribbon bows where the hem of the skirt begins.
Colorful tulle skirt for Festa Junina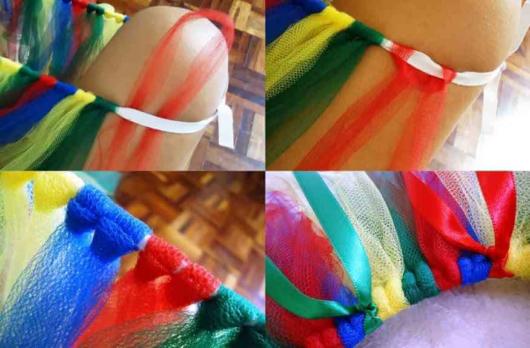 Start by measuring the elastic at the waist, cut the tulle strips in identical sizes in the colors you want.
Tie the tulle strips one by one to the elastic as shown in the photo below, if necessary add more tulle so that it has a fuller effect.
June party skirt pictures
She was even more excited for the June parties, don't worry, the inspirations don't end there, below you can check out some more cute skirt models that will make your June look even more charming, they are different models with variable styles and colors to please the more different types of women no matter the age or style anyway, choose the model you like the most and rock it!
Hairstyles for Festa Junina: Step by step