Your mother lovingly prepares the family meals all year round, so it's only fair that you give her a rest, wake up early and create a menu with the meals she loves the most, if you don't know how to cook, it's not a problem these days there are several websites and also YouTube channels with wonderful recipes that are super easy to prepare, after all, just follow the step-by-step instructions and that's it, in addition to choosing the dishes she likes to eat the most, she needs to make a beautiful arrangement. on the table are these details that make the lunch become even more special and irresistible!
Make a fancy lunch on Sunday and finish the meal with a delicious and beautiful dessert to eat with your eyes! If you don't know which one to prepare, don't panic, because in this article we've brought you several options from the sweetest to the sugar-free, so if your mother has diabetes or other restrictions, she won't be left out.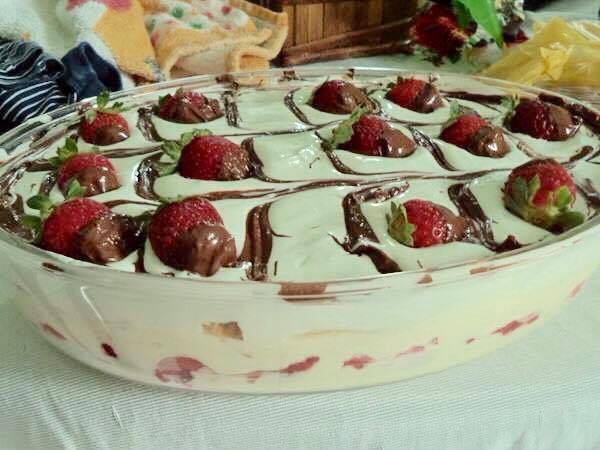 For every type of mother, there is a right dessert but, in the end, what we are all sure is that every mother deserves the best after all, those who have always taken care of everyone too, deserve to be taken care of. We know that everyone has a busy day-to-day and a schedule full of commitments, but what does it cost you to take a day off to make your mother feel special. Check out the recipes and enjoy these moments with the people you love so much, things like you are worth more than gold and there is no money in the world that pays for a smile from the one who carried you for the long 9 months.
Desserts for Mother's Day: Delicious and Surprising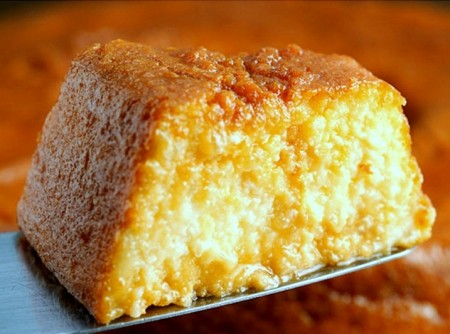 Ingredients
500 g granulated tapioca
4 cups of hot milk (tea)
1 glass of coconut milk
3 cups (tea) of sugar
6 lightly beaten egg units
1 cup shredded coconut (fresh)
2 tablespoons of butter
How to make
Place the tapioca in a bowl, cover with the hot milk and let it soak for about 2 hours. Add the other ingredients and mix well.
Make a caramel with 1 cup of sugar and spread it in a pudding mold.
Pour the mixture into the mold and bake in a preheated oven at 180ºC and bake in a bain-marie for about 50 minutes or until golden.
Remove from oven and let cool.
Unmold onto a plate and place in the fridge.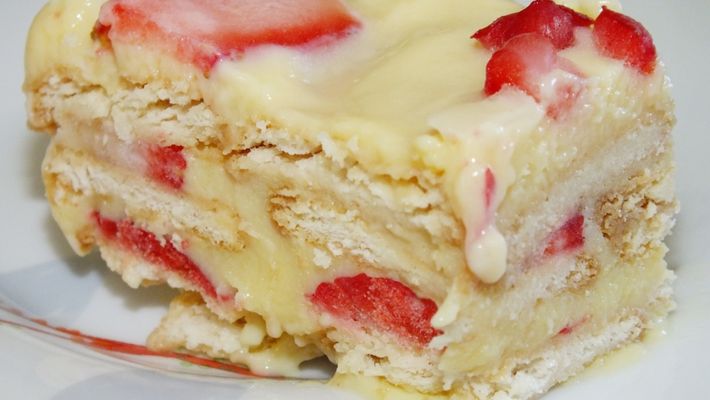 Ingredients:
1 packet of cornstarch or champagne crackers
1 can of condensed milk
1 box of sour cream
1 can of regular milk
2 sieved egg yolks
1 tablespoon of wheat flour or cornstarch
2 cups strawberry (tea)
1 teaspoon of vanilla
strawberry and whipped cream to decorate
How to make
In a pan, place the condensed milk, the milk (reserve a little to dissolve the wheat), the lightly beaten sieved yolks, the vanilla and the flour mixed in the reserved milk.
Stir until it thickens (thickened in 15 minutes, but you can't stop stirring).
Turn off the heat and add the cream with the whey.
If necessary, beat the cream in the blender to break up possible balls that form in the cream.
In a refractory, place in the following order: a layer of cookies (pass the cookies in the milk with sugar quickly), a layer of chopped strawberries, half of the cream.
Repeat the layers ending with the cream.
Decorate to your liking, with strawberries and whipped cream.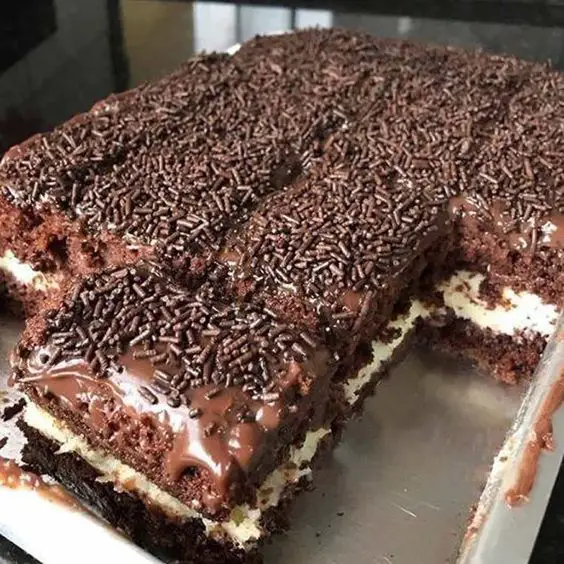 Pasta
– 04 eggs
– 1.1/2 cups (tea) warm milk
– 3/4 cup (tea) oil
– 02 cups (tea) sugar
– 02 cups (tea) wheat flour
– 01 cup (tea) chocolate powder
– 01 teaspoon of baking powder
Preparation mode:
Beat the first 4 ingredients in the blender for 2 minutes, still on, gradually pouring the flour and chocolate, finally the yeast, turn off.
Pour into a greased medium roast, bake in a preheated oven at 200°C for 45 minutes.
Wait to cool, cut into two parts and soak with: – 1.1/2 cups (tea) milk and – 02 tablespoons of dissolved chocolate.
Filling: Coconut Cream
– 01 can of condensed milk
– 01 can of milk (use the same measure)
– 01 small bottle of coconut milk
– 03 tablespoons of corn starch
– 100 grams grated coconut
– 01 tablespoon (soup) butter or margarine
– 01 box of cream
Preparation mode:
Take the ingredients (except the cream) to the medium fire, always stirring until it thickens, turn off, add the cream and stir until lukewarm.
Stuff the cake.
Roof:
– 01 box of cream
– 150 grams semisweet chocolate
Preparation mode:
Combine the ingredients and melt in the microwave or bain-marie. Wait for it to cool down. Spread over the cake.
Freeze for 2 hours. Decorate with Sprinkles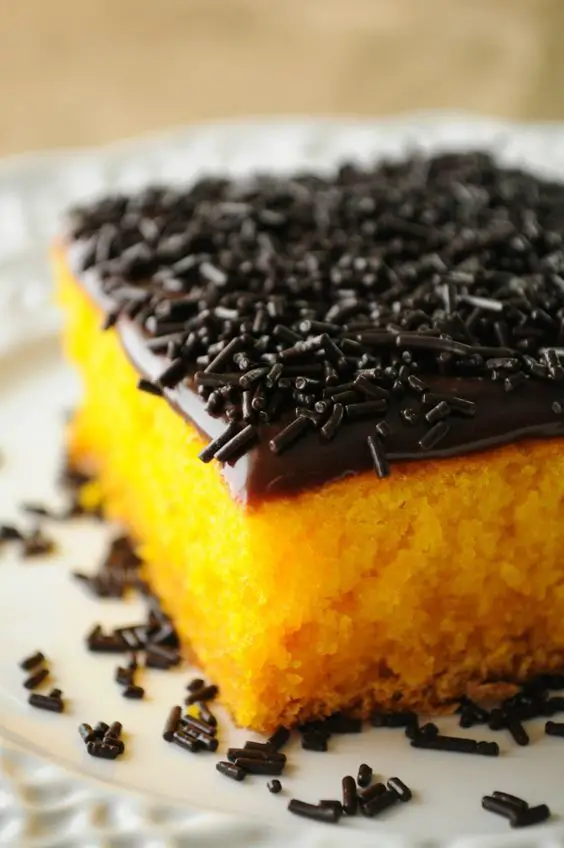 Ingredients:
Pasta
1/2 cup (tea) of oil
3 medium carrots grated
4 eggs
2 cups (tea) of sugar
2 and 1/2 cups (tea) of wheat flour
1 tablespoon of baking powder
ROOF
1 tablespoon of butter
3 tablespoons of powdered chocolate
1 cup (tea) of sugar
1 cup (tea) milk
Preparation mode:
In a blender, add the carrots, eggs and oil, then blend.
Add the sugar and beat again for 5 minutes.
In a bowl or mixer, add the flour and then mix again.
Add the yeast and mix slowly with a spoon.
Bake in an oven preheated to 180°C for approximately 40 minutes.
Roof
Pour the butter, cocoa powder, sugar and milk into a bowl, then mix.
Bring the mixture to a boil and continue mixing until you get a creamy consistency, then pour the syrup over the cake.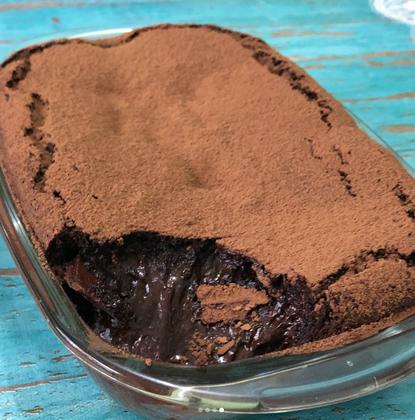 Ingredients:
5 eggs
400 grams of 60% cocoa chocolate
100 grams of butter
1/2 cup oat flour
3 tablespoons of cocoa powder
1 coffee spoon of baking powder
.
Preparation mode:
.
Beat the eggs until well foamed, melt the chocolate with the butter in the microwave and wait for it to cool a little, when it cools, add it to the egg mixture and beat well, add the oatmeal, the cocoa and the baking powder, mix well, grease a platter with butter and cocoa powder and throw this dough, bake in a preheated oven at 230 degrees for 15 minutes, don't let it bake too much so it doesn't turn into a cake, you'll get an amazing cone on top and inside super creamy and wonderful! Whoever does, don't forget to tag me.
Pudding with 2 Ingredients by Ana Maria Braga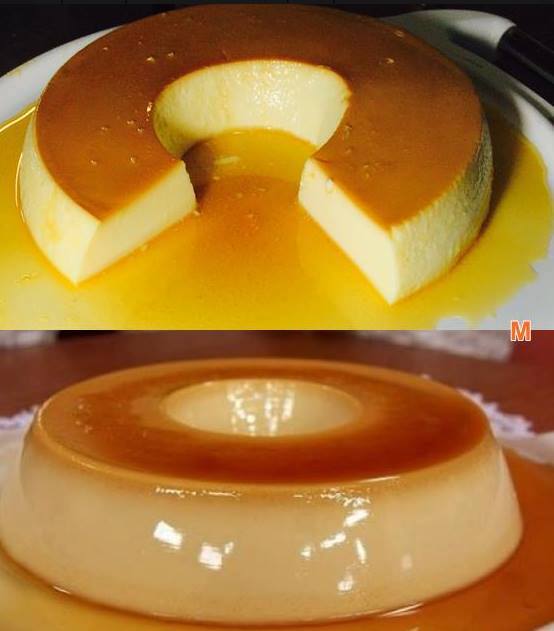 Ingredients:
Ingredients - Syrup
1 cup (tea) of sugar
0.5 cup (tea) of water
1 teaspoon of white vinegar
Ingredients – Pudding:
1.5 can of condensed milk (600 g)
3 cups plain unflavored yogurt (510 g)
Preparation method – Syrup
In a pudding mold (16 cm X 7 cm high) place 1 cup (tea) of sugar, ½ cup (tea) of water, 1 teaspoon of white vinegar and mix
Cook over medium heat until it boils, turns caramel color and comes to a boil.
Remove from the heat and spread the syrup all over.
Reserve
Preparation – Pudding
Place 1 ½ cans of condensed milk, 3 cups of plain unflavored yogurt in a blender and blend well until smooth.
Turn off the blender and pass the mixture through a sieve.
Transfer the mixture to the pudding mold (reserved above) and bake in a preheated oven at 200°C for about 45 minutes.
Remove from the oven and let cool
Take it to freeze
Remove from the fridge, unmold and serve.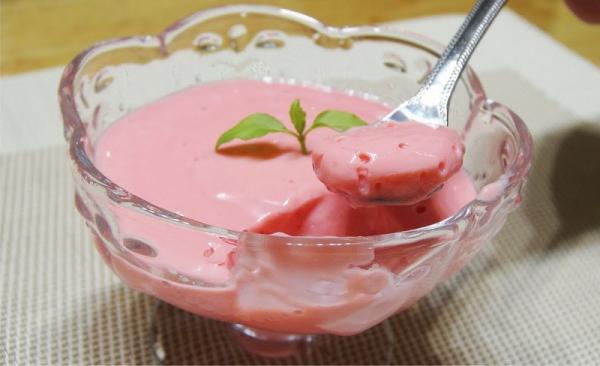 Ingredients:
1 cup of natural yogurt
1 can of condensed milk
2 boxes of sour cream (you can't use the canned one)
1 package strawberry tang
1/2 carton of milk (use the carton of sour cream to measure)
Preparation mode
Blend all ingredients in a blender for approximately 8 minutes.
When placing in the small pots or in a larger pot, when pouring the homemade danoninho mixture that is in the blender, lift it up high to make air bubbles.
Then put the pot in the fridge leaving for approximately 3 hours, waiting for it to be very cold and creamy.