The cow's nail can be done either with the cow's face or imitating the color of the animal's fur, either way, any of the ways to decorate the nails looks beautiful.
There is no denying that a well-done and beautifully decorated nail pretty be something indispensable in the feminine look, even more for women who are vain and do not give up good taste and style, after all it is important to be well groomed from head to toe to show a good appearance.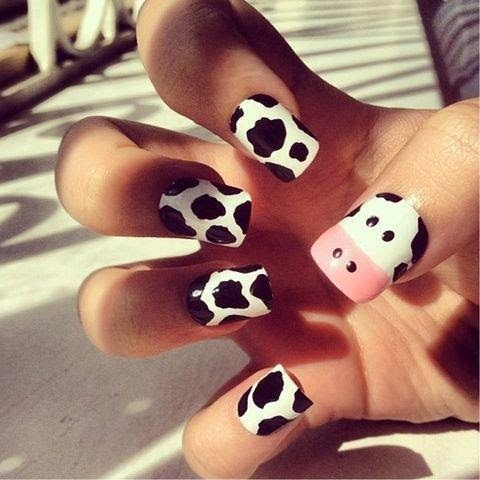 More and more brands and stores specializing in beauty products invest in bringing nail polish innovations to better serve their consumers.
Not to mention new designs and nail decorating techniques that are increasingly enchanting women of all ages and styles because there is no shortage of options.
Among the various techniques, custom designs end up being one of the most sought after. A fun and easy way to do it is the kitty drawings. Haven't learned yet? Then check it out and watch the tutorial.
How to Make Decorated Cow Nails
It is possible to make nails with drawings of cows in various ways, it is a more beautiful and detailed design than the other, it even leads to indecision at the time of choice.
The step by step is very simple and easy to do, just needing two colors, "white and black" or also pink if you want to make the cow's face.
Overall, just be creative and follow our tips and you'll be fine.
Learn step by step how to make nails decorated with drawings of a kitty, also see some special tips and photos with different decorations for you to rock!
Material:
– white enamel
– Toothpick
– pink nail polish
– black enamel
– Extra shine
Step by step:
1 – Apply white nail polish all over your nail.
2 – paint irregular black spots on top of the white enamel;
3 – on the big toe: draw a half moon with pink nail polish on the tip of the nail, to make the cow's nose;
4- then just finish the details of the fag: eyes, spot on the face and holes in the nose!
5- put extra shine after the nail dries. And that's it girls, your nails will be beautiful.
Cow nail tutorials to learn
Better than reading is to see in practice how the whole process is done, isn't it personal? And to help you on this adventure, we chose some very educational videos that will make learning much easier.
easy cow nail
All you will need for this decoration is a base, pearl enamel, white enamel and black enamel, first you will need to apply the base, then the pearl and then apply the white enamel and finally make the black spots using a pen or toothpick.
Cow's nails decorated with black and white nail polish
Here in this tutorial you start by applying the white nail polish on all your nails and as soon as it dries you can make the spots with the black nail polish with the help of a toothpick.
personalized kitty nail
In addition to making the black spots on the white background, it is also possible to make more personalized designs as in this video, in addition to black and white nail polishes, it will also be necessary to use pink to make the cow's nose. And did you like it? I loved it.
Cow's nails - Photos
This is a very easy decoration to make and it only requires a little patience and attention, the stains don't need to be exactly the same on all nails, just be careful not to leave it smudged, see these examples.

Read more:
Nails Decorated with Ladybugs – Photos and step by step
Decorated toenails – Photos and Drawings
Nails Decorated with Kitten, Step by Step