Having thick, shiny and healthy hair is every woman's wish, but pollution, stress and health problems make hair thin and lifeless. If you are going through this situation and want to get around this problem, then here's how to thicken thin and thin hair in no time.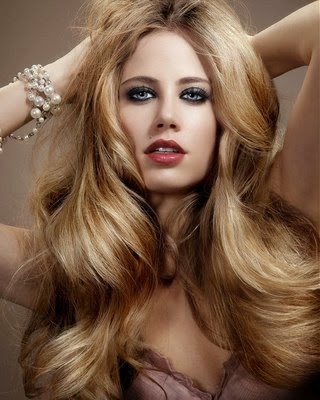 How to Thicken Fine and Thin Hair
Include some natural remedies in your beauty care to have the fantastic hair you've always dreamed of! Here are the 9 best ways to do it.
Sodium bicarbonate
It works great on fine hair, giving you a fuller look just the way you've always wanted. Take the desired amount of shampoo and add 2 teaspoons of baking soda. Mix well and apply it to your hair. Let stand for 5 minutes and wash as usual with cold water.
Honey
Honey has a rich composition of vitamins and minerals, and is used in various beauty rituals not only on the hair but also on the skin. It is a great remedy for fine hair, it repairs damaged and frayed hair strands. It also makes the hair shinier and voluminous. The regular application of honey makes your hair thicker and healthier, the recipe is very simple apply a good amount of honey all over your hair and leave it for 20 minutes then rinse with your favorite shampoo.
Avocado and Banana Hair Thickening Mask
Avocados and bananas are fruits rich in vitamin A, B and E, as well as potassium. This explains why their combination works like magic for weak strands susceptible to breakage. They transform thin hair into thicker and stronger strands. Along with that, their combination also promotes healthy and fast hair growth. In a pot put 1/4 of banana and avocado and crush them together then massage this thick paste into your hair and scalp leave for 20 minutes and then wash with cold water and shampoo.
Coconut oil massage
Coconut oil is a great remedy to get thick hair naturally. However, applying it straight from the pot may not give the desired results. The oil should be warmed up before being applied, massage well to let the oil get into the pores. It has been confirmed through research that coconut oil helps to promote hair growth, it stimulates the hair follicles and makes the hair thicken as well as giving it a super shine.
Coconut oil for hair: see the advantages of using it
Beer thickens and gives shine to hair
Beer has properties that thicken the hair and in addition to giving shine and softness to the hair. It also contains proteins to add strength and shine. Adding beer and an egg yolk to a super effective mask preventing thinning hair, see the homemade recipe:
One yolk is mixed with 50 ml of beer. Apply the mixture to damp hair and cover your head with a shower cap for half an hour. Then rinse with plenty of water.
Thicken hair with Gelatin Powder
Gelatin is a wonderful cure for thin, thinning hair. It leaves the hair full of volume and gives it more life. Mix 2 tablespoons of unflavored gelatin into your shampoo, then massage the mixture into your hair and let it sit for five minutes. Wash it off with cold water and apply the conditioner.
Hair Botox
Hair botox has the ability to thicken the hair giving that full-bodied to the wires but without losing the natural balance.
Mayonnaise
Dryness is one of the main causes of hair breakage that leads to thinning hair. Mayonnaise helps to restore moisture to the hair making it healthier and more hydrated. In this way, it promotes strengthening, apply it all over your hair and let it stay for 15 minutes then wash it with shampoo and conditioner of your choice.
Moisturizing with Mayonnaise: 5 Recipes That Really Work
aloe
Aloe vera has the power to moisturize, soften and thicken hair. But remember you have to do this at least once a week for good results, apply a little aloe vera to the hair and leave it for 15 minutes then wash with cold water and shampoo if you prefer, repeat the wash to remove all the smell from the hair. aloe, after all it has a strong and not very pleasant smell.
Hydration with aloe vera for hair: benefits and tutorials