Having a beautiful and well-groomed eyebrow can completely change any woman's face, that's why it's so important to take care of it in the right way because it has the power to make you even more beautiful, in addition it lifts your eyes leaving you with more expression and femininity.
When tidying it up, it's important that you carefully choose a professional you trust so you don't run the risk of getting it wrong, but if you've done it and you don't like the result, know that there are some really cool techniques that can help remove eyebrow Henna quite easily and effectively.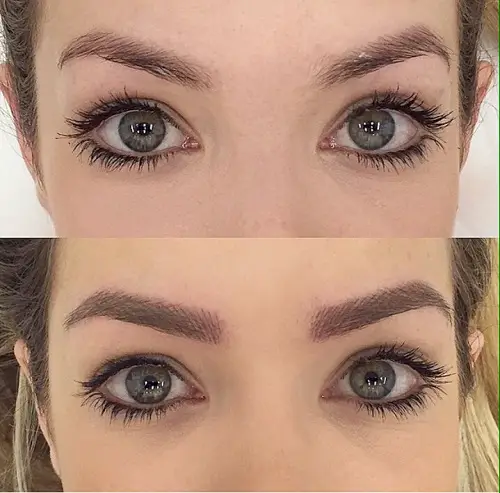 Arched eyebrow: How to do it and tips not to go wrong!
What is Henna for Eyebrows
Henna is a natural dye, which is derived from the leaves of the henna plant. it penetrates the top layer of the skin leaving a partially permanent stain.
how it is applied
Evelyn Lobo shows how the whole process of applying henna is done, from cleaning care, time that everything must be done, until its completion, if you also intend to do it, following these tips is essential, in addition we always recommend that you do with a professional.
When eyebrow henna is done by people who do not have the experience for it, or even when it is done at home, the chances of something going wrong are very high and with that imperfections, thicker eyebrows than the other or very large are very common. happen, but luckily there are options for those who did and went wrong and that's what we'll check in the following tips.
Tip to lighten or remove with Camila Marchi
If you applied Henna and you didn't like the result because it was too dark or it didn't turn out the way you expected, a great solution is to use the Glace Henna liquid soap that was created specifically for this purpose.
Henna Remover (liquid soap) – Rare Way Glance 20 Ml for 21.90 at Mystética
How to completely remove
Once it's there, it can be a little tricky to remove, but according to Rosto Sarado, some homemade mixtures can do the trick, thus eliminating any traces of henna that are on your eyebrows.
And now?
That henna can be the salvation for women who have flaws and thin eyebrows, no one has any doubts, but sometimes the result may not have been as expected and with that comes the search for ways to remove it. This is what Thassia Piezzaroli teaches us, beautician and micropigmenter with basic recipes whose ingredients can be found at home.
How to remove henna eyebrow
If your henna didn't work out and it looked more like the nike symbol than an eyebrow, the first step is not to despair, in addition to the tips already shown, these following homemade procedures can also solve the problem.
1 - Bushing
Use a sponge to scrub your henna tattoo each time you take a shower. The process of using a loofah is slow and rubbing the loofah over your skin will eventually eliminate all traces of henna ink.
2 – Baby oil
Step 1: Apply some baby oil on the henna tattoo and let it stay for about a minute or two. This allows the baby oil to be absorbed into your skin and tattoo, thus making it much easier to get rid of the tattoo.
Step 2: Take a cloth and rub it vigorously over the tattoo. After some time, you will notice that the tattoo is fading, and soon it will start to peel off. Don't stop rubbing until the entire henna tattoo is removed.
3 - Alcohol
Rub a little alcohol on the cotton and rub it over the henna. Be warned that alcohol on your skin will burn a little so leave this alternative only for the last case.
4 – Lemon juice and baking soda
Make a small paste by mixing these two ingredients together then spread the paste over the henna tattoo and let it sit for about ten minutes. Once it is completely dry, scrub your face with a soft loofah, gently exfoliating in a circular motion. If necessary, repeat the process!
5 – Warm water
Another tip for removing henna eyebrows is to wash the area 3 times a day with warm water to help remove the ink.
6 - Moisturizer
Apply moisturizer 3 times a day then wash off with warm water.
See too:
Risk on the female eyebrow: Meaning and How to do it
All About Laser, Acid Brow Depigmentation and More
Eyebrow Micropigmentation: Types, Price and Before and After Photos
Eyebrow Shadow: All about this micropigmentation technique