Green banana flour has become one of the favorite foods of dieters and has shown excellent results in weight loss. One of the great doubts of many people who are looking to lose weight or are just wanting to re-educate their diet with healthier options is about why flour should only be made from green bananas? This question is, in fact, the key to understanding the effects and wonders that flour provides for our health.
The use of green bananas is due to the fact that many properties will be lost in the ripening of the fruit. The most important component lost during ripening is resistant starch. This type of starch is resistant to further digestion and therefore provides satiety and low sugar levels. When bananas ripen, the starch is lost, transformed into calorific elements.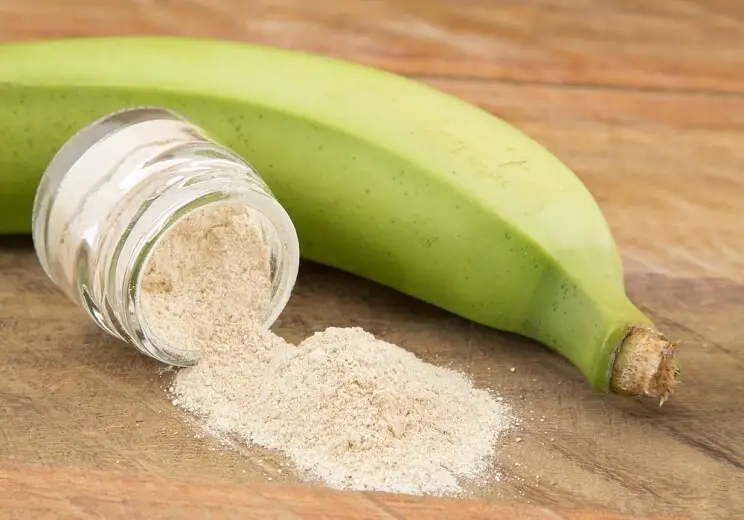 Another proven benefit of green banana flour regulates the intestinal flora, in addition to ensuring the proper functioning of the organ. The ability of green banana flour to stimulate gastric mucosal growth has also been tested and approved. The well-developed stomach lining helps in the prevention and treatment of ulcers and gastritis.
It tastes similar to nutmeg but lighter and is very similar to wheat flour, making it a great ingredient to replace in gluten-free recipes. Due to its high starch content, you can use less amount of flour in your recipes, which means that whenever you are going to use green banana flour instead of wheat flour, the amount must be 30% smaller than the amount of wheat flour. wheat called for in the recipe.
Benefits of green banana flour
There are few flours that do not contain gluten in their composition, and banana flour is one of those rarities, so if you are trying to cut gluten out of your diet, whether to lose a few pounds or for any other health issue , this flour can be a great alternative to use in the preparation of breads, cakes, cookies anyway…
It increases the absorption of minerals – especially calcium which helps in preventing osteoporosis.
Promotes Colon Health: Resistant starch increases stool bulk, which promotes colon health.
Contains high amount of minerals and vitamins, including zinc, vitamin E, magnesium and manganese.
Gluten-free: ideal for those who suffer from gluten intolerance.
Green banana flour loses weight: Resistant starch slows the release of food through the intestine, making us feel fuller for longer, preventing us from getting out of line and eating unhealthy foods between meals.
Controls diabetes: When bananas are picked while they are still green, their sugar content will not be fully developed. As a result, you will have lower sugar levels.
Improves Heart Health: Green banana is an excellent source of potassium that helps control the electrical activity of the heart. Also helping to control cholesterol in addition to helping with nerve and muscle activity.
How to Make Green Banana Flour for Weight Loss
You can find this food in stores specializing in organic and healthy foods, but if you have lots of bananas at home, why not make your own homemade flour? It is very simple and much cheaper than buying ready-made bags. Learn and pass the tip to your friends!
Step 1- Take the green bananas, wash them with running water, then cut them into slices, peel and all.
Step 2- Put the banana slices in the oven at 80ºC for about 4 hours.
Step 3- Remove from the oven and they will be dehydrated, place them in the fridge until they return to room temperature.
Step 4- There are two alternatives or you will grind the bananas or crush them in the blender, finish passing the flour in a sieve and that's it.