We have to agree that the wedding ceremony is already beautiful in itself, but one of the most awaited moments after the bride's entrance is precisely the entrance of the bridesmaids and pages, the children bring all the charm, innocence and delicacy that the moment asks for the guests. and also, the bride and groom are thrilled, and to make this moment even more memorable, choosing a beautiful and special music is essential to make this an unforgettable moment!
To be able to make a very nice selection of songs you must have a lot of calm and discretion, since these compositions will set the tone for each stage of the ceremony. Take into account that this is a moment for the little ones to shine for this reason, be inspired by references from the children's universe with the songs known by the little ones so that they feel comfortable and happy.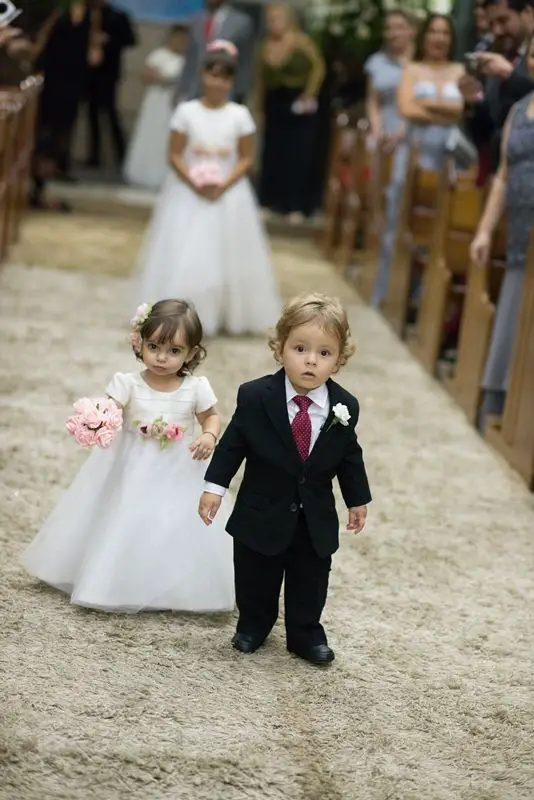 The songs can be both national and international, however, it is necessary to inform yourself about the translation of international songs because many songs have an incredible melody, but when translating it we were disappointed with the meaning of the lyrics. To make the mood even cuter and full of sweetness, invest in soft, playful melodies and with a composition that brings calm and lightness will add making the moment worthy of sighs.
Music for the Entrance of the Daminhas and Pages: 30 Options
As this is one of the most awaited and happiest moments of your life, we could not be left out, we made a selection with more than 30 songs for the entrance of the bridesmaids and pages, the ideal is for you to listen to them one by one together with your fiancé and only then, choose the one that best suits your style.
Leãozinho – Caetano Veloso
For You I Saved Love (Nando Reis and Ana Cañas)
Golden Rosemary – Popular song
Let it go – Free I am (Frozen Theme – Instrumental)
The Tribalists – Old Childhood 
All I Have To Do Is Dream – Everly Brothers
Beauty and the beast (Beauty and the Beast Theme) – Celine Dion
Of all the crazy people in the world – Clarice Falcão
If This Street Were Mine – Popular Song
https://www.youtube.com/watch?v=fdAeMUbZqDQ
Chico Buarque – "João e Maria"
Can you feel the love tonight (The Lion King Theme) – Elton John
Here Comes The Sun – The Beatles Tribute
https://www.youtube.com/watch?v=bgiQD56eWDk
Milton Nascimento Sock Ball, Marble Ball
https://www.youtube.com/watch?v=My_OsqkDSjs
Once upon a time – Sandy and Junior and Toquinho
Adriana Partimpim – Beautiful Love Lake
Bruna Karla – Glad you arrived
It's chocolate – Train of Joy

The notebook

Cassia Eller – The second sun

spring song

Bach – G string aria – [Air on the G String]

When God created you

I'm Like This Without You – Adriana Calcanhoto

Israel Kamakawiwo'ole 'Over The Rainbow

Photograph – Ed Sheeran

Ana Vitória - Trevo