The alphabet consists of 26 letters, the phonemes that make up the Portuguese language are separated into three different categories: vowels, semivowels and consonants and today, we will learn a little more about words with consonant clusters besides, some exercises for you to print and practice whenever you want.
Consonant clustering occurs when a word has two or more consonants, without even a vowel between them. If you constantly confuse consonant clusters with digraphs, don't worry about the difference between them, it's quite simple what defines a digraph is the fact that two letters form just one phoneme, with consonant clusters this doesn't happen. See some examples:
Consonant cluster: ladder, bookstore, book, word.
Digraph: war, hat, excellent, drawing, error.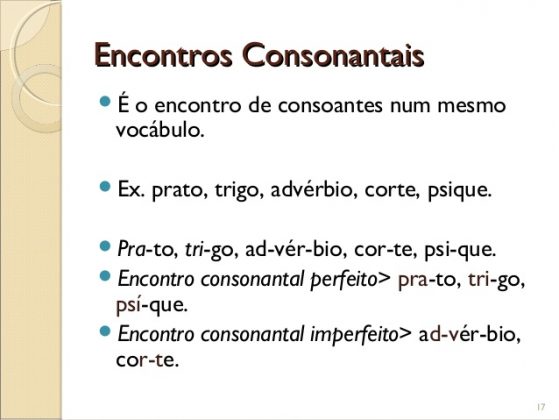 Types of consonant clusters
Know the differences between the imperfect, phonetic and mixed consonant clusters, you will be surprised how easy it is to notice the difference between them.
Perfect consonant clusters: when syllables are split, the consonants stay together, remaining within the same syllable. An example is words with read together with other consonants.
Brazil Brazil);
Psychologist (psi-có-lo-go);
Flowers (flowers);
Imperfect consonant clusters: When it occurs between consonants of different syllables. Examples: lawyer (ad-vo-ga-do);
Phonetic consonant cluster: This consonant cluster occurs when the letter x sounds like the phoneme cs. Example: taxi, boxing among others…
Mixed consonant cluster: When the syllables are divided, the consonant clusters tend to look like perfect and imperfect consonants, which is why the mixed name, let's say, is a mixture of the two consonant clusters.
Words with Consonant Cluster: Exercises
Here are some consonant cluster exercises to print, they are ideal for 3rd 4th 5th graders make this learning moment a fun moment with your students. I hope you like the activities, you can print as many times as you need, it's all free.