Different games like truth or dare are very successful especially among the younger crowd, being great to break the ice and liven up parties or social gatherings between couples, friends or even at a children's party, through games like this you will know a little more about the people around you in addition to providing loud laughs!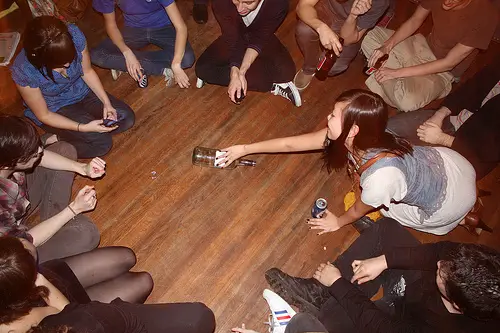 The dynamics of the game is very simple and easy to perform, just gather a group of friends at least 4 people, everyone must sit down forming a circle of people and one participant at a time must spin a bottle. The person who has the bottle pointed at him must choose between answering a question that may be embarrassing or not just not worth lying the answer or if he chooses not to answer he will have to pay a consequence that can be light or heavy.
Versatile this is a game that can be adapted for different occasions with different age groups and groups of people. Carefully select the questions and consequences keep in mind that there are, questions that are very invasive that can leave the person in a tight spot, they will be super embarrassed. There are no rules however, using common sense is essential!
100 Truth or Dare Challenge Game Questions
When was the last time you told a lie?
What is your biggest fear?
What's your favorite drink?
What can money not buy?
What is your religion or spirituality?
What other language would you like to learn?
Do you trick or treat on Halloween?
Have you ever let someone else blame you for something you did? What happened?
Have you ever fallen in love with a coworker?
If you could bring back one person who has already died, who would it be?
What is your worst flaw
What is the longest amount of time you've been away from home?
Who was your first time with?
If you had to date someone in this room, who would it be?
Have you ever been betrayed by someone?
Have you ever hitched a ride with a stranger?
Have you ever gotten sutures?
What's the most serious thing you've done?
How was your first kiss?
Which animal would you like to be?
Have you ever broken bones?
What's the weirdest thing you love to eat?
What animal are you most afraid of?
Have you ever probed your ex boyfriend's profile just to see if he's with someone?
What's the craziest event you've ever been to?
When was the last time you peed?
What's the worst dream you've had?
Why did your last relationship end?
Do you have tattoos?
Have you ever peed in the pool?
Who is the most beautiful person in this room?
What is your biggest insecurity?
What is the color of the underwear you are using?
Have you ever been with someone and regretted it?
What is the most embarrassing thing that has happened to you this year?
Would you participate in the BBB?
Which famous would you date?
What is your least favorite thing about your best friend?
What do you not like about your boyfriend or girlfriend?
Have you ever been with more than one person on the same day?
If you could fix something from your past what would it be?
What's the secret you've never told anyone before?
How many people have you kissed?
Have you ever gone out without wearing a bra and underwear?
WhatsApp or Facebook?
Will you stop talking to all your friends for a million dollars?
Have you ever committed a crime? If so, what was it?
Who is the smartest person in the world for you?
What seriously freaks you out?
What's the biggest lie you've ever told?
Bar or club?
Is it true that you've been with someone from this circle?
What was the worst gift you've ever received?
Have you ever swam naked?
What trait do you really value in a friend?
If you could save one person in this room from a fire, who would it be?
Do you believe in marriage?
Have you ever been in prison?
Do you want to have children or not?
Who was your first crush?
Would you be polygamous?
Have you ever fallen in love with your teacher/teacher?
What can't be missing from your fridge?
What part of your body do you love the most?
Have you ever fallen in love with a friend's mother?
What's the most embarrassing song you like to listen to?
If you could choose your name what would it be?
Who is the most gossip person in this room?
If you and one person in this room could be the last people on Earth alive, who would that person be?
What would you do with a million dollars?
What's your secret talent if you have one?
If you were to live with someone in this room, who would it be?
What's the worst intimate experience you've had?
Have you ever cried watching a TV show?
If you were a superhero, what would your power be?
Have you performed a striptease for anyone before?
Have you ever eaten food off the floor?
Have you ever peed your pants from laughing so hard?
Have you ever been suspended from school?
Have you ever drank in secret
 When was a time when someone really betrayed your trust?
Have you ever hooked up with a friend's ex?
Have you ever fought in the street? Why?
Where would you travel now?
Could you stay in a cabin in the woods without internet or television?
Have you ever been intimate in a public place?
Do you sing in the bath?
When is the last time you vomited?
When is the last time you cried?
Have you ever laughed so hard that you cried?
If you could change anything about yourself, what would it be?
If today was your last day of life, what would you do?
What do you hate most about a person?
Would you spend the night with someone for 1 million reais?
Is everything between four walls worth it?
Carnival in revelry or in the countryside?
Have you ever sent nudes?
In a time machine, what time in history or time in your life would you go back to?
What's the most embarrassing thing your parents caught you?
If you could only eat one food every day for the rest of your life, what would it be?
Heavy and difficult consequences for the game of truth or dare
Try opening a beer bottle in under 20 seconds.
Let someone in the room write whatever they want from your Facebook account.
Smell the foot of the person to your left.
Change clothes with the person on your right.
Call someone and make them believe they won the lottery.
Try touching your nose with your tongue.
Eat an entire piece of paper.
Write your name on the floor with your tongue.
Go to your neighbor and ask if they could give you a condom.
Call your mom and ask her to cook the food you hate the most.
Wear someone else's worn socks on your head for the rest of the game.
Do 50 sit-ups.
Take a shot of cucumber juice.
Lick the bottom of your shoe.
Put a snack in your nose and leave it for 5 minutes.
Take an embarrassing selfie and post it as your profile picture.
Say something very dirty to the person on your left.
Kiss the person to your left.
Fill your mouth with several jelly beans and try singing a chorus of a song.
Send someone a message that says, "I know what you did last summer."
Post a video of you singing and share it on your social media account.
Say the alphabet backwards.
Jump into a dumpster.
Pour a bunch of legos on the floor and walk on it barefoot.
Chew gum that someone else has already chewed.
Call the pizzeria and ask if you can return a pizza.
Let the group choose an item for you to brush your teeth with.
Eat a raw egg.
Call a butcher and ask if they deliver popcorn.
Lick a car tire.
Rub your armpits and smell your fingers.
Stand in the backyard and scream at the top of your lungs, "Nooooo! I was adopted!
Make a plate of cake, knock on your neighbor's door and say, "Welcome to the neighborhood" as if you've never met them before.
Take a picture of a tampon and post it on Instagram.
Let the person to your right place masking tape on any part of the body they choose and rip it off.
Pretend to squint when you're talking.
See how many grapes you can stuff in your mouth.
See more 38 Truth or Dare Challenges – The best in the game.
> Never Have I Ever: 200 Best Questions to Play and Have Fun