Subway is an American fast food company that currently has more than 44 thousand companies spread all over the world, more specifically in 98 countries in 2020, there you will find the most varied types of salads and also of "submarine" style sandwiches, where the Traditional hamburger buns are replaced by 15 or 30 cm baguettes. It is no wonder that Subway, after decades, remains one of the most famous and beloved companies in the fast food category, because they prioritize good service and mouth-watering menu!
On the Brazilian menu, you can find 16 fixed sandwiches, in addition to new releases that happen all the time, however, they are available in limited time. Another point that draws the attention of customers is the good price, even more so if the snack is within the "Cheap of the day", which is nothing more than snacks that are on offer on the day. Another benefit that we find in subway is the option in Delivery to make this type of order is very simple, just enter the site www.subway.com, and then write your address for delivery so it will be possible to locate the store closest to you with this, the snack will be delivered much faster. below you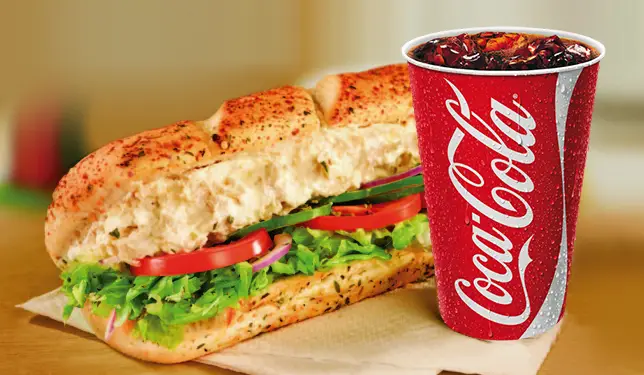 The Subway of the Day promotion
Promotion snacks are only valid for 15 cm sandwiches and also, the substitution of any ingredients is not allowed. Usually the promotion snack is valid all week. Take a peek at the menu with the snack options of the day and choose the day you will have your favorite snack and enjoy!
Suggested price R$10.00 the menu may undergo changes or modifications, being valid from 01/09/19 to 03/05/19 after that, prices and flavors are replaced by new options.
Monday: Chicken with Parmesan Sauce 15cm
Tuesday: Breaded Chicken with Seasoned Mayonnaise 15cm
Wednesday: Steak Cheddar Creamy 15cm
Thursday: Chicken Ranch 15cm
Friday: Chicken with Barbecue Sauce 15cm
Saturday: Breaded Chicken with Cream Cheese 15cm
Sunday: Steak Cream Cheese 15cm
If you want a cheap and tasty snack then you are in the right place, there are options starting at R$7.90, an example is the Steak Churrasco flavored sandwich.