With the weekend approaching many, parents are looking for tips on games to entertain and amuse the children, when I was a child I remember that we used to gather a group of cousins and friends and we would play all Sunday it was amazing and today , we see children socializing less and less, they get to spend hours and hours with their eyes on the video game or television and this can be harmful to their health.
Play contributes to child development, stimulating creativity and learning. And one of the games that delight the imagination of the little ones is painting, so today I will teach how to make homemade gouache of several colors, some recipes are edible, that is, it is not harmful to health without having problems, if the child takes his hand in his mouth. And as we know that those who have children have many joys, but also many expenses with diapers, clothes, food, in short, making homemade paint is a very economical and much safer option, since it is non-toxic and is made from water. .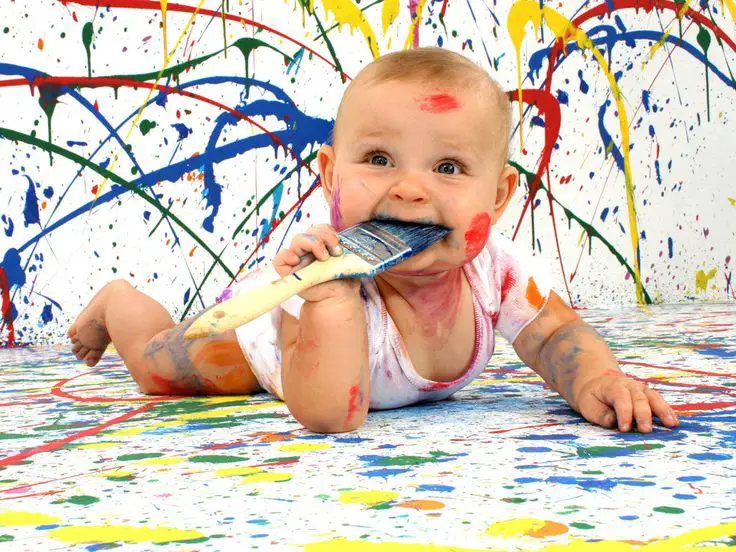 Homemade Gouache Paint – How to make it
Painting stimulates creativity, improves motor coordination with fine strokes and stimulates imagination, the ideal is that you acquire the most varied colors, so that children really let their imaginations go. Here are some very simple and cheap recipes that will make the kids happy on weekends or on their next vacation, they will love the idea!
homemade cornstarch paint 
2 spoons of sugar
half a spoon (small) of salt
half cup of corn starch
2 cups of water
food coloring or juice powder
Step by step:
Place the cornstarch in a pan, and gradually add the water, stirring constantly.
Now add the salt and sugar, stir the mixture over low heat until it thickens.
When it has a very pasty consistency, turn it off and wait until it cools down, then just add the coloring or juice with the flavor and color you want.
Flour Paint
1 cup of flour, 3 cups of water and food coloring.
Step by step:
In a pan mix the wheat flour and add the water little by little let it boil until it looks like ink, turn off the fire let it cool and drip a few drops of dye.
Gelatin Ink
gelatin powder
Water
Step by step:
Add a small amount of water and add the gelatin powder until you get the consistency of paint.
Snow Ink
240 ml water
250g salt
Wheat flour 125 g
Step by step:
Mix all the ingredients in a bowl, always stirring to avoid lumps until a homogeneous white substance is obtained, paint is ideal for painting colored papers. If you liked the idea but would like it to be in another color, it's very simple, add gouache paint or food coloring, in the color of your choice.
How to create different colored inks
Green ink: blue + yellow food coloring
Silver/grey ink: black + blue food coloring
Brown ink: red + green food coloring
Orange paint: red + yellow food coloring
Purple ink: red + blue food coloring
Turquoise ink: blue + green food coloring
Gold paint: yellow + orange + red food coloring
Copper paint: red + yellow + brown food coloring