Have you written down your fears for New Year's Supper 2023? If not, it's time to start thinking.
Spending New Year's Eve with people we love is much more pleasant than taking a cruise alone, for example.
If you love a full house and are thinking of setting up your own New Year's Eve dinner, but you have no idea what to serve your guests.
Don't despair, we will help you prepare a complete supper with main course, salad and not least dessert, which, let's face it, is one of the most awaited moments of dinner!
Are you the type of person who loves this time of year and that's why you've left the house all decorated in a New Year's mood?
The time has come to start thinking about the menu that will serve you, there are so many options of dishes and ways of preparation that we are completely lost on what to choose.
After all, we want to surprise our guests, but it's not easy to please everyone's taste buds at the same time.
Read too: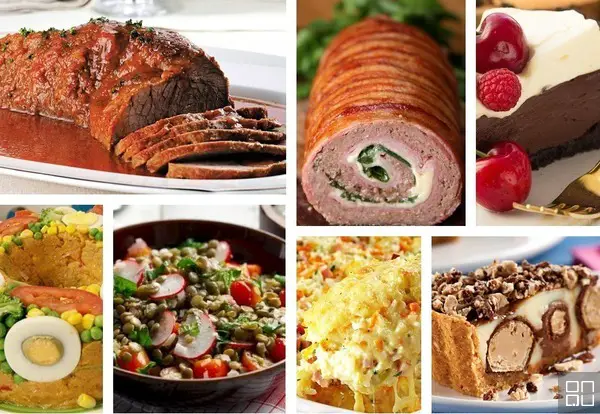 There are those who believe that eating chicken or any other bird that "scrambles backwards" at the turn of the year is bad luck, because this movement represents a setback.
My tip is that you research these superstitions so that everyone can enjoy amazing dishes without fear of any of them.
Show your culinary skills by preparing delicious recipes.
To make it easier, we have selected several options for mouth-watering recipes, in addition to being delicious, they are easy to prepare.
And best of all, the alternatives are so diverse that they range from light and fitness dishes to recipes for those who want to get their foot in the jackfruit.
Finally, options are not lacking.
New Year's Supper 2023: Options for betting
New Year's Eve is a more than special date, after all, it's a year that ends and another full of news that begins.
So the supper must be neat, but don't worry about going to the trouble of looking for recipes, below we've already selected perfect ideas for you.
New Year's Eve Dinner Tickets
As soon as the guests arrive, it's nice that they are already greeted with some delicious snacks.
These starters are a small demonstration of what guests can expect from the other dishes.
To be able to put together a nice and balanced menu, check out some ideas below.
See what your best options are and choose one that matches the proposal you want to serve.
1- Hasselback Potato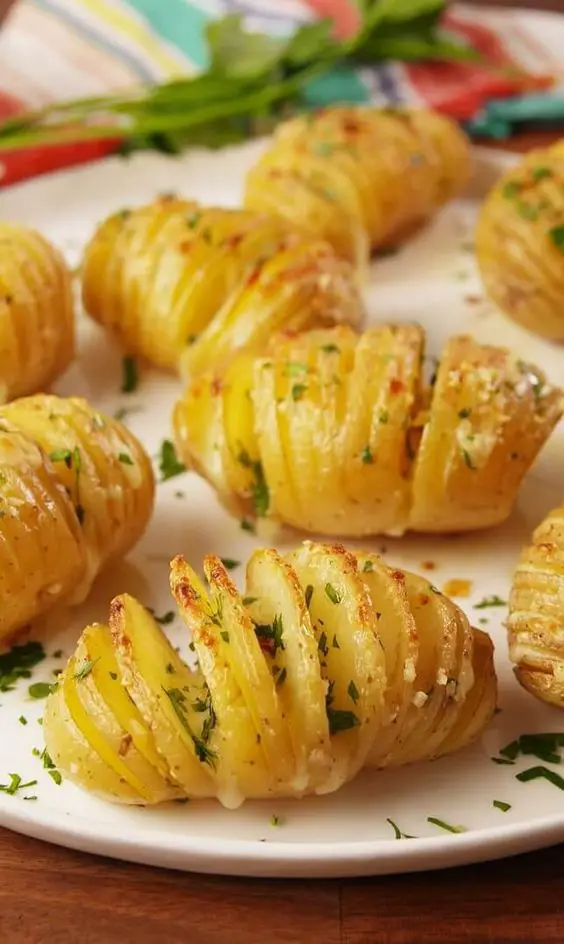 Ingredients:
30g of melted butter
threshed rosemary to taste
2 sliced garlic cloves
olive oil to taste
salt to taste
Ground pepper to taste
6 medium potatoes
1/2 cup(s) grated Parmesan cheese
50g chopped fried bacon
Preparation mode
1st: In a bowl, place the melted butter and mix with the rosemary, garlic, olive oil, salt and ground black pepper. Reserve.
2º: Place the potatoes on a board and on each side of the potato place the handle of a wooden spoon.
3rd: With a very sharp knife, make thin cuts along the entire length of the potato. The handle of the wooden spoon will serve as a base so that the cut does not go all the way to the end of the potato.
4th: Put the potatoes in a plastic bag and take it to the microwave for 8 minutes.
Carefully remove from the microwave and place them on a baking sheet with the cuts facing up.
5th: Pour the melted butter with the herbs over the potatoes so that it enters the cuts.
6º: Sprinkle the grated Parmesan cheese and the fried bacon.
7º: Bake at 200º C for about 40 minutes or until golden.
8º: Remove from the oven and serve.
Ravioli touches: Place the potato between two wooden spoon handles so that the cut does not reach the end.
2 – Traditional Cod Cake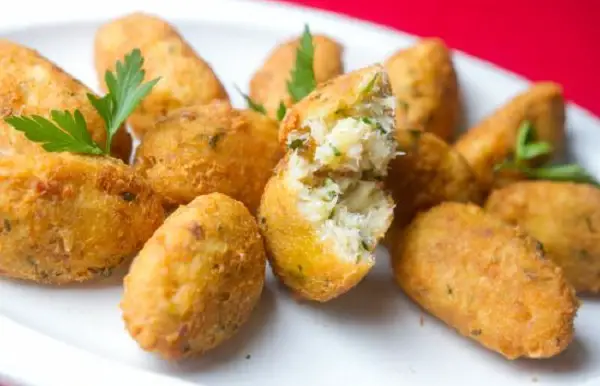 Ingredients
1 egg
1 yolk
500g cod flakes
500g of washed potatoes
1 onion grated
2 tablespoons of chopped parsley
1 seedless chili pepper, chopped
salt to taste
frying oil)
Preparation mode:
1st: In a large bowl, place the cod, cover with water and let it soak for 4 hours in the fridge.
2nd: After 4 hours, change the water and return to the fridge for another 4 hours.
Repeat the process one more time, totaling 12 hours of soaking, with 3 water changes.
3rd: Drain the water for the last time, place the cod in the pan and cover with clean water.
4th: Take it to the low fire and cook for 15 minutes.
5th: Remove the cod from the pan, wait to cool and shred. Reserve.
6º: In the water used to cook the cod, place the potatoes and cook over medium heat until they are soft (approximately 20 minutes).
7º: Drain, remove the potato skin and pass through a potato masher.
8º: In a bowl, mix the mashed potato, the cod, the parsley, the egg, the yolk, the chopped onion, the girl's finger pepper and the salt to taste.
9º: Model the dumplings with the help of 2 tablespoons and fry them, little by little, in hot oil. Turn the dumplings to brown evenly, drain and serve immediately.
3 – Traditional Bruschetta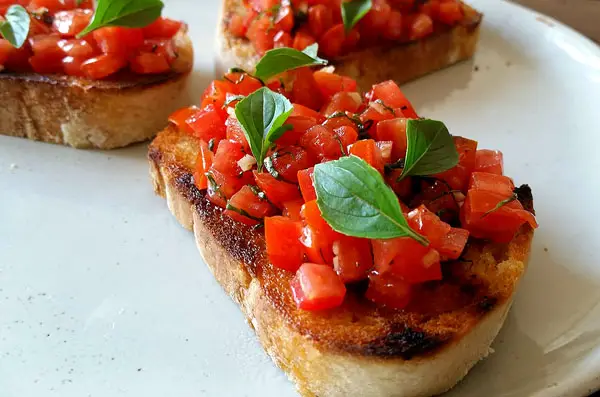 Ingredients:
slices of italian bread or baguette
2 very ripe tomatoes
1/2 cup olive oil + enough to drizzle the bread
1 clove of garlic
1 tablespoon of oregano
basil leaves
salt to taste
slices of buffalo mozzarella (optional)
Preparation mode:
1st: Cut the tomatoes into cubes and crush the garlic clove.
2nd: In a container, add them to the oil, mixing well.
3rd: Add the basil, oregano and salt and stir again. Reserve.
4º: Drizzle the slices of bread with olive oil to taste and take them to the oven until golden.
5th: On the slices of bread, place the slices of buffalo mozzarella (optional).
6º: Place a little of the mixture on top of each one and serve while still warm, finish with basil leaves and return with the toast to the oven for 5 to 10 minutes.
Accompaniments for New Year's Eve Dinner
Follow the same line as the entry, they must complete each other. When choosing a more chic and refined starter, you should do the same with the accompaniment.
If you are the host and have to prepare the entire dinner by yourself, don't leave the ingredients to the last minute, organize yourself to allow time to prepare everything before the guests start to arrive.
1 – Greek rice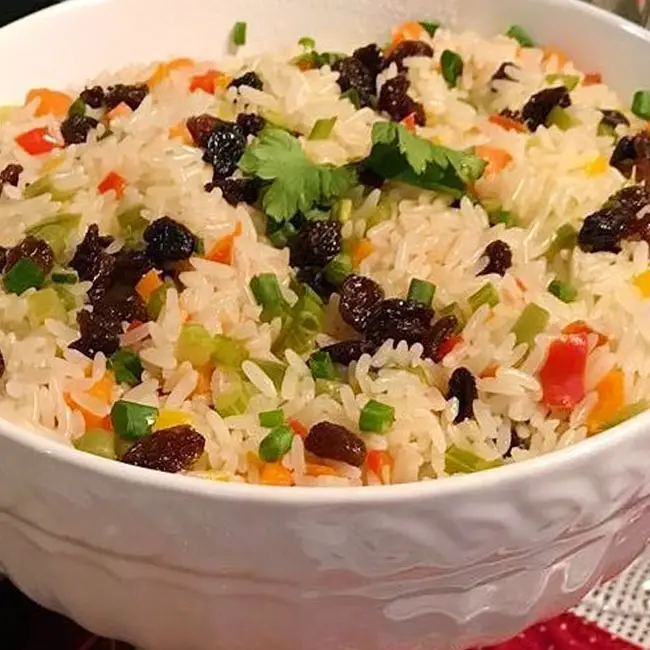 Ingredients:
2 tablespoons of oil
2 cups of rice (washed and drained)
1 small green pepper, cut into thin strips
1 small red pepper, cut into thin strips
1 carrot cut into thin strips
3 chicken broth tablets
1 cup black raisins
How to make
1st: Heat the oil and sauté the rice along with the peppers and carrots
2nd: Add 4 cups (tea) of boiling water, the beef broth tablets and the raisins
3rd: Lower the heat and let it cook for about 15 minutes, with the pan partially covered or until the rice dries
4th: Remove from the heat and let it rest for approximately 10 minutes.
Serve with barbecues, meat skewers, fried shrimp and others.
2 – Couscous from São Paulo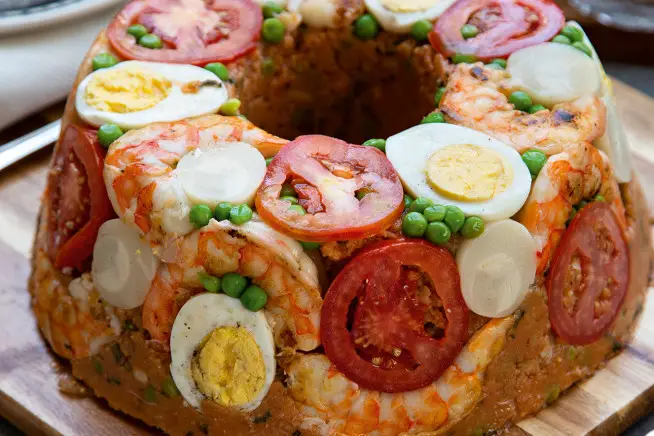 Ingredients:
1/2 cup (tea) of olive oil
1 chopped onion
1 can or box of tomato sauce
2 cans of water
1 can of peas
1 can of green corn
1 pepper
2 cans of sardines or tuna
green smell to taste
salt and spices to taste
1 vegetable stock cube or your favorite flavor
3 cups coarse cornmeal
3 boiled eggs
tomato to decorate
Preparation mode:
1st: Sauté the onion, pepper, olives, peas, green corn, tomato sauce, green smell, sardines, seasonings and the broth tablet in olive oil.
2º: Put the water, let it boil, put the corn flour and cook.
3rd: Grease the mold with oil, and place the eggs, tomatoes and sardines underneath.
Put the dough in the form, let it cool and unmold.
Main course for New Year's Eve dinner
The main course is the star of the night, so don't skimp and choose!
Roasted ham or the traditional chester are good options, but if you want to surprise your guests there are other different and very tasty options.
1 – Cod Lasagna with White Sauce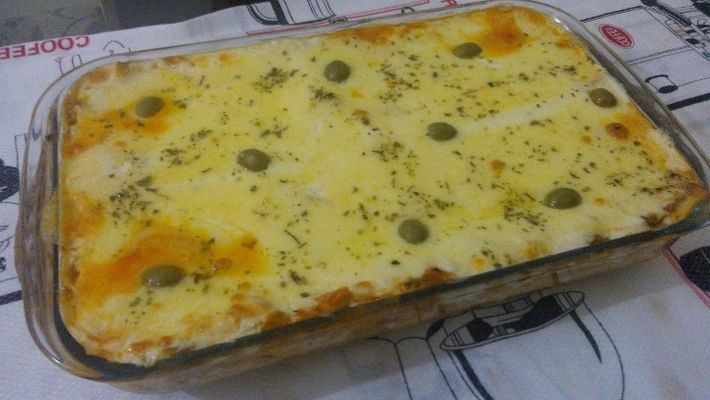 Ingredients:
PASTA:
1 package of pre-cooked lasagna noodles
FILLING:
1 kg of desalted and shredded cod
2 large chopped onions
3 large chopped tomatoes
1 chopped green pepper
1 cup of water
1 cup tomato extract
600 g of mozzarella
chopped olive
olive oil to taste
salt to taste
Preparation mode:
White sauce:
1 tablespoon of margarine
1/2 chopped onion
600 ml of milk
2 tablespoons of wheat flour
1 cup of water
1 tablespoon of grated cheese
1 box of sour cream
FILLING:
1st: Saute the onion in the oil.
2º: When the onion is transparent, add the tomato, pepper and olive.
3º: When they are well sautéed, add the water and tomato extract and wait for it to boil.
4th: Add the cod and let it cook for 10 minutes, then add more oil if you want and book.
WHITE SAUCE:
1st: Dissolve the wheat flour in the water and set aside.
2º: Sauté the onion in the margarine until translucent.
3rd: Add the milk and let it boil.
4th: Put the flour that was dissolved in the water and stir until the cream thickens.
5º: Add the grated cheese and stir until it is cooked.
6th: Turn off and add the cream.
MOUNTING:
1st: Put some of the stuffing sauce in a large refractory and spread it out.
2nd: Put the dough and put the cod filling again and the mozzarella on top.
3rd: Make another layer of dough, another of stuffing and mozzarella.
4th: Finally, add another layer of pasta, stuffing, the white sauce and the mozzarella.
5th: Put it to brown for 30 minutes or until the mozzarella melts.
2 – Pork ribs in barbecue sauce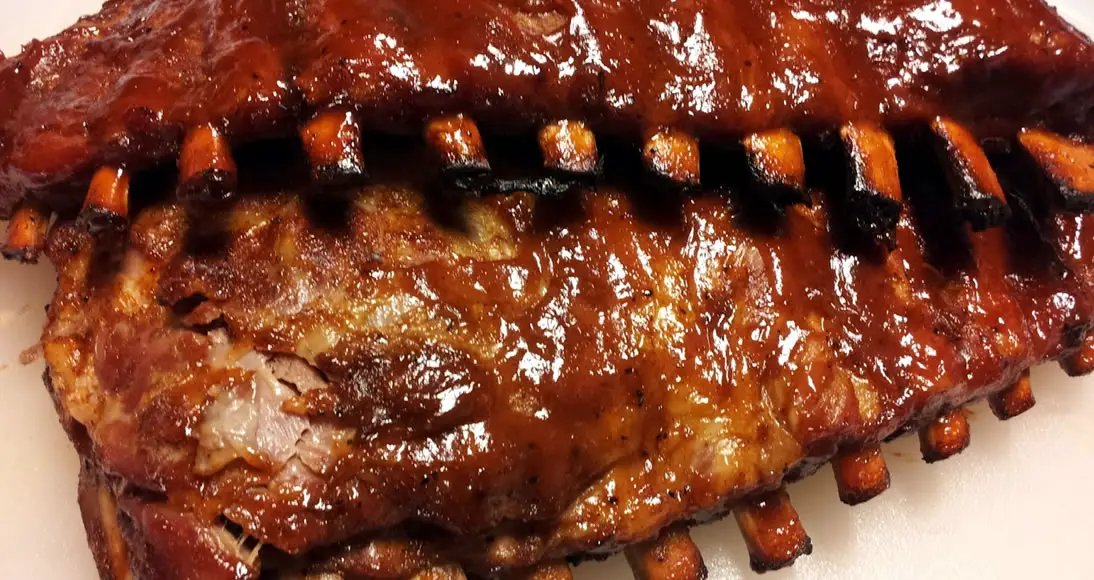 Ingredients:
2 kg pork ribs, in pieces
1 beef bouillon cube
1 cup (tea) of water
Salt and black pepper to taste
3 tablespoons of oil
4 minced garlic cloves
1 cup (tea) of ketchup
1/2 cup (tea) of water
1/4 cup (tea) vinegar
1/4 cup (tea) brown sugar
2 teaspoons hot paprika
1 teaspoon chili powder
Preparation mode:
1st: Place the ribs in a roast, season with the meat broth dissolved in the water, salt and pepper.
2º: Cover with aluminum foil and take it to the medium oven, preheated, for 40 minutes.
3º: Heat a pan with the oil and sauté the garlic for 3 minutes or until golden.
4th: Add the ketchup, water, vinegar, sugar, paprika and pepper.
5th: Cook for 10 minutes on low heat, stirring occasionally.
6th: Remove the aluminum foil from the roast and drizzle the ribs with the sauce.
7th: Return to the medium oven, preheated, for another 40 minutes, brushing with the sauce every 10 minutes.
8º: Remove, transfer to a platter and serve.
3 – Filet Mignon with four cheese sauce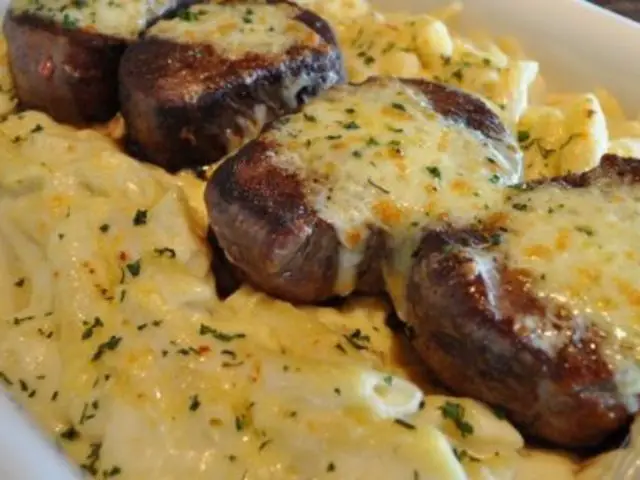 Ingredients.
Meat.
1 kg of filet mignon medallions
1 tablespoon minced garlic
salt
2 tablespoons of margarine
Cream.
3 tablespoons of margarine
1 ½ tablespoons of wheat flour
½ liter of milk
100 g grated parmesan cheese
100 g grated provolone cheese
100 g grated semi-cured cheese
100 g grated cheese
½ liter of cream
1 tablespoon of beef broth powder.
Way of doing.
1st: Season the meat with salt and garlic and fry it in a pan with the butter
2nd: In another pan, make a white cream with the flour, margarine and milk
3rd: Stir until thickened
4th: Then add the cheeses, the cream and the meat broth
Mounting.
1st: Distribute the Italian bread toast and place the filet mignon medallions on top.
2nd: Pour the white cream, put the tomato and herbs, then serve that your filet mignon with four cheeses sauce is ready, tell your colleagues.
Dessert for New Year's Eve Dinner
And to close with a golden key, a sweet could not be missing, but it is not a simple day-to-day sweet.
Choose a dessert that tastes good and has a more elaborate appearance.
Abuse beautiful bowls and glasses, this simple act will make your table much more charming!
1 – Chocolate pavé with champagne biscuit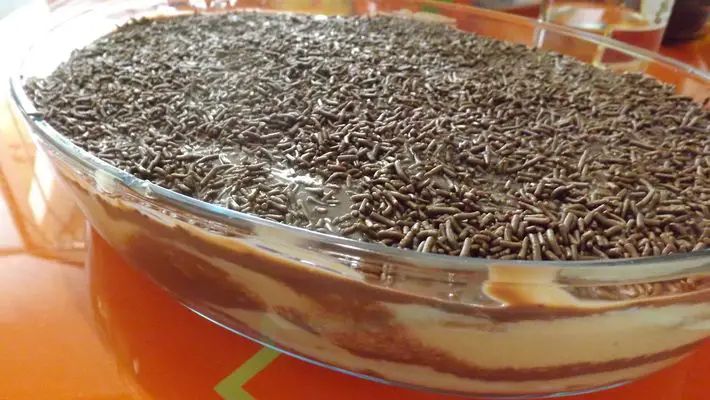 Ingredients:
Champagne cookie
1st LAYER:
1 can of condensate
1 can of milk
3 gems
1 spoon of corn starch
2nd LAYER:
2 cans of milk
6 spoons of chocolate
1 spoon of corn starch
3 spoons of sugar
3rd LAYER:
3 egg whites
1 can of whey-free cream
sugar to taste
Preparation mode:
1st: Take the ingredients of the 1st layer and hit the blender, take it to the fire until it turns into a porridge.
2nd: Put it in a container.
3rd: Moisten the cookies in the chocolate and place on top of the 1st layer.
4th: Take the ingredients of the 2nd layer and hit the blender, take it to the fire until it turns into a porridge.
5th: Put it on top of the cookies.
6º: Beat the snow whites, add the sugar and beat again.
7th: Then lightly mix the whey-free milk cream.
8th: After adding the cream, do not beat the mixer anymore. Put it on top finishing, take it to the fridge for 3 hours and that's it.
2 – Manjar de coconut with condensed milk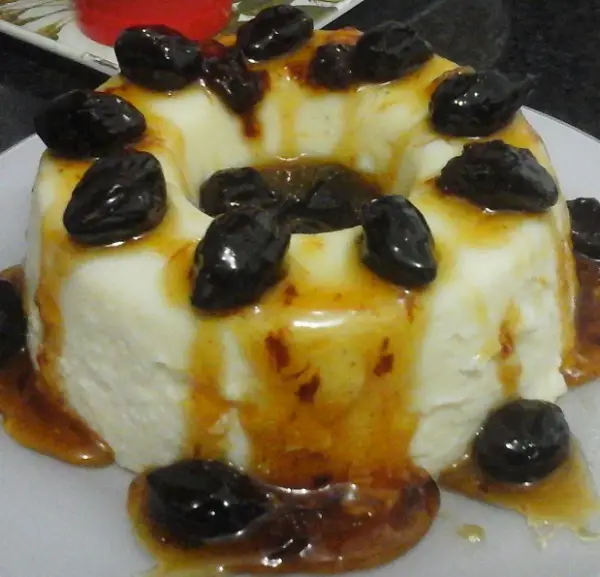 Ingredients for Coconut Manjar with Condensed Milk
8 tablespoons of corn starch
1 liter of milk
1 cup (tea) of condensed milk
1 cup (tea) coconut milk
200g grated coconut
Syrup
2 cups (tea) of sugar
1 cup (tea) of water
200g pitted prunes
1 clove
1 cinnamon stick
Preparation mode
1st: Mix the cornstarch dissolved in the milk, the condensed milk, the coconut milk and the grated coconut in a pan and bring to a low heat, stirring until it thickens.
2º: Pour in a form of hole in the middle of 22 cm of diameter, moistened with water and let it cool.
3º: Take it to the fridge for 2 hours or until it is firm.
For the syrup, dissolve the sugar in the water and pour it into a pan. Add the plum, cloves and cinnamon and cook on low heat for 15 minutes, without stirring, or until the plum softens and the syrup thickens. Let cool.
Unmold the manjar and cover with the syrup before serving.
3 – Peach Pie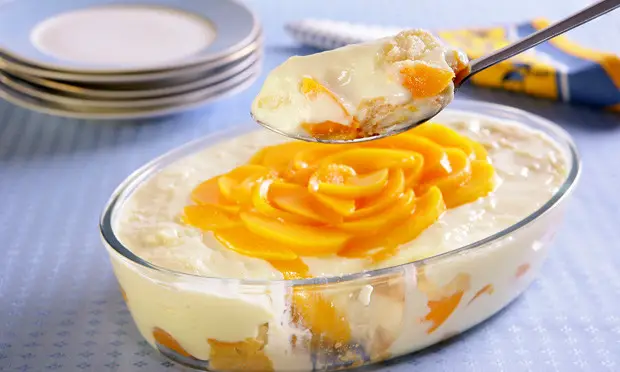 CREAM:
1 can of condensed milk
1 can of regular milk
1 tablespoon of butter
3 gems
1 tablespoon of corn starch
1 can of peach in syrup
ROOF:
3 egg whites
6 tablespoons of sugar
1 can of whey-free cream
Peaches to decorate
SPREAD BREAD:
6 eggs with whites separated
6 tablespoons of sugar
6 tablespoons of wheat flour
1 tablespoon of baking powder
SUGGESTION:
Champagne cookie or sponge cake
PREPARATION MODE
CREAM:
In a pan, place the condensed milk, butter, milk (reserve a little), cornstarch dissolved with milk and lightly beaten egg yolks.
Cook for approximately 5 minutes (until it thickens), stirring constantly.
Place in a refractory and reserve.
Simple New Year's Eve Menu
Below we will give an example of a simple menu, but that does not disappoint in terms of flavor, so get your hands dirty and receive your guests with delicious dishes.
Whole chicken sausage
Roasted pork loin with potatoes
Rice with raisins and lentils
butter crumbs
Codfish cake (appetizer)
Dessert
Chocolate trifle
Chocolate platter brigadeiro with strawberry
Wine
Craft beers
See too
Decoration of tables for New Year's party (New Year's Eve)
Fruit Table How to Assemble: 100 Photos to Inspire
New year message for 2023 beautiful to send